Mr. Tran Van Tam, the owner of a homemade electric car, was recentlyy introduced on a British news site. Tam's road from a dream to research and development of cars was a difficult journey.
Man creates his own electric car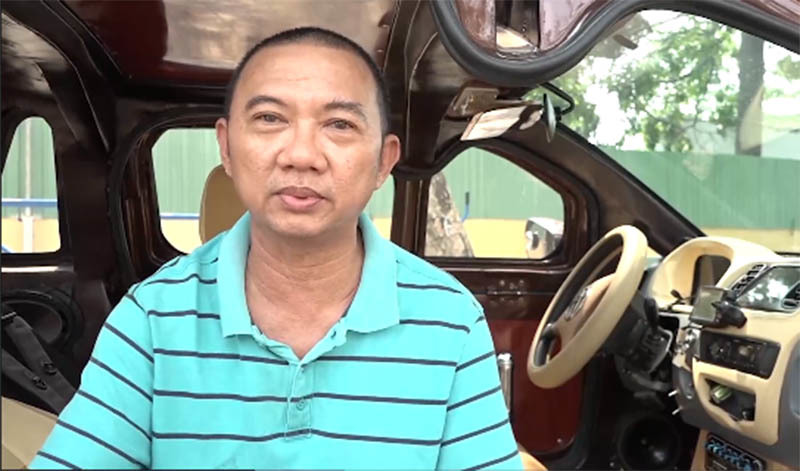 Mr. Tran Van Tam and his car.
Tam, 59, from Cu Chi district, Ho Chi Minh City, had to sell his house to make his electric car.
He said in 2015 he saw foreign electric cars on television. He thought "if foreigners can make it, we can make it too". In 2018, his electric car was completed, named CITY 18. The car can carry four people, run at the maximum speed of 50km per hour, at a distance of up to 160km. Other equipment of CITY 18 is similar to gasoline-fueled cars.
The car has a lithium battery. It is charged as simply as a mobile phone anywhere with a 220V power source. It also has air conditioning and karaoke equipment.
Tam admitted that if he did not have an optimistic spirit, it would have been difficult for him to overcome many obstacles. Many people thought that he was crazy and eccentric. The cost of the car was huge for him. Initially, he estimated the cost at about VND500 million, but he has spent nearly VND1 billion. With the desire to create an environmentally friendly product for Vietnamese people, he tried to perfect the product.
Tam told the local media that if this model is commercialized, the cost may be less than VND250 million, or even only VND200 million. It is calculated that the car can run 100 km with VND15,000-20,000 electricity bill.
80-year-old man with huge debt burden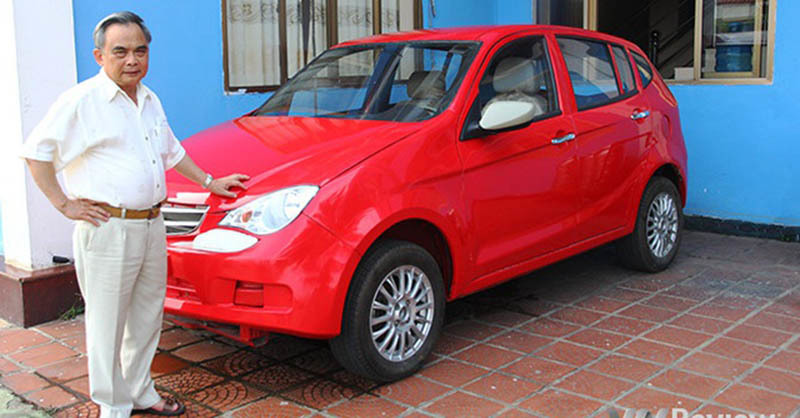 Mr. Bui Ngoc Huyen.
The Bank for Investment and Development of Vietnam (BIDV) in February 2020 announced plans to put secured assets of Xuan Kien Auto JSC (Vinaxuki) up for auction to recover the VND1.26 trillion (US$55 million) non-performing loan.
The debt was taken up to support Vinaxuki to manufacture Made-in-Vietnam cars and trucks over the past years. However, Vinaxuki, with its owner Nguyen Xuan Kien, failed to meet an ambition to become the first Made-in-Vietnam car producer, slipping into losses and having to shut down.
The debt has secured assets including a 139 square metre land lot and attached assets in Me Linh District's Tien Phong Commune, a suburb of Ha Noi, where a Vinaxuki factory is located. Machinery and equipment of the factory are also secured assets of the debt.
In addition, the assets attached to the land of another Vinaxuki factory in the northern province of Thai Nguyen, and the right to exploit Antimony ore mines, and the ore sorting line in Dak Drong commune of the Dak Nong Province are also pledged for the debt.
Originating from a factory specialising in manufacturing molds and spare parts for automobiles, in April 2004, Vinaxuki was licensed by the Prime Minister to manufacture and assemble cars of all kinds.
According to the design capacity, Vinaxuki's three factories in Thai Nguyen and Thanh Hoa provinces and Ha Noi's Me Linh District could produce 30,000 vehicles a year, generating jobs for more than 9,000 locals.
In its first years of operation, Vinaxuki's performance was positive as it completely recovered its capital and began repaying debts to the bank.
It produced more than 20 types of trucks with a localisation rate of 27 per cent and three types of passenger cars with a localisation rate of 5 per cent in the in 2006-08 period.
After the period, Vinaxuki continued to invest in construction with the ambition of increasing its localisation rate.
However, the economic downturn in 2010 caused the automobile market to plunge. Thousands of vehicles were assembled but could not be sold.
The company was starved of capital, while the fiercely competitive market went into stagnation. In the following years, Vinaxuki operations revolved around interest and debt repayment.
At the age of 80, Huyen now carries a debt burden of up to VND2.8 trillion.
The boss of Haxaco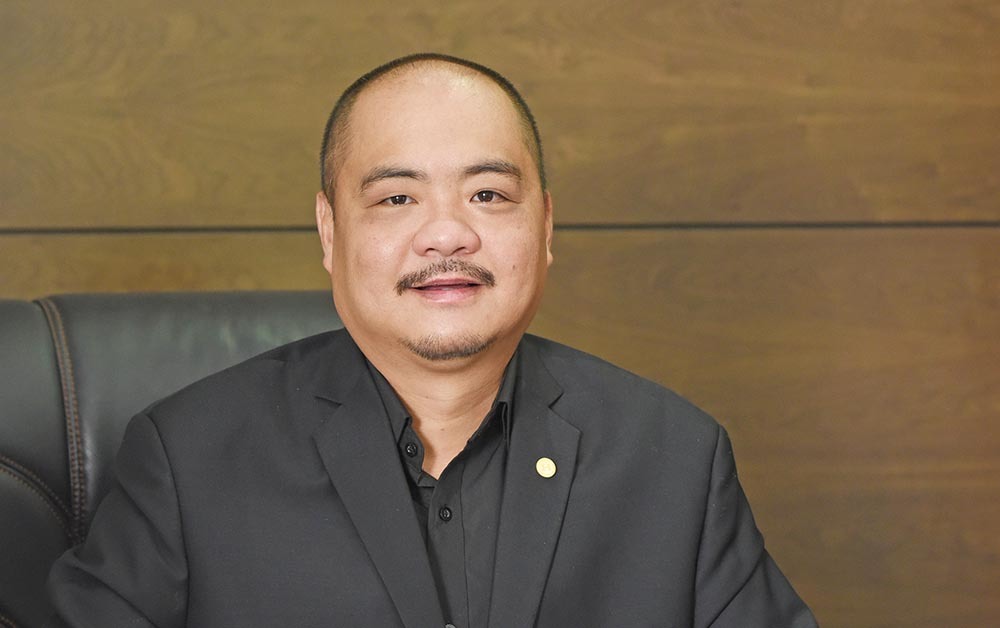 Haxaco's chairman Do Tien Dung. Photo: Dau Tu Online.
Hang Xanh Motors Service Joint Stock Company, formerly known as Automobile Display Store and Repair Workshop (SAMCO3) under Saigon Automobile Mechanical Engineering Company (Now Saigon Transportation Mechanical Corporation), was established in 1992.
It is the first distribution authorized by Mercedes-Benz in Vietnam. In 2018, Haxaco became the biggest authorized distributor of Mercedes-Benz in Vietnam, occupying 38% of the total Mercedes-Benz's market share in Vietnam.
Do Tien Dung, Haxaco's chairman, said that Haxaco is his destiny. Dung experienced many ups and downs in the auto business for nearly 30 years, starting from an employee of an auto salon. He used to be fired for "being unable to sell cars".
Bringing Haxaco from the brink of bankruptcy to a profitable company and now the best Mercedes-Benz distributor in Vietnam, Dung has always cherished the ambition of developing Haxaco into a large luxury car distributing corporation.
"When I bought Haxaco, I went to Saigon alone. Because I was born and raised in Hanoi, and my family had stable conditions there, my father did not allow me to move to Saigon. My wife told me that if I go to Saigon, she would divorce me. But I was alone in Saigon for four years to raise Haxaco to today's position. It is my pride, my effort," Dung said.
Bao Anh
The Vietnamese auto market prospered for a few years before being affected by the Covid-19 pandemic, but sales of locally assembled cars have fallen.
Vingroup has sent a dispatch to the Ha Tinh provincial People's Committee, proposing a project on an automobile complex.