There is no official info on a travel ban imposed on the Chairman of the Board of Directors of FLC Group JSC as of March 28, said the Office of Investigating Police Agency under Vietnam's Ministry of Public Security.
Rumors started to circulate on social media on March 27 that the Director Trinh Van Quyet had been detained for questioning regarding the company's stock activities.
There were also rumors that he had been banned from exiting the country, which caused stock prices to plummet during the morning of March 28.
Regarding the rumors, Lt. General Do Van Hoanh of the Office of Investigating Police Agency confirmed the Agency had not made any decision regarding Quyet's arrest.
On March 25, the State Securities Commission (SSC) had imposed an administrative sanction of VND1.5 billion (US$66,000) on the FLC Chairman for failing to announce the company's issuing of 74.8 million shares back in January 10.
Accordingly, the Decision No. 164/QD-XPHC was issued against FLC Group JSC with an initial fine of VND100 million ($4,378) for failing to disclose information that is legally required to be disclosed.
Heavy sell-off sends stocks in FLC family plunging
A strong sell-off dragged a series of stocks linked to conglomerate FLC Group down at the start of the trading session today, March 28.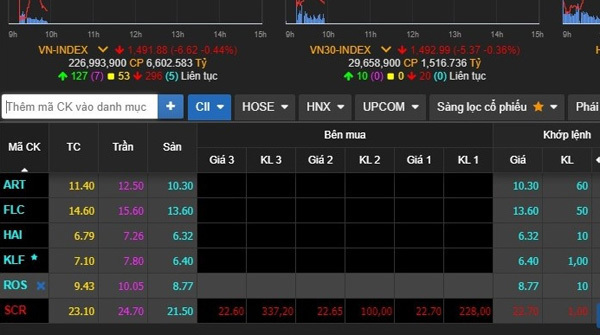 Stocks in the FLC family stand at their floor prices. – Photo: TNO
Many stocks in the family, including FLC, ROS, AMD, KLF, ART and HAI, faced a sharp drop due to selling pressure. FLC fell to its floor price at VND13,600, while ROS stood at the floor price at VND8,770, and HAI tumbled to its floor price at VND6,320.
The poor performance of these stocks had a ripple effect on the real estate and construction group. KDH, CEO, DIG, LDG, CII, DRH, VCG, HUT, DPG, KBC, VHM and FCN lost at the start.
The negative performance of these stocks in the FLC family was a result of a rumor that FLC executives would face a probe following a financial penalty imposed by the State Securities Commission last week.
On March 25, the State Securities Commission handed down an administrative fine of some VND500 million on FLC Group for violation of the regulations on information disclosure in the 2018-2021 period.
The group failed to disclose information about transactions with its relevant parties, postponed revealing its 2019 financial report, disclosed incorrect information about its 2020 and 2021 semi-annual financial reports.
As of 9.40 a.m., the VN-Index of the Hochiminh Stock Exchange lost over six points at 1,492, while the HNX-Index of the northern bourse dipped by 1.72 points at 460, the local media reported.
Source: SGT/SGGP
The State Securities Commission of Vietnam (SSC) has imposed the highest possible fine of VND1.5 billion (US$65,850) on Trinh Van Quyet, chairman of local conglomerate FLC, for his unannounced sale of FLC shares.
The State Securities Commission (SSC) has released a notice about a stock transaction without a report from Trinh Van Quyet, President of FLC Group.