Prime Minister Pham Minh Chinh has called on nations to build confidence together, and protect peace and strengthen relations and cooperation for mutual development.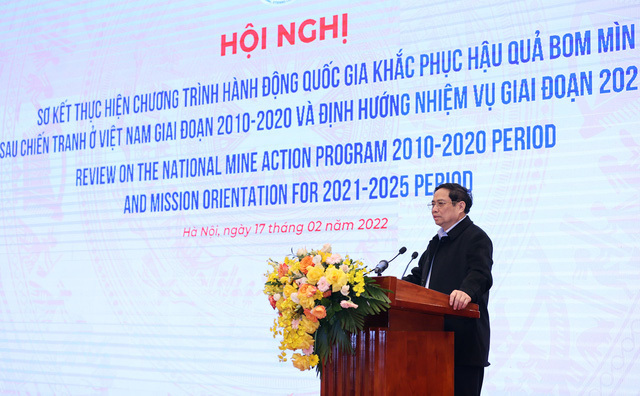 PM Pham Minh Chinh at the conference
The National Steering Committee on Addressing the Consequences of Bombs and Mines After Wars in Vietnam yesterday organized a conference on reviewing the implementation of the national mine action program (Program 504) in 2010-2020 and discussing the tasks for 2021-2025.
According to Senior Lieutenant General Hoang Xuan Chien, Deputy Minister of National Defense, a survey prior to the national bomb and mine action program found that the density of landmine contamination in Vietnam was 6.1 million hectares of land, accounting for 18.82 percent of the country's total land area.
In 2020-2025, the country surveyed and cleared 450,000 ha of mines and UXO, which helped to reduce the landmine contamination area to 5.6 million hectares.
With instructions from the Prime Minister, the Ministry of National Defence joined forces with ministries and branches to organize surveys and map bombs and mines and UXO maps.
The Governments of the US, Japan, South Korea, UK, Australia and Norway, and international organizations such as MAO, NFA, Golden West and Peace Tree gave assistance with ODA projects which have brought practical effects to people and contributed to socio-economic development.
According to Chien, in 2021-2025, Vietnam needs to speed up the demining of 75,000 hectares per annum, an increase of 50 percent than previously.
Representatives of ministries, branches and localities, ambassadors and representatives of international organizations, speaking at the conference, praised the achievements in addressing the consequences of bombs, mines and UXO after wars in Vietnam in 2010-2020.
Prime Minister Pham Minh Chinh said Vietnamese now live in peace, but the consequences of the war still exist. Bombs, mines and UXO left by the wars in Vietnam are a daily danger to people, the burning issue of the country, as and they may cause many difficulties in production and life, and hinder socio-economic development.
Since 1975, more than 40,000 people have died and 60,000 have been injured by the bombs and mines left over by wars. This means that every year, the bombs and mines claim the lives of 1,000 people and cause life-long disabilities to 1,300 people.
After 10 years of implementation, Vietnam has gained important results in addressing the consequences of bombs and mines. More than 5,000 bomb and mine victims and other affected people have had medical assistance, vocational training, and jobs, and received livestock and plants, worth VND50 billion in total. Hundreds of thousands of people, especially children and people living in heavily contaminated areas, have access to mine accident prevention methods.
Tran Thuong
Vietnam spent a total of VND12.6 trillion ($545 million) on bomb and mine detection and clearance during the 2010-2020 period,