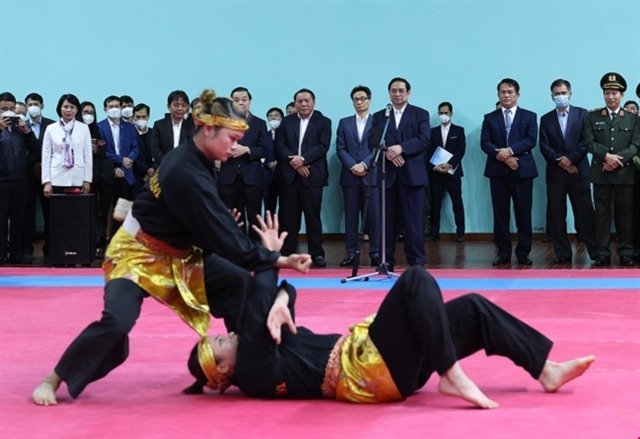 The national pencak silat team performed in front of Prime Minister Phạm Minh Chính. VNA photo Dương Giang
HÀ NỘI — At the National Sports Training Centre on Monday, Prime Minister Phạm Minh Chính visited and encouraged the Vietnamese athletes ahead of the biggest competition in the region, as part of his inspection of the preparations for the 31st SEA Games opening ceremony.
Speaking during the visit, PM Chính said that, although the athletes have gone through so many difficulties due to the COVID-19 pandemic over the past two years, they've always done their best and overcome the practice and performance problems well.
In the field of football, the men's and women's teams secured resounding achievements at the beginning of 2022, such as the women's team qualifying for the 2023 World Cup and the men's team defeating China in the final qualifying round of the World Cup.
"The best efforts of the athletes are already a big achievement," PM Chính said.
"On behalf of the Government, I commend the spirit of overcoming difficulties in training and competing of our athletes and coaches.
"Everyone wants to win, the more gold medal the better. However, do not put pressure on yourself because of your achievements. It's okay if you don't win any medal, as your efforts are already a great achievement."
According to the preliminary list, the Vietnamese sports delegation to the Games will have 1,359 members, including one team leader, 965 athletes (534 men, 431 women) and 26 medical staff.
However, according to team leader Trần Đức Phấn, the delegation has added more members to the staff department, so the official list will soon be approved by the Ministry of Culture, Sports and Tourism.
Yesterday, the organiser also released the official song of the SEA Games 31st — Hãy Tỏa Sáng (Let's Shine) — composed by Huy Tuấn on the tournament's media platforms.
The song is about people born with a mission to reach the top, overcoming difficulties and hardships on their journey of conquest with extraordinary passion and energy, in the arms of friendship. Together, they'll shine together in the jubilant, friendly atmosphere of the host country Việt Nam.
With a strong athlete force, participating in all 40 sporting events, the team aim to be at the top of the medal rankings with about 140 gold medals. VNS