Prime Minister Pham Minh Chinh affirmed the burgeoning development of the Vietnam – US relations over the past years at a business summit on March 8, noting Vietnam considers the US as one of its leading partners.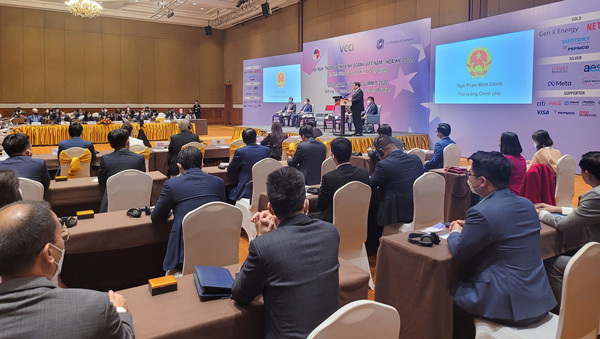 Senior US officials and representatives of large US corporations attend the summit.
Bilateral co-operation has been deepened substantively in various fields, especially in economy-investment-trade since the two countries established their comprehensive partnership back in 2013, PM Chinh told delegates attending the US-Vietnam business summit.
He thanked both the US Government and American businesses for their valuable support and assistance provided over the years. He also shared the difficulties and losses faced by firms due to the negative impact of the COVID-19 pandemic both globally and locally,
The PM went on to outline how the country is implementing a post-pandemic comprehensive socio-economic recovery programme which focusing on three breakthroughs in institutionalisation, infrastructure, and human resources. It is also ramping up the fight against corruption and strongly improving the local business-investment climate in a bid to reduce inconvenience for residents and businesses.
Most notably, Vietnam will not sacrifice social justice progress in exchange for economic growth, the PM stressed.
The Vietnamese Government is fully committed to creating favourable conditions for US firms to invest and conduct business effectively in the Vietnamese market, especially in areas where the US boasts strengths and Vietnam desires to develop, such as renewable energy, clean and sustainable energy, infrastructure, finance and banking, education and training, tourism, high technology, and hi-tech agriculture, he said.
PM Chinh proposed that US enterprises and other foreign-invested firms help further to strengthen the training of high-quality human resources, apply advanced management models, and promote research-development and innovation, in order to make Vietnam a more integral part of regional and global value chains.
For nearly three decades, the US has represented one of Vietnam's top trading partners. Two-way trade between both sides has increased from US$450 million in 1995 when the two countries normalised relations, to more than US$110 billion last year, despite the prolonged impact of the COVID-19 pandemic.
Currently, the US makes up Vietnam's second largest trading partner and largest export market, while Vietnam has risen to become the ninth largest trading partner of the US.
Vietnam is widely considered to be an important link in the global supply chain and this role is expected to continue to be promoted moving forward. Simultaneously, US companies and investors have contributed significantly to the transformation and growth of the Vietnamese economy.
During the event, speakers and participants discussed a variety of issues, including driving growth and innovation through the digital and creative economy, meeting energy development needs to fuel growth in the future, alongside ways to promote sustainable economic recovery.
The US-Vietnam Business Summit 2022 was jointly held by the Vietnam Chamber of Commerce and Industry (VCCI), the US Chamber of Commerce in Vietnam (AmCham), and the US Chamber of Commerce in Washington DC (US Chamber).
Among the delegates on hand were US Presidential Envoy for Climate Change John Kerry, US Under Secretary of Commerce for International Trade Marisa Lago, and US Ambassador to Vietnam Marc Knapper.
Source: VOV
AmCham will continue to work on lowering barriers to trade and creating a high-standard, transparent, and stable business environment in Vietnam.