Many people have booked hotel rooms for their pets while they are away during Tet holiday. At luxury hotels, the pets not only receive special healthcare services, but also enjoy spa services and have their pictures taken.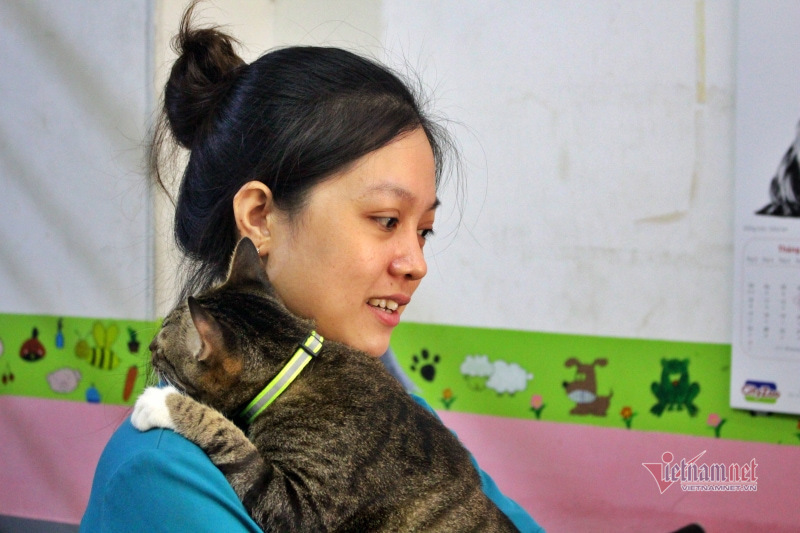 Do Thanh Mai, 23, in Tan Binh District, decided to spend her brief nap period after lunch one day surfing on the internet to find a prestigious pet care center. Unable to bring her dog to her hometown during Tet, Mai wanted to book a hotel room for the pet in HCM City.
"My little Husky is used to the living environment in HCM City. I'm afraid he will be sick if going with me to the hometown," she explained. "He will be well cared for by professionals."
Finally, Mai decided to book a room at a large pet care center in district 11. The room rate was VND150,000-300,000 per day.
With the service package, Mai's dog is given a general check-up, fed, bathed, and played with every day. The center has a free bathing and cleaning service before Mai takes the dog back.
Le Hoang Quyen, 43, decided to leave her British shorthair cat at a luxury pet hotel in Go Vap district. With sky-high service fee, her cat can enjoy high-end services.
The pet can stay in a room with air conditioner and soundproofing, where there is a carpet, food tray and water bowl. The room is designed with reasonable light and humidity levels so the pets can feel enjoyable.
If pets stay at hotels during Tet days, they can also enjoy other luxury services – going to the spa, having their picture taken, going outside, and health care. The pets can communicate with their owners every day through social networks. Workers at the hotels have the responsibility of filming the pets and sending clips to the owners.
Nguyen Thi Ly, 26, a worker at a hotel in district 11 in HCM City, predicted that the demand would be high this Tet.
Many people in the city plan to return to their hometowns to celebrate Tet after a long period of travel restrictions.
Ly and other workers at the hotel are not returning to their hometowns this Tet, but staying at the hotel to take care of pets.
Le Thi Thu Thao, the owner of a pet hotel in Go Vap district, said despite the high demand she won't increase the service fees, except on the first and second day of the Lunar New Year.
Nguyen Son
It was recorded that the number of people coming to Tan Son Nhat Airport on January 22 to go to provinces was much higher than on normal days.