After over two months of implementation, Resolution 128 on shifting from the state of epidemic prevention to the stage of "safe and flexible adaptation to the epidemic" has left positive imprints on the economy and socio-psychology.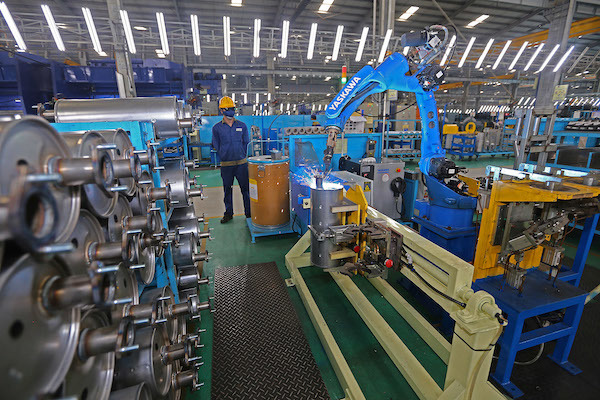 Industrial production has recovered in many provinces, especially southern localities. Photo: Le Anh Dung
For example, in June, a company in Ho Chi Minh City had to stop production and temporarily laid off 3,500 workers after three workers infected with covid. By early December, when Resolution 128 came into effect, a business in Da Nang with 140 cases of Covid-19 was still allowed to operate.
There's more evidence of reopening. The Prime Minister's Advisory Council for Administrative Procedure Reform conducted two surveys in August and October. The survey showed positive signs of the recovery of production and business of businesses and employment after the application of Resolution 128.
Of 3,440 enterprises participating in the online survey in October, the "active" number accounted for 39%, twice as high as this rate in the August report.
Among 8,835 workers who responded to the online survey in October, the percentage of respondents who were

still employed was 47%, an increase of nearly 10 percentage points the August survey. At the same time, despite the difficult situation, 43% of business leaders of operating firms "appeared to be optimistic to steer businesses".
The report of the Ministry of Planning and Investment added that industrial production had recovered in most localities, especially in southern provinces. The index of industrial production (IIP) of the whole country in November increased by 5.5% compared to the previous month. For the January-November period, it increased by 3.6% compared to the same period of 2020.
Trade and services recovered quickly after traditional trade and small businesses resumed operations, meeting consumer demand and goods circulation. Total retail sales of consumer goods and services in November rose by 6.2%; passenger transport up by 24.1% over the previous month.
The number of newly established enterprises increased by 44.6% over the previous month, registered capital rose by 38%, and labor up by 30.2%, especially in localities heavily affected by the epidemic such as Ho Chi Minh City, Hanoi, Binh Duong, and Dong Nai. The number of enterprises resuming operation increased by 15.2% over the previous month.
These are clear examples of what resolution 128 has brought to the economy and people's livelihoods, affirming the correct and timely direction of the Government in changing the strategy of epidemic prevention and control.
Stimulating the exhausted economy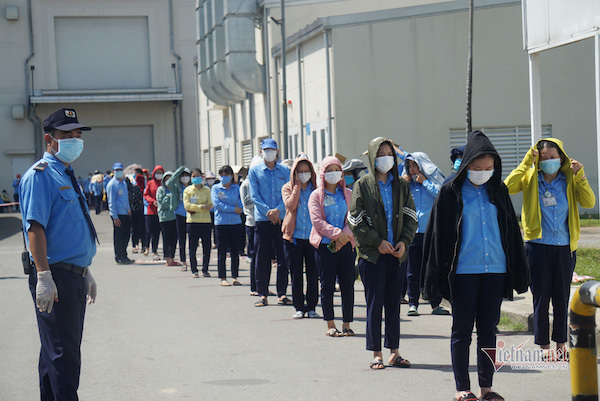 Many businesses in Da Nang lack workers. Photo: Ho Giap
However, due to the impact of the 4th Covid outbreak and disruption of supply chains in the world, businesses and people are still facing challenges in the context of "living with Covid".
According to a survey in October, 30% of enterprises responded that they had difficulties in recruiting workers, especially qualified workers. More than 45% of businesses believed they must offer a higher income than before the pandemic to attract workers.
In addition to labor shortages, rising labor costs, and difficulties such as working capital, enterprises are facing new difficulties: higher prices of input materials (56% of surveyed enterprises), weak market demand (43%), and cost of testing for workers (41%).
For employees, more than 59% of respondents said they did not have savings to support their lives now, and have to rely on debt or expect support from family/society; 41% could not find a job; 59% wanted to sign a contract for a new job, and 54% wanted employers to commit to pay social insurance and unemployment insurance.
Also, 22% of operating enterprises said that they had recovered to the level before the epidemic, while 45% said that if local governments strictly implemented Resolution 128, businesses would recover within a period of one to less than six months.
In the past 11 months, the number of newly registered enterprises decreased by 15% year on year while the number of enterprises withdrawing from the market rose by 13.9%.
High production costs, increased freight rates, and labor shortages are threats in the medium and long term for production and business activities and competitiveness of enterprises. A series of indicators such as purchasing power, passenger transport, and tourism show that the economy is still too weak.
Meanwhile, macroeconomic stability and large balances are at risk. High gasoline prices increase transportation, production and logistics costs, putting pressure on inflation. Moreover, credit risks and bad debt still exist after the economy's hibernation in the third quarter.
Experts estimate this year's growth rate will be only about 2%, the lowest level that has ever been recorded in Vietnam. Facing that situation, a package to support economic growth for the period of 2020-2023 has been under discussion.
The problem is whether the package will be implemented too late. Other countries launched similar packages to stimulate economic growth a long time ago, and now have to consider raising interest rates to control inflation.
International organizations forecast the world economy to grow by 5.7-5.9% this year and 4.5-5% next year; and global inflation to increase to 3.2% before cooling down to about 3% next year and 2.5% in the next three years.
Tu Giang
Two months have elapsed since the issuance of Resolution128 which said Vietnam needs to 'live together with the pandemic'. Production has gradually resumed and positive signs in the economy are reappearing.
Nearly two months have passed since Ho Chi Minh City and 18 southern provinces have lifted lockdown measures and set up the "new normal", with the operations of people and enterprises gradually resuming.