Nghe An, Ha Tinh and Thanh Hoa were among the 10 provinces with the highest numbers of cars bought in 2021. They are among the 10 provinces with the highest number of poor households.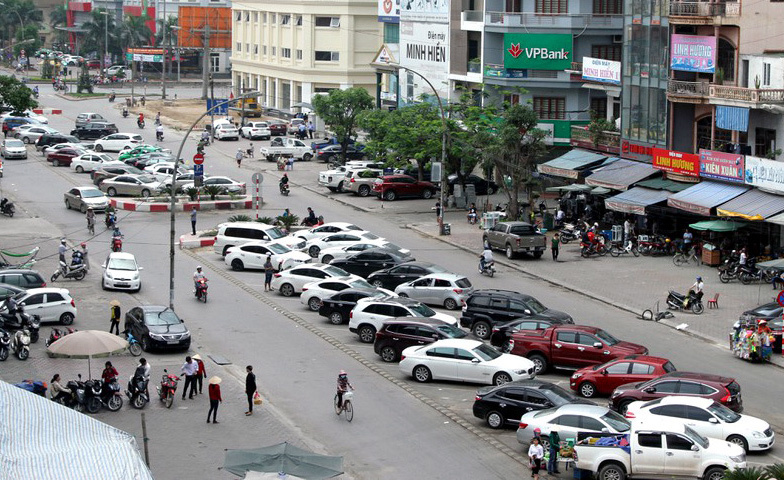 According to the Vietnam Register (VR), the number of cars with nine seats or less, bought and registered for the first time in Nghe An was 14,628, ranked fourth, while ThanhHoa, with 10,963 cars bought, ranked sixth, and Ha Tinh, with 8,262 cars, ranked eighth.
The people in the three provinces even bought more cars that some of the 10 richest localities, such as Quang Ninh, Ba Ria – Vung Tau and Da Nang City.
In 2021, Quang Ninh people bought 7,801 cars, ranked ninth, Ba Ria – Vung Tau 6,115, ranked 16th. The figures were 5,132 and 18th, respectively, for Da Nang.
Borrowing money to buy cars
Hoang Lap hamlet in Dong Son district in Thanh Hoa province was considered the poorest hamlet but that has changed.
There are 350 households in the hamlet, but over 60 cars. Many Hoang Lap's people have gone to other localities to do business and have become well off. They return to their hometown and buy cars, changing the face of the poor village.
However, this is not just about all car owners in the village. According to the former chair of Dong Phu commune, many people borrow money from banks and other sources to buy cars. Some people buy cars but don't use them, while others drive cars to the market or cafés which are only hundreds of meters from their homes. People often buy cars because they don't want to feel inferior to other villagers.
In Nghe An province, many people received food aid from the Government last Tet. Seven provinces received 11,448 tons of rice from the Government, of which Nghe An received 1,140 tons, the second highest amount after Ninh Thuan province. Meanwhile, Nghe An was among the top four biggest car buyers in 2021 with the number of cars bought even higher than Binh Duong.
Since 2017, traffic jams often occur at crossroads in rush hours in Vinh City. This is blamed on the high number of cars and the inadequate transport infrastructure. Besides common car models, there are more and more luxury cars in the city.
Cars are seen not only in Vinh City but also in many other localities in Nghe An province. Tran Xuan Kien from Cua Lo, who now works in Nam Dinh, said he heard from his parents that many relatives and friends bought cars with money borrowed from some sources at high interest rates.
According to Nghe An Police, from December 1, 2021, when the vehicle registration tax reduction of 50 percent took effect, to January 26, 2022, as many as 5,294 cars were registered. Nghe An is expected to be listed among the provinces with the highest numbers of cars bought in 2022.
Meanwhile, Ha Tinh is considered an emerging car market with high growth rates of 40-50 percent per annum over the last two years. Many local people gained high incomes after a period of doing business or working abroad as guest workers. Others got rich after selling land. The land prices in many districts have increased, thus creating wealth.
According to Ha Tinh Statistics Office, in February 2022, car sales reached VND307 billion, an increase of 30 percent over the same period last year, despite the one-week Tet holiday.
Meanwhile, according to Ha Tinh – Cam Xuyen taxation agency, in the first two months of 2022, the agency collected vehicle registration taxes of 760 cars, an increase of 74 percent over the same period last year.
Phu Tai Duc, a Toyota sales agent, reported that it sold 200 cars of different kinds in February, up by 50 percent over the same period last year. In 2021, it sold over 1,000 products, a high figure which is the dream of sales agents in large cities.
Taxes
Cars with nine of less seats bear the highest taxes and fees. There are three major taxes imposed on these vehicles, including import tax, luxury tax and VAT. The three kinds of tax account for 30-50 percent of the selling price.
One domestically assembled car with the factory price of VND500 million have a preferential car part import tax of zero percent and only has luxury tax (40 percent) and value added tax (VAT) (10 percent). The two kinds of taxes alone amount to VND270 million. Also, car buyers have to pay 10-12 percent in registration tax (the tax rates vary in different localities).
Experts point out that car prices in Vietnam are nearly double that in Thailand and Indonesia and the price gap is even bigger compared with developed countries such as the US and Japan.
Tran Thuy
Vietnam Association of Mechanical Industry (VAMI) believes the method of determining the localization ratio in cars is not consistent with the Law on Promulgation of Legal Documents and is no longer suitable to the new circumstances.
Skoda Auto, a popular car company from the Czech Republic, has unveiled their latest plan to develop a car factory in the northern province of Quang Ninh this year.