Some localities don't want residents to return to hometowns to celebrate Tet holiday and have set extreme anti-pandemic measures.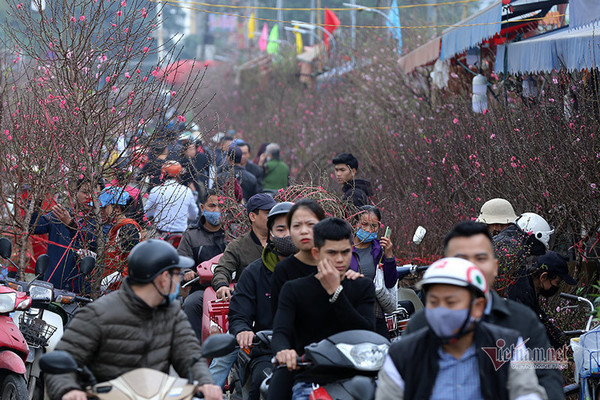 Van Thanh, living in Hoan Kiem district in Hanoi, said she is from Kim Dong in Hung Yen province. If she returns to her hometown to celebrate Tet, she would have to have a 7-day home quarantine, the regulation applied to people returning from orange and red zones.
"The regulation causes difficulties for people living far from their hometowns," she said. "We have to live and work in cities to earn money all year round and Tet is the only time for family reunion."
"Regulations must be reasonable. We have the sense of responsibility of protecting ourselves and other people. We return to hometowns not to spread coronavirus," she said.
Lawyer Dang Van Cuong said Tet is the time for family reunion, so people want to return to homeland to celebrate Tet. For Vietnamese people, home is the place where their parents and relatives live.
Cuong said the regulations on pandemic prevention and control set by localities must be in line with the Law on Prevention of Infectious Diseases, the legal documents issued by the Government and Steering Committee on Pandemic Prevention and Control to ensure safe adaptation to the new circumstances, i.e. strengthening prevention but not restricting production, business and daily life activities.
However, some local leaders don't want people to return to celebrate Tet, and have set strict regulations. Some have issued documents encouraging people not to return to hometowns.
"These are extreme regulations, selfish and not humanitarian," he said.
The lawyer went on to say that in order to ensure the enforcement of laws and efficiency in pandemic prevention and control, localities need to check legal documents that guide the implementation of the laws. It's also necessary to reconsider the legal documents in localities to both ensure safety and allow people to celebrate Tet safely.
The recommendations that people should not return to hometowns to celebrate Tet should be removed to ensure consistency of policies.
If localities apply extreme measures such as locking doors, sticking a notice on the door of houses with people returning from red and orange zones to celebrate Tet, this is reprehensible behavior.
If fires occur and people inside cannot escape because of locked doors, the people who locked the houses will face criminal proceedings.
Preventing the spread of disease is a necessity, but the regulation to prevent Covid must fit the laws and anti-pandemic measures must be scientific and humanitarian to avoid adverse effects on people's lives.
T. Nhung
Travel firms are busy these days as more people have begun booking tours. The number of travelers is expected to increase before, during and after the Tet holiday.
If the Covid-19 epidemic in HCMC maintains at alert level 1 and 2, the city will organize a New Year Countdown Celebration on the night of December 31 at the President Ho Chi Minh Monument Park on Nguyen Hue and Le Duan streets in District 1.