Vietnamese parents agree that their children need to be good at math, but disagree on whether they need to have good handwriting.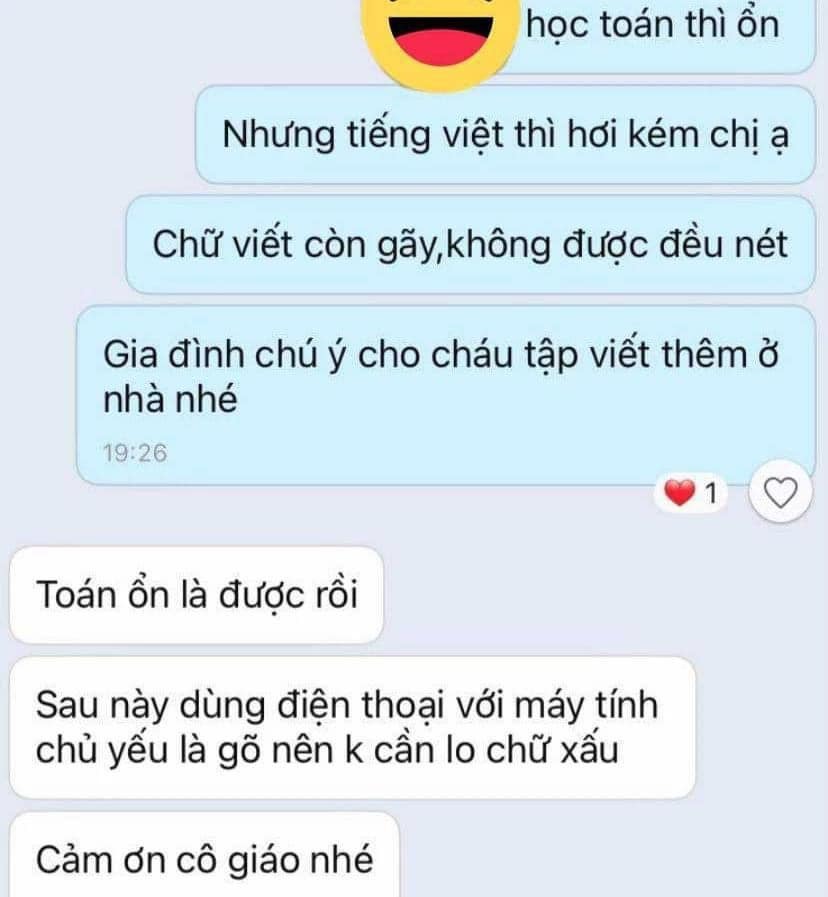 The parent replied that she just wants her child to be good at mathematics
A debate about whether to ask children to practice handwriting every day occurred recently after a message between a parent and a teacher was posted on a social network.
In the message, the teacher informed the parent that her child was good at math but not good at Vietnamese language and handwriting. The parent replied that she just wants her child to be good at mathematics, and doesn't care if the child has good or bad handwriting.
"No need to worry about bad handwriting in modern days. They will type on smartphones and computers," the parent messaged the teacher.
Parents were divided about the viewpoint.
"Students practice handwriting not just to have good handwriting, but also to have good virtues, strong will, and warm heart," said Ho Thu Trang, a mother in Hanoi. "If someone is careless in writing in childhood, he will become an impatient man later."
Trang said she asks her daughter, a third grader, to practice writing for 30 minutes every day after finishing home exercises.
"I told my daughter that if she has a clean notebook with well-balanced letters, she will win the heart of other people. This is just like when entering a house with everything neatly arranged, people will be sympathetic toward the hosts," she said.
Sharing the same view, Ha Thi Hang in Lang Son said the ancestors were right when saying 'handwriting describes personality'.
"Practicing writing doesn't aim at obtaining necessary skills for work in the future, but it fosters perseverance and patience," Hang said.
Nguyen Huu Nguyen, a father in Ba Dinh district in Hanoi, said he asked his children to practice handwriting when they began going to school.
"I have very bad handwriting, though my parents were very strict and asked me to practice writing every day. I regret that I did not listen to my parents' advice. I cannot even read my transcripts myself," he said.
Nguyen Thanh Hang from HCM City agrees that in the future humans will work with computers and won't have much time for handwriting. However, she still believes that practicing handwriting is necessary.
"Why do you still think that your children need to be good at mathematics? Why don't you think there is no need to learn math, because there are computers, calculators and Google?" she said.
Meanwhile, many other parents did not agree.
"I know that students need to learn how to write. But my children just need to have clear and readable handwriting. I don't ask my children to practice too much. The time for handwriting practicing should be reserved for reading books, swimming and playing football," said Tran Ha Nam, a parent in Hanoi.
Nam, recalling his childhood, said when he had to write all day it was a difficult time and he was so afraid of practicing. So he vowed not to force his sons to do this.
"Why do you force your children to waste time on handwriting practicing while there are too many things to learn in modern times?" said Le Thi Phuong Nhung in Hanoi. "Good handwriting won't help you earn more money."
"I will show my children how to type quickly and take notes in shorthand. I think children need to practice these skills, which are necessary in the 4.0 era, not handwriting," she said.
Vu Anh Duy from HCM City said that students need to spend time learning mathematics and natural sciences, rather than Vietnamese language and social sciences, because 'literature won't help you earn money, unless you are very famous writers'.
"In addition to math, my children also go to chess class to practice logical thinking," he said.
Phuong Chi
Private tutoring was a hot topic of discussion at the National Assembly Q&A session on November 11.
Education experts warn that teachers will be sure of failure if they use in-person teaching methods for online teaching for first graders.