Overseas Vietnamese have overcome hesitation and doubts after visiting Truong Sa. After the trips, they act as 'ambassadors' in affirming Vietnam's sovereignty over sea and islands.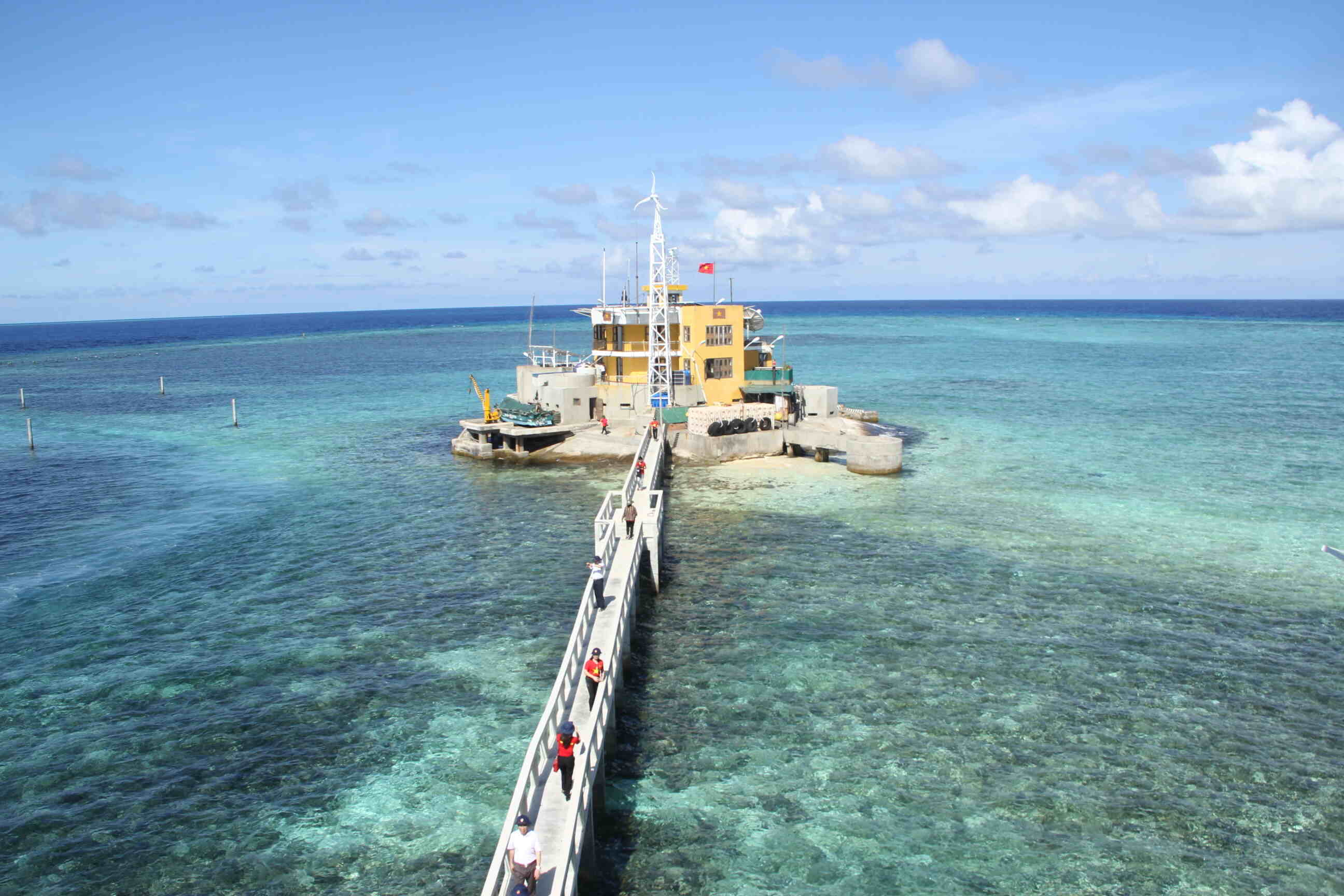 Nguyen Quang Truong, or Etcetera Nguyen, director and reporter of Vietnam Today TV, is one of the overseas Vietnamese with the highest numbers of trips to Truong Sa (Spratly Islands) and DK1 Platform. He visited in 2012, 2014, 2015 and 2018, and one time to Hoang Sa (Paracel Islands).
He is regularly present at meetings organized by the State Commission for Overseas Vietnamese.
In 2012-2019, the commission, joining forces with the Naval High Command, organized trips to Truong Sa and DK1 Platform for eight delegations with 600 expatriates
After leaving Vietnam in 1988 and living in Thailand for three years, Etcetera Nguyen in 1991 went to the US, where he studied at Cypress College in California.
After dropping out of school, he opened a gallery and printing shop. Later, he published Mimi News, a monthly magazine that served Mimi Studio. In 2002, together with friends, he published Viet Weekly newspaper. Since April 2017, he has been running Vietnam Today TV on YouTube to introduce Vietnamese beauty and culture to the world.
"Every Vietnamese person wants to see with their eyes and touch with their hands the sea and islands of the fatherland. As a reporter, I can come to the site and hear the stories that overseas Vietnamese were unsure about," he said.
Recalling the first time of visiting Truong Sa in 2012, he remembered the feeling of excitement, nervousness and anxiety.
With the spirit of a true journalist who wants to learn the situation and report the truth, Etcetera Nguyen and other 200 overseas Vietnamese people decided to go to TruongSa.
Most of the visitors were surprised about the living conditions and facilities there. They could see pagodas, school, lighthouses and the rich life of local people.
With the information they got from that trip, Etcetera Nguyen and other journalists published articles about Vietnam's sea and islands, and introduced more than 200 photos to the community of overseas Vietnamese.
Expatriates with different backgrounds all can register to take the trip to TruongSa. Etcetera Nguyen was especially impressed by a woman whose daughter participated in an overseas opposition organization.
"The image that I will never forget is that when she landed on the first island and raised her hands into the sky and shout 'Bien dao Vietnam, bien dao que huong toi' (Vietnam's sea and islands, sea and islands of my fatherland)," he said.
"Later, when I met her once again in the US, she said she will never forget the trip and the memory," he said, adding that she believes that her children and the second and third generations of overseas Vietnamese will change their thoughts about Vietnam.
"There is a distance between seas and islands, but hearts come closer after that journey," he said.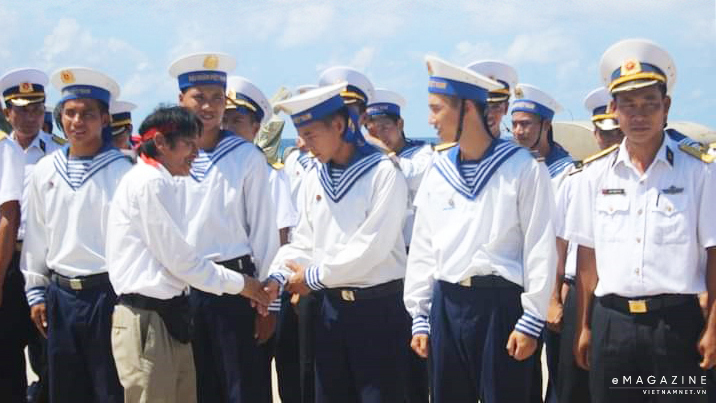 Truong Sa is no longer vague, distant, misunderstood, or misrepresented as before. These are convincing proof of what is happening in territorial waters belonging to Vietnam.
Great national unity
Wearing two 'Chien si TruongSa' (Truong Sa's soldiers) on his left chest, holding a camera in his hand to take picture of each person in the meeting, Le Thanh Binh, 65, former Chief Representative of the Vietnamese People's Association in Poland, told reporters that he had visited Truong Sa twice. He was one of the first five compatriots visiting islands.
In 2011, a group of five overseas Vietnamese people from Thailand, Russia, Czech Republic and Poland were selected for an advance party. Binh and a young man in Poland were chosen.
"I was surprised when receiving a call from the embassy. They said I had three days to think about the trip. But I just needed several seconds to decide to return to Vietnam and visits the islands of my fatherland," he recalled.
"There was no large fisheries surveillance boat to carry people at that time. Binh and the other members of the group went to islands on a naval ship and had to manage to adapt to the big waves hitting the side of the ship. But he did not get discouraged.
Like Etcetera Nguyen, Binh has been to many countries and found that information about territories and maritime sovereignty that overseas Vietnamese have is limited.
"When I got there, I felt surprised as the sea and islands still exist. I see people living and working there, and small children playing and amusing themselves. I also see the strong will of the naval soldiers protecting the islands day and night.
After the trip, he asked the Embassy in Poland to organize a workshop on East Sea to provide information to overseas Vietnamese in Poland to help them better understand the situation.
His second trip to Truong Sa was two years later. Before the departure, he visited Hung King Temple in Phu Tho, reporting to the Kings about the trip. He got permission from the Temple's board of management to bring three kim giao trees (Nageia fleuryi) on Nghia Linh Mountain to Truong Sa and grow the trees at the pagoda on Son Ca Island.
In recent years, after groups of overseas Vietnamese in Poland visited Truong Sa, many people showed their interest in Vietnam's maritime sovereignty.
"We have organized more international workshops about Truong Sa and East Sea. We invited scholars, researchers and environmentalists to talk about territorial waters, including Vietnam's Hoang Sa and Truong Sa," Binh said.
Maritime sovereignty is considered the glue between overseas Vietnamese and people in the country, creating connection and great national unity.
Thanh Nam
The Tet holiday is no less special for Vietnamese citizens who, due to the COVID-19 pandemic, cannot travel back to their homeland for the most special time of year.
Vietnamese-born former German Vice Chancellor Philipp Rosler said he has learned much about Vietnam's history, culture, country and people.