Hieu Constant, a writer in France, says overseas Vietnamese people are willing to become "swallows" to bring information to people who don't have an opportunity to visit Truong Sa.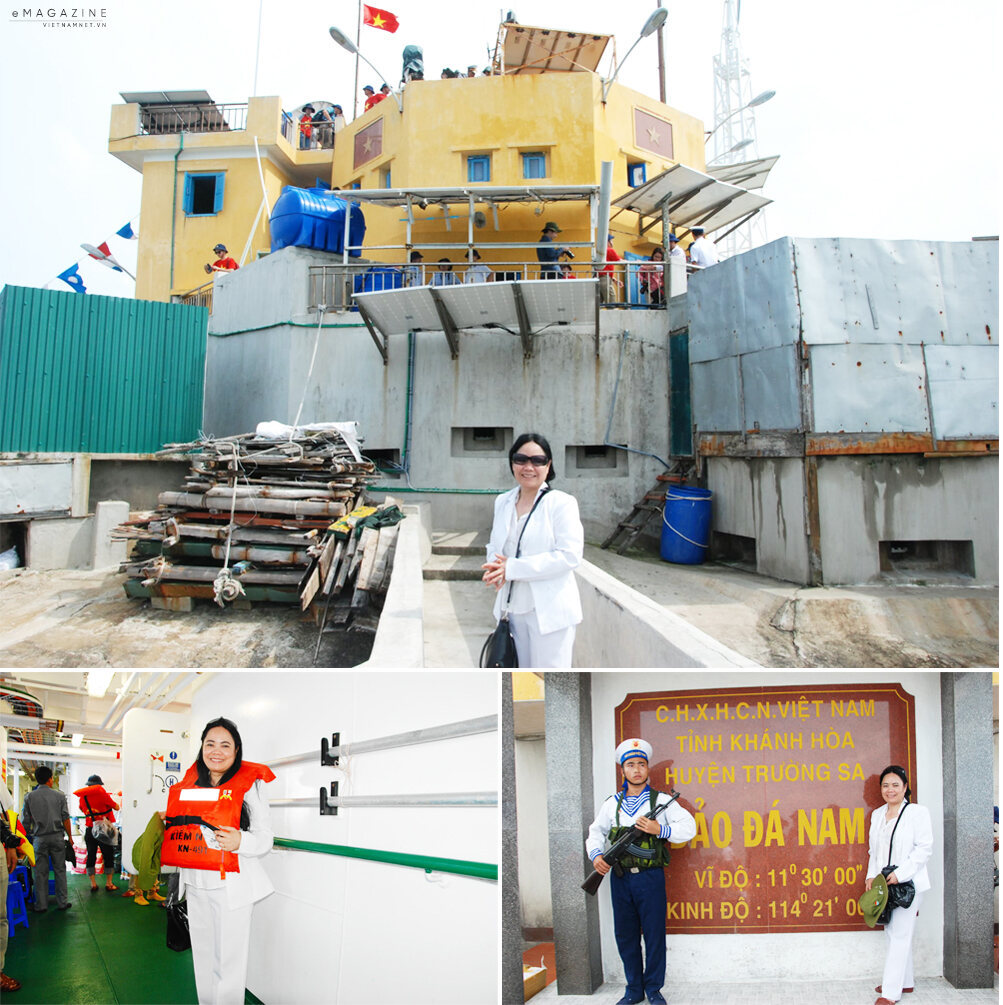 Truong Sa (Spratly) Archipelago is a place that many people want to have the opportunity to visit, at least once in their lives. You once visited with 70 other compatriots in 2018. Do you remember this special trip?
Visiting Truong Sa is a special trip in the life of every Vietnamese person, especially overseas Vietnamese. I can say that this is a rare opportunity that not all people have. What we witnessed and felt there will follow us throughout our lives.
The trip lasted 10 days with visits to many islands and DK1 rigs. Wherever I went, I was filled with indescribable emotions. Within just 10 days, I felt like I lived many lives, happy, sad, smiling!
I believe that trips to Truong Sa change many people, including me, and their way of thinking and living. The worries about daily material life don't bother us too much, because we can see there are many sacred things. The spirit of solidarity and sharing difficulties is aroused. We have good memories and unforgettable moments in our lives.
You have published a book, Kieu bao voi Truong Sa (Overseas Vietnamese with Truong Sa). Could you please tell us about the book and the message you want to send to readers when writing the book?
The book is written under the form of a memoir. I reported on my trips to every island and I took pictures. I recorded by feelings and the feelings of other people that I had the pleasure of meeting during the trip.
For example, when coming to the first sunken island, we felt pity seeing the officers and soldiers living in very poor conditions. Seen from afar, the small island amid the sea and waves has no greenery. When we landed on the island, we could see soldiers growing vegetables in big tanks which were covered to prevent seawater which could splash into the vegetables.
I also wrote about our emotions when witnessing the flag saluting ceremony on Song Tu Tay Island, and especially the farewell when we were loath to part with officers and soldiers when we left Truong Sa for DK1 rigs.
There is a chapter in the book about the members of the delegation to TruongSa and their feelings during the trips. And I also write about the activities of Vietnamese in France towards Vietnam's seas and islands.
With this work, I would like to send to readers and compatriots at home and abroad the true images of life on the islands of the Spratly archipelago of Vietnam. I want to show the indomitable and resilient spirit of naval officers and soldiers who are living and working, protecting the sacred sovereignty of the fatherland. I also show the feelings and the love that overseas Vietnamese have for the sacred territory of the country.

I can say for sure that every overseas Vietnamese person is an integral part of Vietnam. Overseas Vietnamese and compatriots in the country are always united about the sacred sovereignty of the nation.
Did it take you three years to write the book?
Yes, it's true. During the trip, I felt extremely excited and thought about writing a book. But when I got to the mainland and back to France, it was very difficult for me to write because there were so many things I wanted to say and things I just wanted to keep to myself.
I need to confess that after the trip, I did not want to talk to anyone about Truong Sa for many months. The memories were too valuable for me and every time I talked about it, I got choked up with emotion and found it hard to describe in words.
I lingered for a long time and I only could begin writing the book three years later. Indeed, when I finished writing, I was relieved.
I am very happy when the book reached readers. And since then, I have received many messages of thanks, because I, on behalf of many people, expressed their affection for Truong Sa. Also through this work, I would like to send a message to compatriots in the country that overseas Vietnamese look towards the fatherland with the most sincere affection.
The Ministry of Foreign Affairs (MOFA) and the Navy believe that maritime sovereignty is the 'adhesive' that connects Vietnamese people overseas and in the country, and creates great national unity. What do you think about this after you have been to Truong Sa, returned and completed the book?
I completely agree with the viewpoint. No matter where we are in, which countries we live and by which occupation we make a living, we have the same thing – the fatherland of Vietnam. Sea and islands are an integral part of our territory.
Living in France, I have the opportunity to communicate with many circles of people. No matter what their political views are, they all keep the same will of fighting for the nation's sovereignty.
All of us are willing to voluntarily act as swallows to disseminate and spread information that we see and hear to other overseas Vietnamese people, international friends, those who still don't have the opportunities to come to Truong Sa and witness the life there.
The Party and the State encourage overseas Vietnamese to return to Vietnam to live and work. What do you say about this?
I am happy and I completely advocate the recent policies on attracting foreign and overseas Vietnamese resources. I can see that the treatment policies have significantly improved. I hope that administrative procedures and the policies on tax and house ownership will be further improved.
Hieu Constant, 52, was born in Thuong Tin, Hanoi. She lives and works in France. She is the bridge between French literature and Vietnamese readers with 50 translated works and valuable novels. Her '100 nam tam long huong ve To Quoc' (100 years of looking towards the Fatherland") is one of 50 works awarded in 2019 in the skilled people movement.
Thanh Nam
Overseas Vietnamese have overcome hesitation and doubts after visiting Truong Sa. After the trips, they act as 'ambassadors' in affirming Vietnam's sovereignty over sea and islands.
The Tet holiday is no less special for Vietnamese citizens who, due to the COVID-19 pandemic, cannot travel back to their homeland for the most special time of year.