The canna noodles, or glass noodles, of So Village in Tan Hoa Commune, Quoc Oai District, have long been known as a specialty of the Hanoi countryside, loved far and wide. They are probably the most famous noodles in the country.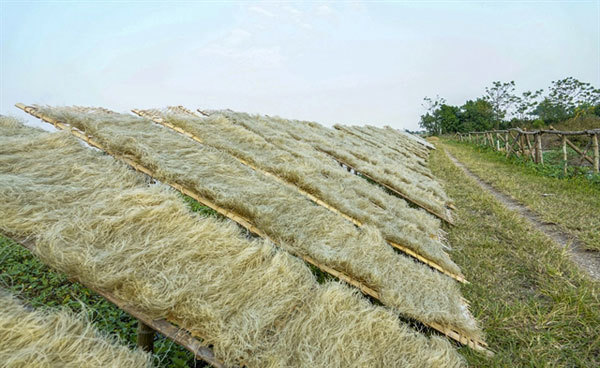 Drying technology has been widely used in many production areas but in So Village, it is still sun-dried. — Photo www.phunuonline.com.vn
These days, the village, about 20km from central Hanoi, is busy preparing its noodles for Tet (Lunar New Year festival). Right from the early morning, the noodles workshops start for work and keep going all day. The noodles will be eaten at countless special meals throughout the year, all over Vietnam, so there is much work to do.
The noodles of the village are famous for being delicious and chewy, and is said to taste like no other. This idyllic and rustic dish has brought a rich life to the people here for many generations.
The making process includes powder making, thread forming and drying.
The selected canna roots to make noodles are large and aged. They are washed and ground into powder. A batch of noodles needs to go through at least three stages of washing to help remove the residue and grit.
Currently, drying technology is widely applied in many craft villages, but So Village retains the traditional way of drying it out in the open air, under the sun and in natural wind.
It is often dried in large areas, far from residential areas, with little smoke and without the use of preservatives or additives, to ensure food safety and hygiene. The villagers frown on modern technology, preferring to dry it naturally, which they say is the secret to making it more crispy and fragrant. Few people seem to disagree.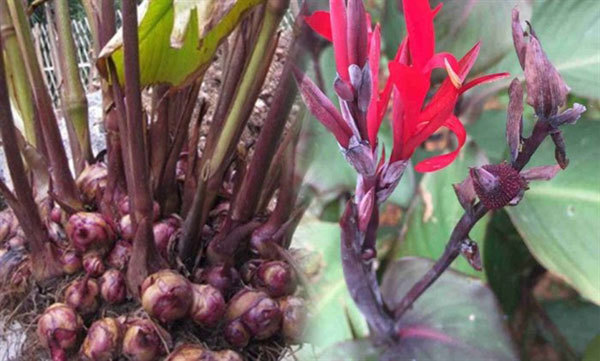 Glass noodles from So Village is made of canna roots. — Photo namlimxanh.vn
"The drying process depends on the weather. On a sunny day it only takes a few hours; on a less sunny day, it may take all day. If the weather is favourable, sunny and windy, my family can make a batch of noodles every two days, amounting to more than three tonnes," said 50-year-old villager Nguyen Thi Quy.
The noodles are sold all year round, but during Tet demand is much higher. The COVID-19 pandemic affected many products, but the noodles industry was not affected too much, due to it being essential and stored for a long time.
Duong Dinh Ngoan, 65, said that making noodles in So Village was a traditional craft handed down from generation to generation. So village's noodles are more special than from other craft villages thanks to the water source. Most households in the village use local well-water, creating a special and unique flavour.
Today, the wells in the communal house in the village are not enough to serve all production households, and some houses use tap water, or water from local boreholes.
Ngoan has three children, but none of them followed his profession, so he had to pass the craft down to his first daughter-in-law. She has made him proud.
"I made the noodles from 1987 to 2004. When my daughter-in-law decided to follow the profession. I am very happy to have someone continue the traditional craft. I will try to advise my descendants to continue the craft to preserve the special identity of the village," Ngoan said.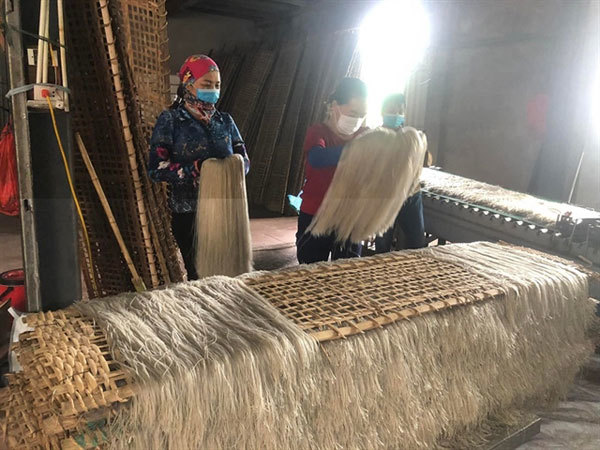 Wet noodles are arranged for sun-drying. The So Village specialty has been the favourite of the domestic market for many years. — Photo kinhtedothi.vn
Nguyen Thi Hop, Ngoan's daughter-in-law and owner of the Duong Phuong noodles workshop, said it employed about 20 workers. The village now produces a larger quantity of the foodstuff than ever before.
"The noodles are formed into thin sheets before being cut into threads and sun-dried. Every day, we make about four tonnes of noodles. In a month with little rain, the amount of product is very good. But in months of heavy rain, it is extremely difficult for us as rainwater will immediately damage the noodles. Our work is highly weather-dependent," said Hop.
According to Hop, the machines and production process may be the same, but the place for drying the noodles and input materials for production are what make each establishment different.
"Making noodles brings quite high economic value, and my workshop can earn about VND1 billion in a few months over Tet holiday. However, making noodles requires people to be meticulous at each stage. Right at the beginning, I also have to choose good raw materials to ensure the best taste. I only take materials — canna roots — from Dien Bien Province," Hop said.
Duong Dinh Khoi, owner of Duong Kien workshop, said: "Thanks to modern machinery combined with traditional techniques, my household workshop can make one tonne of noodles every day. Duong Kien products are packed in 0.5kg bags, stamped and labeled with full information on nutritional ingredients, quality standards, food safety and hygiene, so we are gradually asserting the brand name on the market."
According to Vuong Sy Trung, chairman of Tan Hoa Commune's People's Committee, determining noodles as a key product and brand will help people develop the local economy.
Going forward the commune will continue to plan production areas and create expertise in production. At the same time, the commune promotes the product brands and continues to support facilities on production lines, mobilising a few establishments to use standard packaging and labels to ensure uniformity of the products to sell on the market.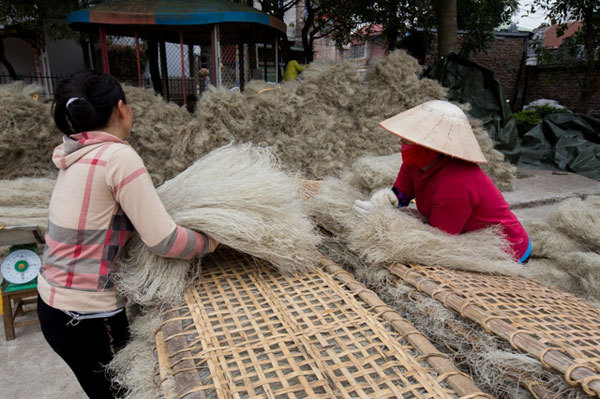 Workers collect dried glass noodles. Making noodles in So Village is a traditional craft handed down from generation to generation. — Photo nhandaovadoisong.vn
Noodles for feasts
There is a saying: "The banquet lacks the noodles of So Village," indicating that no feast is complete without the renowned food.
So noodles are now a trademark, appearing in all parts of the country, from the duck noodles shops selling daily on the streets of Hanoi, to the food served at weddings, anniversaries and ancestor worshipping days across the country.
"I use So noodles to make a meal for every major event of my family, especially during the Tet holidays. The noodles are delicious. My family likes eating them very much," said Hanoian Nguyen Thu Thuy.
So Village now has a name known far and wide, and its noodle specialty is a guiding thread for local people, even when far away from home.
Source: Vietnam News
Cu Da vermicelli village in Hanoi is famous for both ancient French-style houses and a long tradition of making vermicelli.
Phia Den mountain, Cao Bang province, is considered hometown of glass noodle as natural conditions here are ideal for not only growing its ingredient – canna, but also for its making process.