The quality of online exams is in doubt as there is no effective solution that can prevent cheating on exams.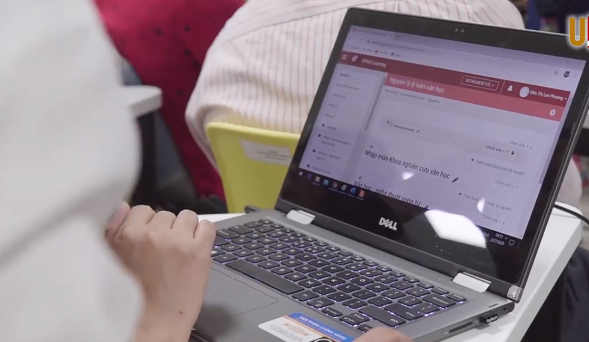 Le Thu, a parent in district 3, HCM City, admitted that she had "helped" her daughter "a little" when the girl was doing her mid-semester math test.
"The teacher asked students to turn on cameras and microphones. However, it was impossible to capture every corner. And I didn't have to say anything. I just needed to write it down on the paper," she said.
Thu said her daughter had been a good student since the first grade and was one of the top 10 students last academic year. However, her learning capability has gone downhill since the beginning of the new academic year.
Thu received a call from the math teacher a week before the exam, who said that her daughter had a 2 out of 10 score on the mock test. So she decided to hire a private tutor and "help" the daughter during the test.
"I'm sure that my daughter had never cheated at the exam before as I always told her not to do this, until the latest test," she told VietNamNet.
"However, her ineffective online learning had made me rethink. I really wanted to let the teacher understand the low effectiveness of online teaching, but I was afraid that the bad marks would affect my daughter's learning records," she explained.
In principle, periodic tests for summative evaluation need to be implemented at school. Online exams are considered an alternative, a temporary solution when students cannot go to school amid the pandemic. The biggest concern for online exams is how to prevent exam cheating.
Thanh Huong in Binh Thanh district is the mother of a girl who is in the fifth grade. She was not at home on the day when her daughter did math and Vietnamese language tests.
The girl did not have any problems with the laptop. Huong only helped the daughter take pictures for Fine Arts, record videos for Physical Education and Music, and then post them on the app called Shub Classroom.
Huong was not worried about exam results because they will not be considered when admitting students for secondary schools next year.
"I think that if students have to study online with streamlined knowledge, there is no need to organize such tests as they don't have much significance," she said.
Stress levels
Nguyen Ngoc Anh, a teacher at a secondary school in Tan Binh district in HCM City, said she asks students to do periodic and mid-semester tests via Shub Classroom with both multiple-choice and essay forms.
Anh said it's not difficult to prevent cheating. For multiple-choice tests, she gives questions that require answers after several minutes, which is not enough for students to look up in books. Students cannot ask each other how to solve the questions because she can swap the questions and answers on Shub Classroom.
It is easier to catch cheating on essay-based tests, because teachers can discover similarities among students' papers. Students cannot copy sample texts from books when doing literature tests because teachers know the texts well.
However, Anh reassured parents that there was no need to worry and put pressure on children because the knowledge designed for online teaching has been streamlined.
Do Duc Anh, a literature teacher at Bui Thi Xuan High School, said students have to cope with many problems when studying online, so he doesn't want to create stress about online tests.
"The questions for tests are diverse and not difficult. They could be video clips with comments, a set of photos, or an essay about impressions and feelings. Students use different kinds of software or send works via email," he said.
"Students already have a lot of problems when studying online. Don't lose confidence in your students and don't think students will cheat at exams," he said.
"If you are afraid students may crib, you should create questions in a way that will not cause students to be deceitful. I don't think teachers need to have many difficult questions in order to prevent cheating," he said.
He said that with online exams, teachers should not focus on assessing students' honesty but should create favorable conditions that will allow them to be creative in their work.
Phuong Chi
The problems in online teaching in Vietnam are due mostly to the lack of a locally made technology system specifically designed for teaching online.
The HCM City Education and Training Department has decided that periodic tests for summative evaluation will be implemented at school. Online tests will be accepted in cases of force majeure.