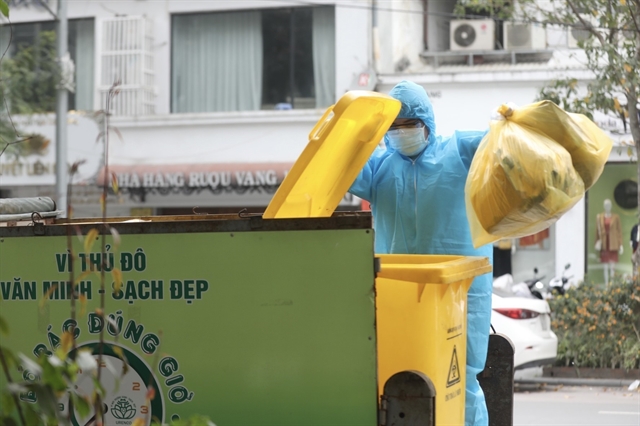 Daily waste collected from households with COVID-19 cases in Hoàn Kiếm District in Hà Nội. — VNA/VNS Photo Minh Quyết
HÀ NỘI — The BA.2 sub-variant of Omicron, or the stealth variant, is accounting for many coronavirus infections in HCM City and Hà Nội, the department of health have revealed.
Although this variant causes less severe health impacts than the Delta variant, it was found to be more transmissible and likely to cause a rapid surge in infections.
At the meeting of the Steering Committee for COVID-19 prevention and control on Wednesday, HCM City's Health Department Director Tăng Chí Thượng said the new variant has emerged in the city.
The latest results of gene sequencing showed that up to 43 out of 67 coronavirus cases in HCM City are caused by the new stealth variant BA.2, accounting for more than 64 per cent of total cases.
Thượng said that according to data from the World Health Organization, the Omicron strain has two variants, BA.1 and BA.2.
Currently, BA.1 is the dominant Omicron infection globally, and BA.2 has only appeared in a few countries in Africa and is expected to appear in India in the near future.
He said: "BA.2 is more transmissible than BA.1. In case there is a new wave of infections with the BA.2 variant, people may get infected, but vaccines and boosters will keep them out of hospital or from getting severely ill.
"Vaccines are still the key to the new variant."
Chairman of the city's People's Committee Phan Văn Mãi said HCM City as well as other localities have witnessed a surge in the number of COVID-19 cases recently. The health sector needs to evaluate the situation and find solutions to curb the development of the pandemic.
Mãi said the re-opening of schools has posed many risks of transmissions.
Although the education sector said it has prepared for these scenarios, there are unexpected developments that needed to be carefully considered.
"We need to adjust measures to ensure the safety of students. In the past few days, the Department of Education and Training and the Department of Health worked to update safety measures in schools," he said.
In Hà Nội, the Omicron variant has been recorded in 20 out of 30 districts and towns. Of that, Ba.2 accounted for 87 per cent of total infections.
Currently, 680,478 COVID-19 patients are under treatment, and 674,149 patients are self-treating at home, accounting for 99 per cent of total cases.
The remaining patients are being treated at COVID-19 treatment sites, quarantine areas, and hospitals in the city.
Reports from the Ministry of Health revealed that Omicron variants have been prominent in big cities and have displaced the Delta variant.
Noticeably, the BA.2 sub-variant of Omicron is 1.5 times more transmissible and more likely to avoid the immunological effects of current vaccines than the original BA.1 variant.
The city's Department of Health has requested units propose scenarios, plans, and measures in case of a new infection surge in the near future.
The department has also asked the health centres of districts and towns to encourage people to complete vaccination, especially high-risk groups such as unvaccinated pregnant women and those who are more than 65 years old. — VNS