Only one man does this unique job – ripping up jeans to create new models. For tens of years, the job has brought him high income as well as an interesting life.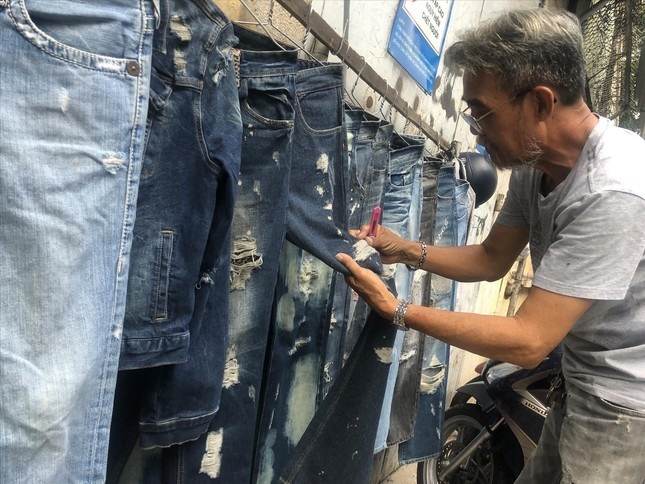 Truong Tan Vien
According to Tien Phong, Truong Tan Vien, 58, created the profession of tearing up jeans 25 years ago and he has been living on it since. He is the only person doing this in HCM City.
According to Vien, his clients are young people and famous artists. They come to ask Vien to rip up jeans to create pants with an original style.
People may think that it is simple work, but in fact, it requires high level techniques. Vien said he has know-how to ensure that there are no holes in the torn parts. The owners can be sure that no one else has the same pants as theirs.
When they are tired of the pants, they can bring the pants to Vien and ask for another model. With just small changes, they have a new pair of pants.
Vien also recycles jeans to create new backpacks and handbags.
Escaping poverty
Many families in Dong Quoi hamlet of Tan Khanh Dong commune in Sa Dec City of Dong Thap province have become well off thanks to the growing of grass (Zoysia tenuifolia) since 2008.
With the selling price of 28,000 sqm, farmers can pocket profit of VND14 million a month for every cong (one cong = 1,000 sq m).
The job can bring high profit but the plantation requires relatively high initial investment. Farmers also need to master techniques to prevent disease.
Meanwhile, people in Trung Thanh Dong commune of Vung Liem district in Vinh Long have escaped poverty by growing lac (cyperus malaccensis lamk), a variety of wild grass that replaces rice on alkaline saline land. Many farmers have shifted to grow the grass because it brings profits much higher than rice cultivation. The prices are between VND13,000 and VND20,000 per kilogram.
Man collects plastic bottles to build houses
Doan Van Khanh, 77, in Chau Thanh district of Tien Giang province is a pomelo grower who loves to find ways to create original products.
Most recently, Khanh attracted special attention from the public with works created by used plastic bottles. People who see the works all comment that the works are very special. They call him an 'extraordinary man'.
Khanh said plastic bag waste and bottles are thrown and found everywhere, harming the landscape and causing pollution to the environment. He came up with the idea of turning them into useful things.
Among the works created by Khanh, the hut on a lotus lake is the most special. Many things from pillars, floor, roof and tables to chairs and banisters are all made from plastic bottles.
Giant ostrich eggs weigh 2 kilograms
Ostrich eggs look just like chicken or duck eggs but they are 20 times bigger. Each ostrich egg weighs 1.3-1.8 kilograms.
The egg is delicious and soft. The egg shell is thick and is not easy to break.
Ostrich eggs are now selling online and are relatively expensive. One egg is priced at VND100,000-130,000, while bigger ones are VND200,000-250,000.
Ostrich eggs have drawn public attention recently with videos on reviewing the eggs on Tik Tok. Many people want to buy the eggs to try them.
Dragon-shaped sop (Ficus subpisocarpa) tree
The owner of valuable yellow apricot trees which have set domestic and international records, Vu Duc Dong in An Hoa Ward of Sa Dec City of the southern province of Dong Thao, also owns a precious sop tree.
The tree is 4 meters tall and has the shape of a dragon with horizontal body and curved branches in an ancient ornamental style. The tree is believed to be over 100 years old. The tree has been recognized by an Asian records organization.
Meanwhile, Nguyen Van Ngo in Thach That district, Hanoi, owns an ancient starfruit (Carambola) tree. According to Tri Thuc va Cuoc Song, the tree is 300 years old and was bought by Ngo from a farmer in Tien Giang many years ago. Some people wanted to buy the tree for VND500 million, but Ngo refused.
Hanh Nguyen
A Hau Giang man is raising snakes in glass tanks while families in Thanh Hoa are raising rep canh kien do (Laccifer lacca Kerr), or bugs. Both jobs are highly profitable.
Food reviewers, who can eat for free and earn money from restaurant owners after posting reviews on social networks, are becoming more common in Vietnam.