In Vietnam, there is a village where villagers like eating soil. Earthen lumps are smoked and cut into small pieces like cookies and considered a specialty.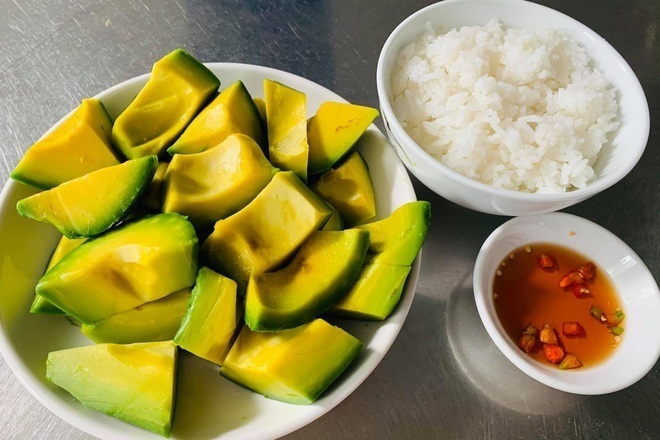 Avocado rice
'Cap dat ma an' (if you don't have money, you just have soil to bite) is a Vietnamese idiom saying about poverty. But in Vietnam, there is a village where villagers like eating soil. Earthen lumps are smoked and cut into small pieces like cookies and considered a specialty.
Smoked soil in Vinh Phuc province
Tri Thuc Tre reported that a girl spent VND100,000 to buy a lump of soil to try. The soil was from Vinh Phuc. Her clip posted on Tik Tok described the clay and helped people to understand more about it.
This is a type of kaolin clay, which people used to call 'young tile soil'. It is brittle, ivory-white, and high temperature resistant. To eat the soil, people cut it into small pieces, scrape off the outer layer to take the white part inside, then smoke it on straw to "cook". When eating the soil, one can feel the smell of smoke, slightly aromatic but also a bit pungent, fleshy and a little salty.
Salted shredded meat with strange taste
Some petty merchants have offered ruoc mo (fat salted shredded meat) on online market these days. This kind of ruoc is made of pork, but with modified recipe. This dish is made with the harmonious combination of lean and fat, with fish sauce and monosodium glutamate. It tastes very delicious, soft and greasy.
The delicious taste of the dish has conquered the hearts of choosy urban housewives. While traditional salted shredded meat, made of 100 percent of pork lean, is priced at VND200,000-300,000 per kg, ruoc mo, made of both fat and lean, is priced at VND500,000 per kg. However, despite the high prices, ruoc mo is still preferred because of the original taste.
Pig's nape fat is boiled and then chopped and grinded, while griskin is boiled roughly, washed thoroughly and cut up before being simmered with fish sauce. To make delicious ruoc mo, one should not put meat into blender, but should grind meat manually in mortar.
Lettuce rolls with fermented distiller's grains
Dan Tri newspaper reported that besides famous specialties such as coffee and pho, Hanoi also has a special dish favored by many people, especially suitable to eat in summer – lettuce rolls with fermented distiller's grains.
According to Nguyen Thu Huong, the owner of a food shop on To Hien Thanh Street, this is a traditional dish transmitted through many generations of Hanoians. However, it is available only at a few shops.
Lettuce leaves are rolled with vermicelli, ham, shrimp and herbs, served with sweet and sour fermented distiller's grains, creating a wonderful dish.
Habit-forming avocado rice in Central Highlands
Avocado is a specialty fruit of the Central Highlands in general and Dak Lak province in particular. A lot of nutritious dishes are made from avocados such as smoothies, avocado ice cream, avocado salad, and toasted avocado bread.
White rice with avocado and fish sauce is an odd dish to many people but very well known to Dak Lak people.
It's very easy to make the dish. One just needs to choose ripe avocado, peel it, cut it into pieces, then prepare fish sauce with chopped chili, and sprinkle over the avocado pieces. Eat the avocado with fish sauce together with white rice.
The fatty taste of avocado blends with the salty and spicy taste of fish sauce will create an unforgettable taste. Many visitors may be reluctant to eat this strange dish, but they would quickly get 'addict' to it after trying.
Breeding cows in Ben Tre
In Ben Tre province, many farmers are getting rich thanks to cow farming. They not only can get money from selling cows, but also from cow pat.
Cows in Ben Tre are bred in cowsheds. They eat straw, rice husk and grass. Since the breeding cows are crossed from dominant genetic resources, the cows have very high quality and their weight can be up to 700 kilograms, almost twice as much as the native cows.
Cow pat, which is a by-product of the livestock production process, is dried and sold by local people. It is used for orchards or flower fields.
Sai Gon's man grows vegetables in large sizes
Phan Liem, 46, in Tan Phu District, a member of gardeners' groups, grows strange vegetable and fruit.
The father of two children takes full advantage of the terrace and turns it into a garden with a lot of vegetables and fruits which give regular harvesting.
Liem last year successfully planted squash in foam boxes. There was only one plant, but it gave 20 squash. The biggest one weighted 34.4 kilograms.
He also planted gourds and each weighed 10 kilograms. In his garden, bitter melon is as big as a 1.5 liter soft drink bottle, while fiber melon is one meter long.
Special type of longan, growing on rocky mountains
Longan is a well known fruit and a favorite by many people, but wild longan is rare and precious.
This longan only grows on high mountain sides and the yield is limited, while many trees do not bear fruit. Therefore, it is not easy for people to buy longan at markets or fruit stalls in the plain.
Forest longan is sold for VND45,000 per kg. Though it is a bit more expensive than popular longan, it always sells like hotcakes thanks to the special taste and short supply.
The forest longan can be used as a snack, soaked in very fragrant wine or made into a very good cocktail.
Hanh Nguyen
For many international and local tourists, their visit is seen incomplete without trying Banh Tom Ho Tay.
Gardeners, farms and cooperatives need to sell 700 tons of longan a day, but collectors and distributors cannot access the growing areas because of Covid-19 restrictions.