Vietnam expects to receive this year 10-30 percent of the number of travelers in 2019. The tourism industry will fully recover by 2024.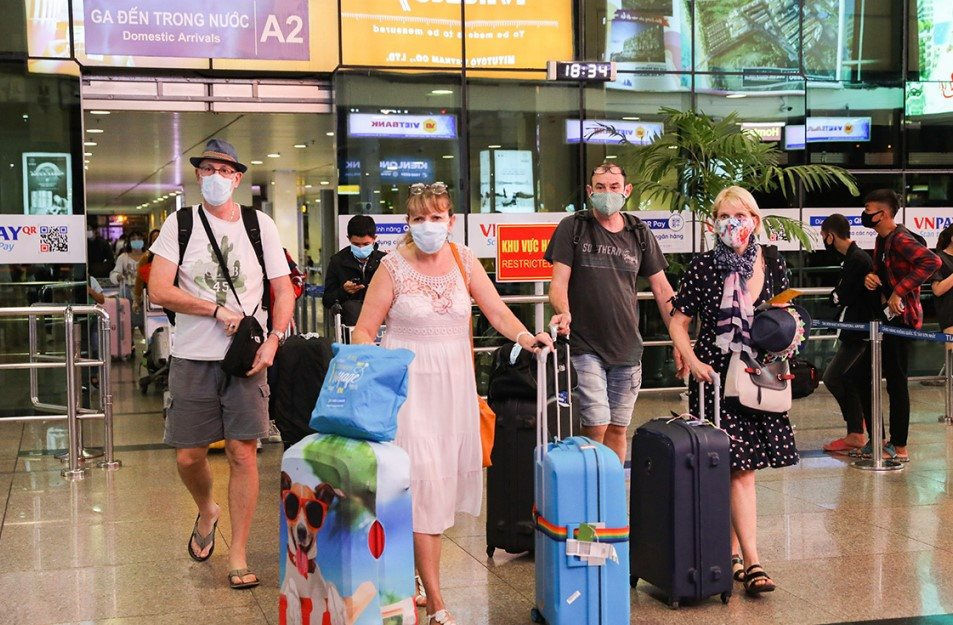 Closing a meeting with the Ministry of Culture, Sports and Tourism (MCST), Ministry of Foreign Affairs (MOFA) and Ministry of Health (MOH) officials, Deputy Prime Minister Vu Duc Dam agreed on the full reopening of tourism by air, road and sea from March 15.
MCST will work with ministries and agencies to draw up regulations on receiving foreign travelers, and announcing a tourism reopening plan with detailed instructions for easy implementation.
Regarding the granting of visas in the new normal, from March 15, all restriction measures will no longer be applied and the regulations of the pre-pandemic period will be re-applied, including electronic visa granting, and unilateral and bilateral visa waivers.
Before the pandemic outbreak, Vietnam unilaterally applied visa waivers for citizens from 13 countries and bilaterally 88 countries and territories.
Foreign investors to Vietnam will not have to book tours and travel under fixed programs under the reopening. They will only have to satisfy the requirements set by MOH. They have to have insurance ($30 premium on average) in order to obtain compensation of $10,000 if they contract Covid and have to be treated in Vietnam.
This is good news for travel firms and service businesses. During Tet, thanks to the strong reopening of destinations and the aviation sector, there were more than 6 million travelers and 3 million stays at accommodation facilities.
Pham Ha, President of Luxury Group, said that his firm is ready to receive foreign travelers.
"If we reopen tourism in March, we will receive the first foreign travelers in June, especially from Europe, such as Spain, France, Germany, Australia and some Asian markets," he said.
Bui Bang Giang, CEO of Exotica Vietnam, which specializes in providing inbound tours for travelers from Spain, Portugal, Italia and South America, said Vietnam may receive 1.8-5.4 million foreign travelers this year, or 10-30 percent of that of 2019.
With such a recovery, the full recovery and regaining level of 2018-2019 is feasible. However, she said, in order to reach that goal, there must be strong and comprehensive support from ministries and branches.

Vietnam expects to receive this year 10-30 percent of the number of travelers in 2019. The tourism industry will fully recover by 2024.
Pham Truong Hoang from the Hanoi National Economics University said Vietnam can set the goal of receiving 5 million this year and 18 million by 2026, equal to that in the pre-pandemic period.
Hoang said that the goal is attainable and can be reached earlier than predicted.
Concerns about visas, supply chain disruption
Giang told VietNamNet that she believes Vietnam's tourism will recover soon, but the recovery will depend on many factors, such as the complete removal of all barriers, airfares and service fees, as well as customers' psychology and pandemic control in the travelers' countries.
In some countries, for example, it takes time and money to have a PCR (polymerase chain reaction) test. A family of four may have to pay $400 to have tests within 72 hours before the departure. They may also have to test again when they arrive and when they return to their home countries.
The Government will also remove restrictions on flight frequency. However, this doesn't mean there will be many international flights. Airlines will have to cut the number of flights if there are not enough passengers, or set very high airfares.
A representative of a Vietnamese air carrier admitted that for Asian markets such as Japan and South Korea, they are now flying with no passengers one way because of policies restricting immigrants from Vietnam.
"I have to cite these reasons to affirm that administrative commands alone are not enough to lure foreign travelers to Vietnam," he said.
Covid has caused disruption and collapse of many links in the tourism industry, according to Giang. Pham Van Ha said there's has been disruption of the supply chain such as transportation services (vehicles need to undergo maintenance after two years of unuse), hotels (not all hotels have reopened), and tour guides. The tourism industry therefore won't be able to recover quickly, but just step by step.
"We are too cautious, we are late in reopening. Thailand has reopened for a long time," Ha said.
Ministries and branches have agreed on the reopening, but there still must be a consensus from the central to local agencies. MCST plays a very important role in the reopening as it determines which markets to target first, so as to draw up tourism promotion plans.
According to Ha, businesses now need support in capital and workforce, and need to design new products to suit the new circumstances, as foreign travelers' tastes have changed after the pandemic.
Giant said it's necessary to design policies to help the tourism sector overcome difficulties (preferential taxes, fees and capital for hotels, restaurants and travel firms).
Giang emphasized the visa policy, saying that now is the right time for Vietnam to reconsider the visa granting mechanism by referring to the open policy being applied by other Asian countries.
Nguyen Ngoc Toan, CEO of Images Travel, said that only when the the old visa policy is renewed will travel firms be able to receive foreign travelers as usual. The policy needs to be made public soon, because this is an important factor for travelers.
Travel firms have also emphasized the importance of advertisement campaigns. In addition to the great efforts of travel firms after the pandemic, there should be support from the State.
Giang said while other countries are spending big money on advertising, Vietnam's advertisement activities remain weak.
Ngoc Ha
The Ministry of Foreign Affairs will coordinate with the Ministry of Culture, Sports and Tourism to complete plans on tourism resumption and devise a policy on visas for foreign tourists.
The Vietnamese Government has granted approval to a proposal put forward by the Ministry of Culture, Sports and Tourism to reopen the country's borders to international travel on March 15.