The northern provinces of Lao Cai and Quang Ninh have decided to temporarily halt receiving vehicles of fresh fruits for export to China via some of their border gates and crossings, as congestion is still lingering there.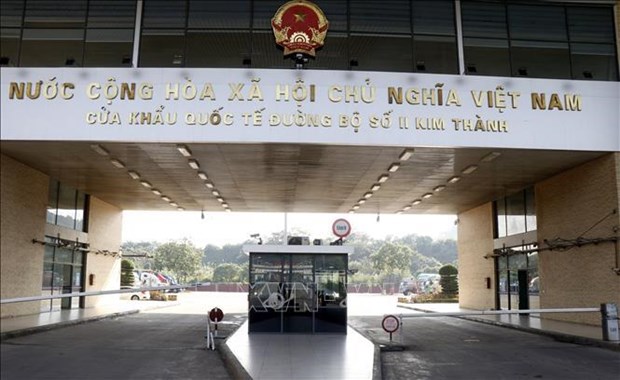 The Kim Thanh International Land Border Gate No. 2 in Lao Cai province.
Lao Cai is going to suspend the reception at the Kim Thanh International Land Border Gate No. 2, whose Chinese counterpart is Beishan, from January 18 until further notice.
In an urgent announcement sent to localities nationwide on January 16, the Lao Cai provincial People's Committee said China's Yunnan province has resumed fresh fruit import through this border gate pair since January 12.
However, as the Chinese side is taking strict anti-COVID-19 measures, the gates' customs clearance for fresh fruits remains modest, with only 60 lorries passing through from January 12 to 15. While nearly 1,000 vehicles of those produce, including dragon fruit, mango, water melon, and jackfruit, are currently stranded at border gates in Lao Cai, the Kim Thanh border gate has already been overloaded and unable to handle more.
Therefore, to ease congestion and reduce expenses and losses, Lao Cai asked authorities of other provinces and cities to recommend their businesses, cooperatives, and farmers temporarily halt exporting fresh fruit via its border gates.
It also pledged to carry out comprehensive measures and maintain frequent contact with Yunnan authorities to facilitate customs clearance at the Kim Thanh – Beishan border gate pair.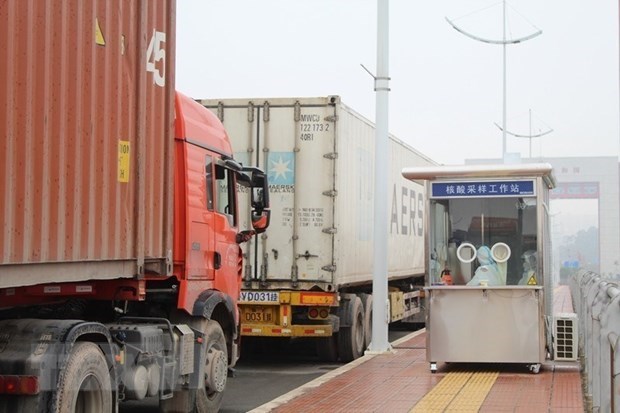 Lorries prepare to pass Mong Cai International Border Gate in Quang Ninh province.
Quang Ninh province will stop handling trucks of fresh fruits, frozen aquatic products, and others that are hard to be preserved through border gates and crossings in Mong Cai city from January 17 to the Lunar New Year holiday, which will start in the next two weeks.
The provincial People's Committee said the suspension aims to thoroughly dealing with the goods now stranded at border gates and crossings in Quang Ninh by January 31 and to avoid pandemic risks, or the Chinese side may stop customs clearance again.
It also called on provinces and cities across the country to notify the issue to their businesses and related organisations and individuals.
After a 20-day suspension, the Chinese province of Guangxi on January 10 restored customs clearance at three points of entry in Dongxing city whose counterparts in Mong Cai city are the border gates of Bac Luan 1 Bridge, Bac Luan 2 Bridge, and the Km3 4 floating bridge.
Source: VNA