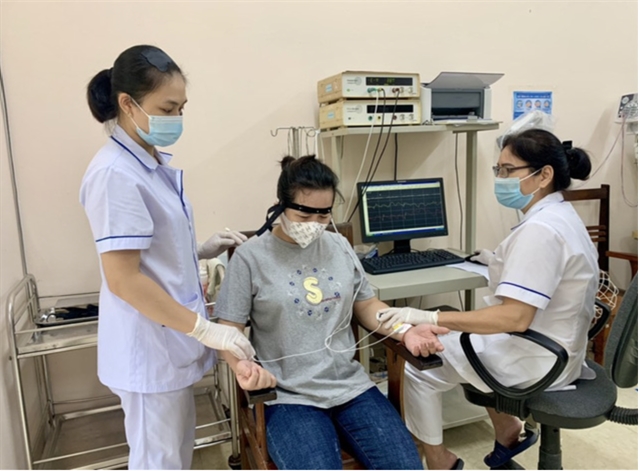 A person is given medical screening. Photo baosuckhoedoisong.vn
HÀ NỘI – A national plan for the prevention and control of non-communicable diseases and mental health disorders for 2022–2025 has been approved by Deputy Prime Minister Vũ Đức Đam.
The goal of the plan is to strengthen control of risk factors for diseases, promote prevention measures, early detect and manage treatment to limit the increase in the number of people with pre-disease, disease, disability and premature death due to non-communicable diseases (NCDs) and mental health disorders.
The NCDs include cardiovascular, cancer, diabetes, chronic obstructive pulmonary disease and asthma, and mental health disorders of schizophrenia, epilepsy, depression, dementia and other disorders.
The target by 2025 is to reduce the main risk behaviours to prevent NCDs and mental health disorders.
Specifically, it must reduce the rate of alcohol drinking at dangerous levels in men aged 18 and over and people aged 13 to 17 to less than 35 per cent and 20 per cent respectively.
The smoking rate among male persons aged 15 years and older must be reduced to less than 37 per cent, and the average salt consumption of people aged 18 and over to less than 7 grams per person per day.
According to the plan, at least 70 per cent of people aged 40 and over must complete health screen by risk assessment forms and/or a blood sugar test once a year for early detection of diabetes and 55 per cent of people with diabetes and 30 per cent of people with pre-diabetes will be managed and given treatment according to professional guidelines.
At least 40 per cent of those who are on the set list will be given periodical screens for breast cancer, cervical cancer and colorectal cancer.
At least 40 per cent of those who are on the list will be given a periodical screen for mental disorders.
About 80 per cent of schizophrenic patients, 70 per cent of epileptic patients and 50 per cent of patients with depression will be managed and treated.
The main solutions and tasks of the plan are to strengthen management, complete policies and enhance information dissemination to minimise risk behaviours of NCDs and mental disorders, as well as to further provide preventive treatment, early detection and care services, especially for those 40-years-old and over, or at high risk.
Grassroots medical facilities should give consultation for overweight, obese, and the pre-diseased and those at high risk of NCDs, mental health disorders and cardiovascular diseases. VNS