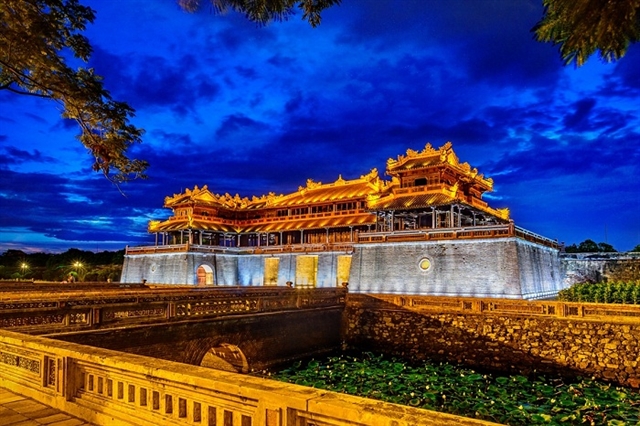 Huế Imperial Citadel seen at night. Photo dulichvietnam.com.vn
THỪA THIÊN-HUẾ — Tourists to Huế City in the central province of Thừa Thiên-Huế will be able to enjoy a variety of arts and cultural activities that will be launched at night from the second quarter of this year.
According to the plan released by the People's Committee of Huế City, the night activities will include folk games to classical and modern art performances like calligraphy, áo dài (traditional dress) shows, lion dances, magic shows and street art performances.
Tourists could also try traditional Huế cuisine, which would be a unique highlight of Huế's nightlife.
The implementation of the plan, which is part of efforts to diversify local tourism products, aims to attract more tourists to the ancient royal capital and therefore revive the local tourism sector and socio-economic development that have been heavily affected by the pandemic in recent years.
The activities will take place from 6-10pm daily at various public sites like Phạm Ngũ Lão, Chu Văn An, Võ Thị Sáu Pedestrian Streets, Tứ Tượng and 3/2 Parks.
They will also be held at many tourist attractions in the city like Đông Ba Night Market, Hoàng Thành Night Street and pedestrian areas by Hương (Perfume) River.
"The city's authority has studied the plan of developing the night economy to contribute to the general economic development of the city," Chairman of the People's Committee of Huế City, Võ Lê Nhật, told vov.vn.
"The plan, which prioritises the night activities within the Imperial Citadel of Huế, will showcase the various heritage and cultural colours. The city's direction of the developing night economy, in the long run, will continue to be promoted on both banks of the Hương (Perfume) River," he added. VNS