Duy An
Nha Trang is not only well known for its beautiful beaches and natural landscapes, but also many tasty dishes such as xôi (steamed sticky rice) with braised anchovies, locally known as xôi cá cơm.
Bùi Thị Liên, 60, who has been selling the dish for almost four decades, said the dish is a popular breakfast among locals thanks to its rich flavours and cheap price of between just VNĐ7,000-10,000 (less than US$1).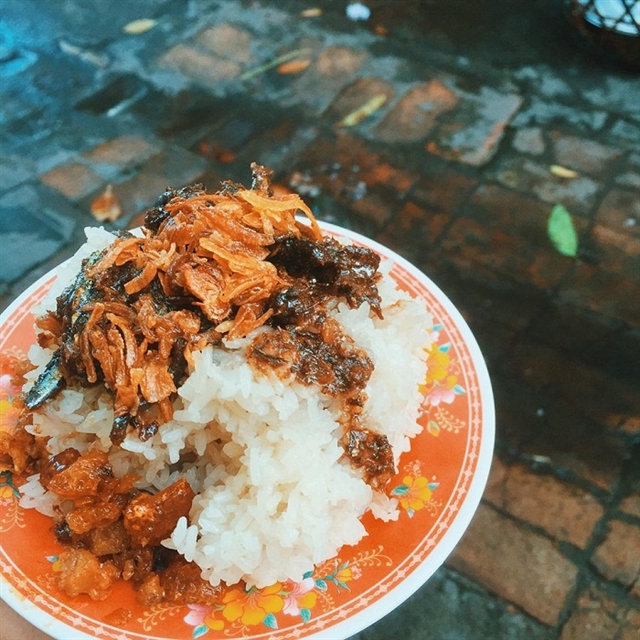 A colourful plate of 'xôi cá cơm' is a popular breakfast. Photo dulichvietnam.com.vn
Apart from the soft and fragrant sticky rice, the most important part is of the dish is the braised fish, she said.
"I often come to the beach at 4am in the morning to wait for boats to return and carefully choose the fresh anchovies, which are of the same size, to bring home to braise with dried onion, chili, pepper and a bit of pork fat for at least two hours," Liên said.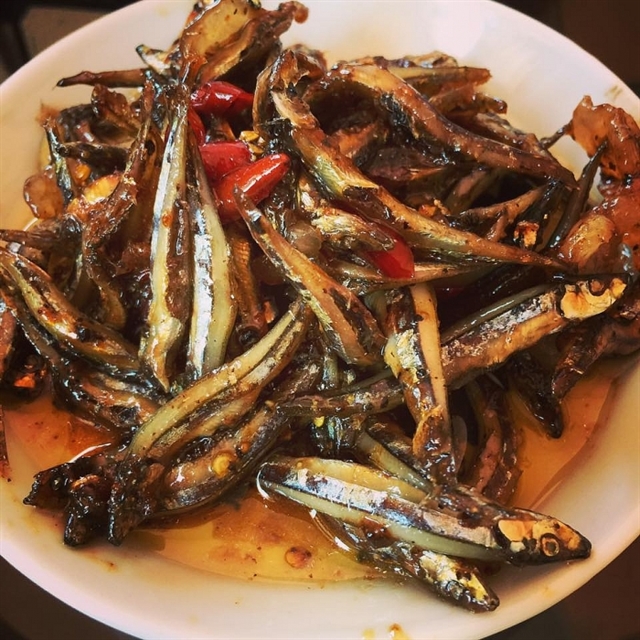 Braised anchovies make the 'xôi cá cơm' different from other sticky rice dishes in Việt Nam. Photo dulichvietnam.com.vn
She said her secret is to braise the fish, ensuring their is no odour. Her xôi cá cơm sells well not only among locals but also foreign tourists and travellers visiting Nha Trang.
"It is the beloved dish of many people, particularly the elderly and youngsters," she said, adding that many students and workers are regular customers.
"The dish is filling, so they can study at school or work until lunchtime," Liên said.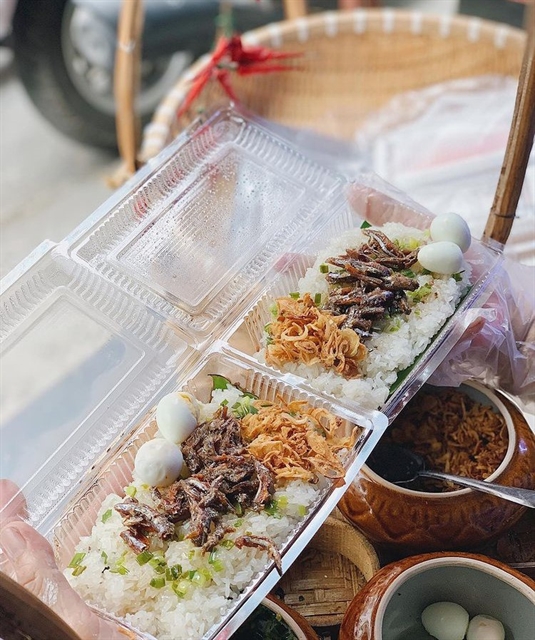 Apart from braised anchovies, diners can add eggs to sticky rice. Photo @mysterioussaigon
Phạm Tuấn Hưng, from Hà Nội, said the dish is different in the capital, where sticky rice is sold with pork pate, sausages and other ingredients, so he enjoyed xôi cá cơm.
When he arrived at a xôi cá cơm stall in downtown Nha Trang, it was already full of people enjoying the food.
"Although it was the first time I had tried this kind of sticky rice I still enjoyed the sticky rice and braised anchovies, which are stewed but not broken, and still rich in flavour," Hưng said.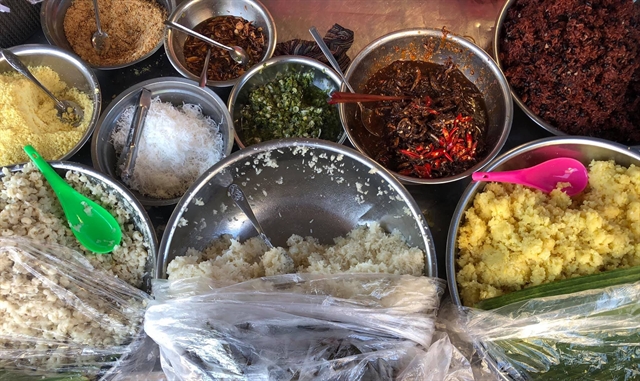 Ingredients of 'xôi cá cơm' include fresh onions, chili and others. Photo @chanlovefoods
"I will buy several kilos of anchovies for my wife to cook at home, and introduce the dish to my relatives and friends," he said.
A diner sitting next to Hưng said although anchovies are available all over Việt Nam, the most tasty are from the sea off Nha Trang.
He said guests can enjoy the dish at Mrs Loan's shop on the crossroads of Huỳnh Thúc Kháng and Nguyễn Trãi, 653 Xóm Mới Market, 475 Trần Phú Street, and others locations in the city centre. VNS