Before being appointed Deputy Minister of Public Security by the PM, Major General Nguyen Van Long, as Director of the C03 Agency, together with coworkers cracked a number of major corruption cases.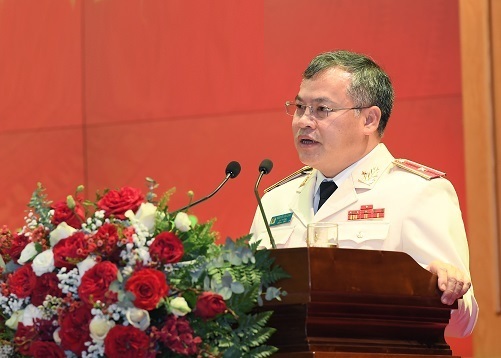 Major General Nguyen Van Long
On January 17, top-ranking General To Lam, Minister of Public Security, authorized by the Prime Minister, handed over a decision to appoint Major General Nguyen Van Long, Director of the Police Department for Investigation of Crimes on Corruption, Economy and Smuggling, and Major General Le Van Tuyen, Standing Vice Chair of the Inspection Committee of the Central Public Security Party Committee, to the posts of Deputy Ministers of Public Security.
Of the two, Major General Nguyen Van Long was promoted from Colonel to Major General in January 2021.
Long is currently the youngest Major General in the people's public security force.
Long was born in 1974 in Yen Dung district in Bac Giang province. He was the head of the advisory division of the Department for Environmental Crime Prevention and Control under the Ministry of Public Security.
On November 23, 2018, the Minister of Public Security appointed Long to the post of Director of Bac Ninh provincial Police.
On September 10, 2019, Long was appointed to the post of Director of the Department for Investigation of Crimes on Corruption, Economy and Smuggling, or C03.
As the head of C03, Long and his coworkers solved a number of big cases related to corruption and violations of regulations on bids which caused serious consequences.
One of the best known cases was the filing of charges against former Hanoi Mayor Nguyen Duc Chung, who was involved in three cases (he masterminded the appropriation of confidential documents; lent a hand to Nhat Cuong Company to win the bids; and instructed the purchase of Redoxy 3C through a family-run company).
C03 also investigated a series of cases related to the inflation of prices of medical equipment at many hospitals nationwide. These include legal proceedings and the arrest of the director of Bach Mai Hospital Nguyen Quang Tuan and the former director of Bach Mai Hospital Nguyen Quoc Anh which caught public attention.
Most recently, C03 initiated legal proceedings against inflation of Covid-19 test kit prices at Viet A Company, Hai Duong CDC and other localities.
C03 has commenced legal proceedings against Phan Quoc Viet, CEO of Viet A, and 18 suspects, including high ranking officials of the Ministries of Health (MOH) and Science and Technology (MST), including Nguyen Minh Tuan, former Director of the MOH's Department of Medical Equipment and Construction; Nguyen Nam Lien, Director of the Planning and Finance Department; and Trinh Thanh Hung, deputy director of Department of Science and Technology for Economic Technical Branches under MST.
Thu Hang
Deputy Prime Minister Le Minh Khai has asked the Government Inspectorate to inspect Covid-19 testing kit and equipment procurement at the Ministry of Health and in HCMC and Hanoi.