The Ministry of Health has proposed the Government purchase 21.9 million doses of the Pfizer vaccine for children aged between 5 and 11.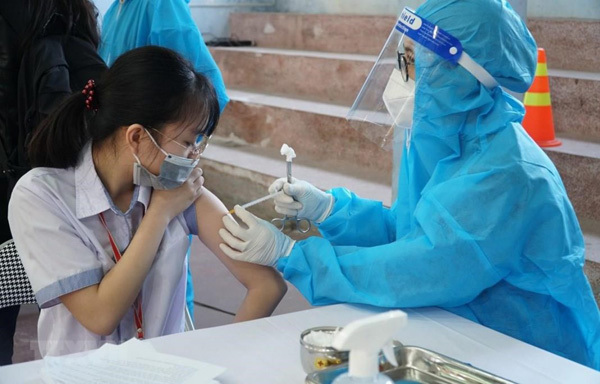 A student gets a shot of the Covid vaccine. – Photo: VNA
At a conference to review the 2021 healthcare performance today, January 20, the ministry proposed a plan to administer Covid vaccines to children aged from 5 to 11 and buying the volume of doses.
The proposal has yet to be approved by the Government, while how many children aged from 5 to 11 will get vaccinated remains undetermined, the local media reported.
Speaking at the conference, Prime Minister Pham Minh Chinh said that the vaccination campaign for children aged 5-11 should be studied and assessed carefully.
It is necessary to learn from the experience of other countries that have completed their child vaccination campaigns to ensure the safety of children, said the prime minister.
Earlier in December 2021, the prime minister assigned health agencies to study and plan the vaccination of children from 5-11 years to reopen schools across the country as soon as possible.
The ministry on January 11 said that it had completed a plan to vaccinate this group of children against Covid and submitted it to the Government for approval.
Over 20 countries, including the United States, Canada, Spain, Italy and Cuba, have vaccinated children aged between 5 and 11 against Covid, but the World Health Organization has yet to give any recommendations and directions on the vaccination of children of this age group.
As of January 10, nearly 14 million doses of the Covid vaccine had been administered to children aged from 12 to 17 nationwide.
Source: SGT