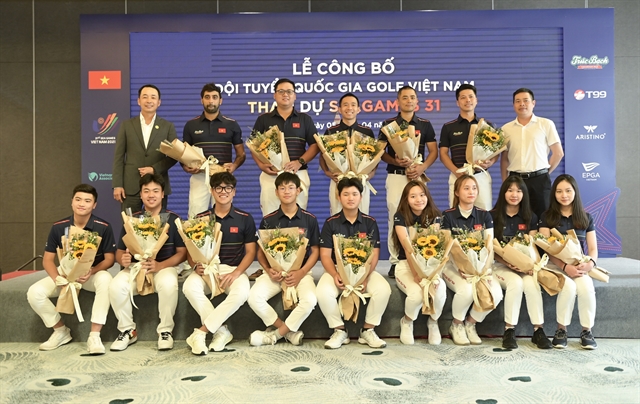 The national golf team for the SEA Games 31 and other delegates pose for a photo at a press conference in Hà Nôi on Tuesday. — Photo courtesy of the agency
HÀ NỘI — Nine young golfers of the national golf team will represent Việt Nam at SEA Games 31, the Vietnam Golf Association (VGA) announced at a press conference in Hà Nội on Tuesday.
The men's team comprises Lê Khánh Hưng, Nguyễn Anh Minh, Nguyễn Bảo Long, Nguyễn Đặng Minh and Nguyễn Quang Trí. The four female players are Đoàn Xuân Khuê Minh, Lê Chúc An, Lê Thị Thanh Thúy and Phạm Thị Yên Vi.
Head coach of Việt Nam's national golf team Nguyễn Thái Dương said this year's team are the youngest ever with two 13 years-old and one 14-year-old. These golfers have received better training, and their skills and achievements have improved.
However, the gap between these golfers and those in regional countries such as Thailand and the Philippines is still significant, and we still have a long way to go, Dương said.
"Playing on home ground, we will fight hard for the country, for the trust of the fans and hopefully create unexpected achievements," he added.
VGA General Secretary Lê Hùng Nam described the upcoming SEA Games 31 as a good opportunity for Vietnamese golfers to learn from others in the region.
During the press conference, the VGA also announced three sponsors for the national golf team; Trúc Bạch Beer, Aristino and T99.
The Vĩnh Phúc Province-based Heron Lake Golf Course will be the venue for all SEA Games 31 golf matches.
This is the seventh time Việt Nam has participated in the golf competition at the SEA Games since the 23rd SEA Games in Thailand.
The country's best-ever achievement belongs to female golfer Nguyễn Thảo My, who reached 11th place in the 28th SEA Games women's group in Singapore in 2015. — VNS