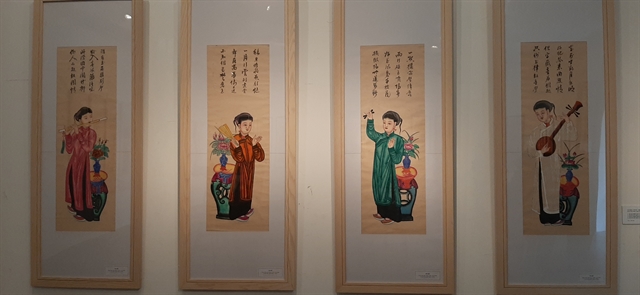 Tố Nữ (Beautiful Maidens) paintings. VNS Photos Nguyễn Bình
HÀ NỘI – A set of folk paintings displayed at Việt Nam Museum of Fine Arts is highlighting the Lunar New Year and the first days of spring.
The display entitled Sắc Xuân (Colours of Spring) is a collection of four-scroll woodblock prints of the museum.
Four-scroll woodblock print or quartet scroll is a set of four printings that depicts a wide variety of topics such as the four seasons of the year, the stages of human life, episodes from literature and legends, or the four idealised female figures.
"This is beauty from Vietnamese culture in the past," said Vương Duy Biên, former deputy minister of Culture, Sports and Tourism at the exhibition opening ceremony.
"It is meaningful to introduce the museum's collection on the occasion of Tết. I wish painting and calligraphy in the spring season can be maintained by helping young people to get to know more about traditional culture."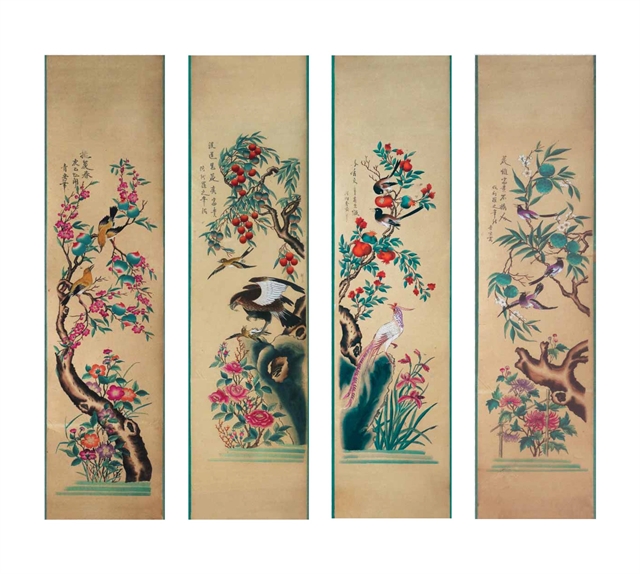 Tứ Quý (The Four Season) paintings.
The sets of painting include Tứ Quý (The Four Season); Tố Nữ (Beautiful Maidens); Ngư – Tiều – Canh – Độc (Fisherman – Woodcutter – Farmer – Scholar) and Historical Quartet.
Tố Nữ paintings feature four young ladies in traditional costumes with four different postures including dancing with fans and playing musical instruments.
All the pieces of the quartet depict the beautiful appearance and soul of traditional Vietnamese women.
Some of the series have been enhanced with beautiful Han Chinese or Nôm (Vietnamese ideographic) calligraphy calling for wealth and peace and providing a textual counterpart to the colourful images.
"Quartet scrolls have long been favoured to decorate houses or used as objects for spiritual veneration, depending on their motifs and subject matter," said Nguyễn Anh Minh, director of the museum.
"These series also provide vivid insights into our ancestors' conception of time and daily life."
The museum had always been aware of the role and value of folk paintings and four-scroll woodblock paintings, throughout the history of Vietnamese fine arts, said Minh.
Researching, collecting and preserving the value of folk paintings had always been an important task of the Museum, he said.
"The lively, colourful and meaningful quartet prints in this exhibition will bring our warmest wishes of peace and happiness to the public for Lunar New Year," Minh said.
The exhibition runs until February 28 at the Temporary Space, Việt Nam Fine Arts Museum, 66 Nguyễn Thái Học Street. – VNS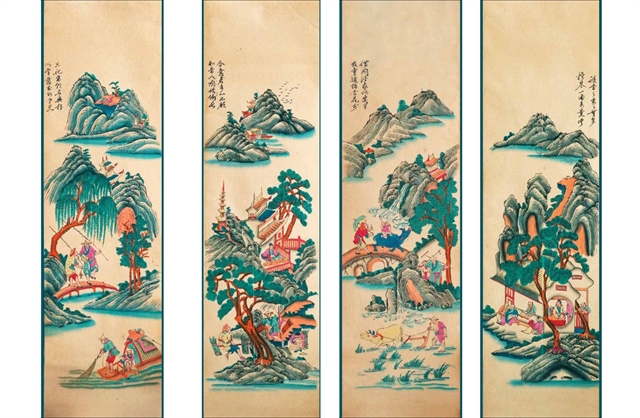 Ngư – Tiều – Canh – Độc (Fisherman – Woodcutter – Farmer – Scholar) paintings.