As the motorcycle market is getting saturated, manufacturers have decided to enter a niche market – high-cylinder capacity motorbikes – under a so-called 'blue ocean strategy'.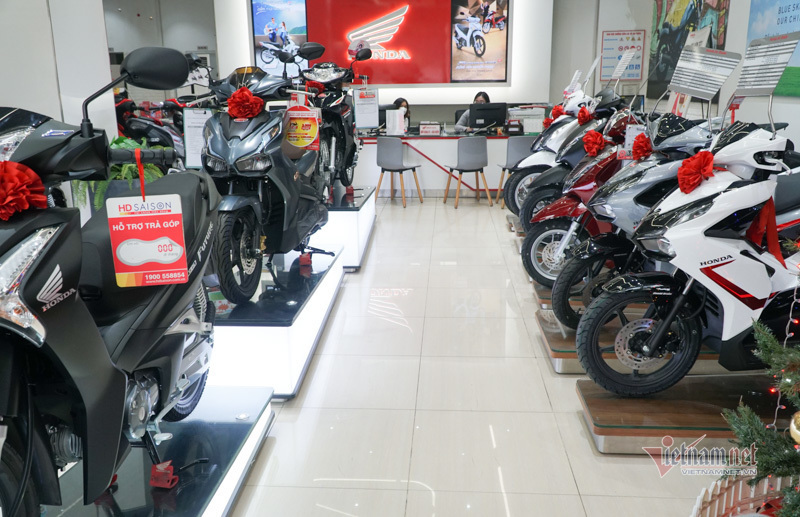 A report from the Vietnam Association of Motorbike Manufacturers (VAMM) found that its five member companies sold 2,492,372 products in 2021, a decrease of 220,243 products, or 8.1 percent, compared with 2020.
This was the third consecutive year that saw sales decrease and the second consecutive year that sales were below 3 million products. The last time the market witnessed growth was in 2018, when 3,386,097 products were sold, up by 3.8 percent over 2017.
Honda Vietnam reported that it sold 1.99 million in 2021, a drop of 7 percent compared with the previous year, but its market share increased by 1 percent to 79.9 percent.
In 2020, Honda sold 2,142,564 products, down by 16.7 percent in comparison with 2019.
Piaggio Vietnam declined to give the exact figure, but said in 2021, the company boosted exports, while domestic consumption decreased.
Experts attributed the sharp fall in motorbike sales to the Covid-19 crisis. The pandemic affected workers and students' incomes, which led to the demand decrease.
Because of the rise of electric motorbikes and the saturation of petrol-run motorbikes, analysts believe the market will not see the strength of four or five years ago, despite price decreases and sale promotion campaigns.
Though the general motorbike market is cooling down, high-cylinder capacity products are in high demand.
Piaggio Vietnam in January opened its second distribution agent in Hanoi, after opening the first in HCM City last December. Motoplex, a showroom following the global model of the Italian manufacturer, distributes products of four high-end brands, namely Piaggio, Vespa, Aprilia and Moto Guzzi.
Analysts say that Aprilia and Moto Guzzi caught high attention when selling their products lower than Ducati.
Moto Guzzi brand has Classic models priced from VND385 million to VND505 million. Meanwhile, Aprilia brand provides sports models for youth. The highest price, VND885 million, is for RSV4 Factory, while the lowest, VND475 million, is for Tuono 660.
On January 7, Yamaha Motor Vietnam organized a launching ceremony for Revzone Yamaha Motor. The first big bike system was set in HCM City which will become operational in March.
Revzone Yamaha Motor will focus on high-cylinder capacity and sports models. It will also sell other products such as motorbike parts and accessories.
High-cylinder capacity products, over 400 cc, will be imported in CBU (complete built unit) form from Japan, while products with cylinder capacity of below 400cc will be imported from Indonesia.
It's expected that favorite models such as MT-09, MT-10 and YZF-R7 will have lower prices than products distributed by private dealers.
Honda Vietnam is a pioneer in developing and selling high-cylinder capacity products via a specific network – Honda Bigbike. The manufacturer has a community of users of big motorcycles and encourages the use of these motorcycles with 'Biker day' activities organized in many locations throughout the country.
The manufacturer has also caused 'shocks' by lowering the selling prices of some popular models, such as CBR 150R 2021 to VND70.9-72.5 million to compete with rivals.
Nguyen Manh Toan, a well known motorcycle collector in HCM City, commented that the big motorcycle market in Vietnam is still large as Vietnamese have passion for engines with a high cylinder capacity and a love for motorbikes that will never end. Once people's income increases (Vietnam has set a 6-6.5 percent GDP growth target and $3,900 in GDP per capita for 2022), demand for expensive, stylish and original products will increase. Therefore, motorbike manufacturers have new approaches – making high-end, unique products
He said that many more people will buy big motorcycles because it's easier and cheaper to take the exams for the A2 (motorbike) driving license.
"Many friends of mine have cars and motorbikes, but still want to buy big motorcycles to ride on weekends," he said.
Toan and the biker community, unlike other communities, are mostly interested in the brands of motorcycles, design and power, and don't care much about selling prices and sale promotions. Analysts believe that VAMM's member companies that hold a large market in the common motorbike market will conquer this new market segment.
Dinh Quy
The Vietnamese motorbike market is becoming saturated, forcing manufacturers to design high-end limited-edition models to attract customers and exploit niche market segments.
If Hanoi authorities prohibit motorbikes by 2025 in the center, when the public transport network is still not capable of satisfying people's demand, many would have to use private cars. If so, the traffic would be even worse.