With the dynamic development of the economy, Vietnam now has more millionaires and super-rich people.
In 2020-2025, it is forecast the number of the super-rich will grow by about 31% annually, among the fastest growing countries in the world.
Super luxury hotels, super cars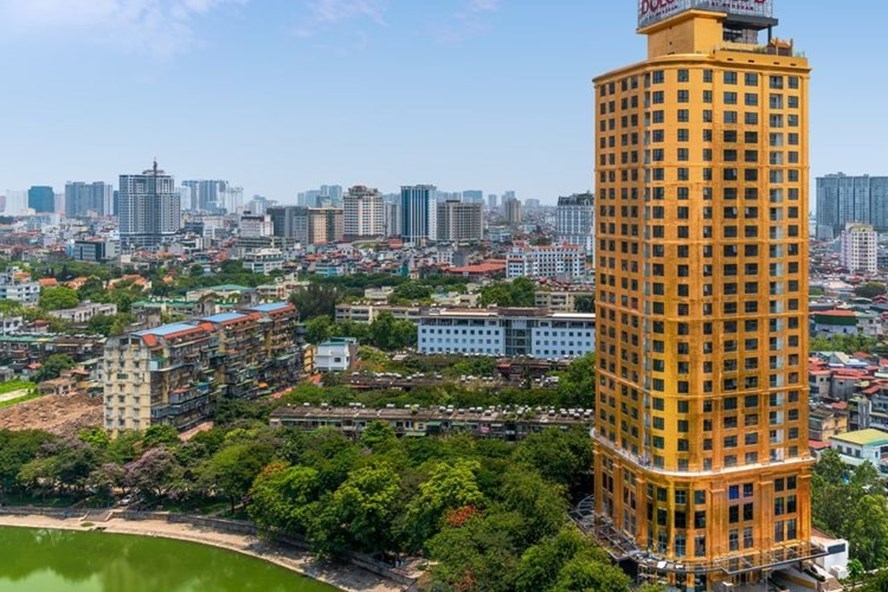 The gold-plated hotel in Hanoi. Photo: Dolce by Wyndham – HaNoi Golden Lake
Located on the bank of Giang Vo Lake (Hanoi) is a 25-story hotel with four bassement covering 120,000 square meter hotel plated with gold. The total investment capital is up to 100 million USD. Dolce by Wyndham Hanoi Golden Lake is called a "6-star" hotel in Hanoi. The owner is Nguyen Huu Duong and his associates.
The Worldkings and the Vietnam Records Organization have awarded Dolce by Wyndham Hanoi Golden Lake the certificate for "the hotel with the exterior of gilded brick and the most amount of interior equipment and gilded dishes and drinks in the world".
The most expensive room of this hotel costs nearly 200 million VND a night, while the cheapest room costs about 3 million VND/night.
There are many other super luxury hotels across the country that are owned and managed by Vietnamese.
In 2021, data from the General Department of Customs showed that Vietnam imported more than 160,000 CBU cars, including 109,728 five-seat cars, up 45.2% over 2020. On average, more than 9,000 new cars arrive at Vietnamese ports every month. The demand for cars in Vietnam is on the rise.
Despite Covid-19, Vietnamese people were still willing to spend hundreds of thousands or millions of USD to buy super cars in 2021. Super luxury cars appear more and more on Vietnamese streets, especially big cities like Hanoi and Ho Chi Minh City.
Last March, Porsche opened its first Porsche Studio in Hanoi. It is just one of several luxury car brands vying for a slice of the Vietnamese luxury car market.
How many super-rich people live in Vietnam?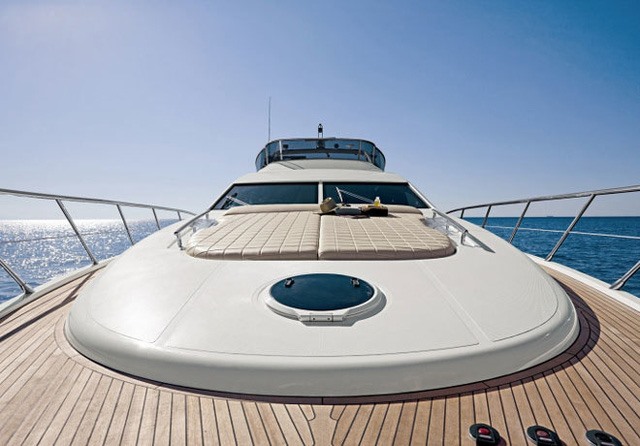 A close-up of a $4 million yacht Azimut 70 of a business family in Vietnam. Photo: KBS
Everything from a gold-plated hotel to ultra-luxury apartments to flashy sports cars shows that the rise of the super-rich in Vietnam is stronger than ever.
Dr. Nguyen Vu Hoang said that the super-rich or the ultra-high net-worth individual (UHNWI) are those with assets of at least 30 million USD. Vietnam is one of the few countries with relatively fast economic growth in the past 20 years. The growth rate of the middle, rich and super-rich classes is among the fastest in the world.
Knight Frank's latest property report estimates that Vietnam's millionaire growth rate in the 2020-2025 period will be 32%, while the growth rate of super-rich people with total assets over 30 million USD will be 31%.
According to the report, there are about 19,500 USD millionaires in Vietnam (those with assets of at least 1 million USD). By 2025, that number is expected to increase by nearly 25%, to 25,000. With this number of millionaires, Vietnam ranks fourth in Southeast Asia in terms of millionaires, after Singapore, Indonesia and Thailand.
As for the number of super-millionaires, also known as super-rich people with assets worth over 30 million USD, Vietnam ranks 6th among ASEAN-6 countries with 390 people. Currently, Vietnam also ranks 6th in Southeast Asia in terms of the number of USD billionaires, according to Forbes. It is forecast that by 2025, Vietnam will have 511 super-rich people.
According to tForbes, the total assets of the six billionaires in Vietnam as of December 23, 2021 was 19.5 billion USD. The list of the six richest persons in Vietnam includes Pham Nhat Vuong with 7.5 billion USD, followed by Tran Dinh Long 3.1 billion USD, Ha Hung Anh 2.6 billion USD, Nguyen Thi Phuong Thao 2.5 billion USD, Nguyen Dang Quang 2.2 billion USD, and Tran Ba Duong 1.6 billion USD.
The number of people with assets worth US$30 million or more in Vietnam will hit more than 1,500 in 2026, according to the 2022 Knight Frank Wealth Report.

The latest wealth report released by the United Kingdom's Knight Frank, forecasts that the country will see a 26% rise in its rich population by 2026 to 1,551 against the 2021 number at 1,234. The country's expansion is forecast to be on par with the increase in Hong Kong and Taiwan.

The country will also witness a 59% surge in the population of wealthy individuals with a net worth of US$1 million or more to over 114,800 by 2026. Last year, Vietnam had an estimated 72,135 wealthy individuals.
Mai Lan
Vietnam currently has five USD billionaires and may have six by 2025. With the rise of the rich, the Vietnamese market will be a fertile land for luxury brands.
According to the latest update from Forbes, total assets of the six billionaires in Vietnam as of December 23, 2021 were up to 19.5 billion USD.