Rapid test kits and protective masks are selling well as people are rushing to store these products as the daily number of infections has surpassed 40,000.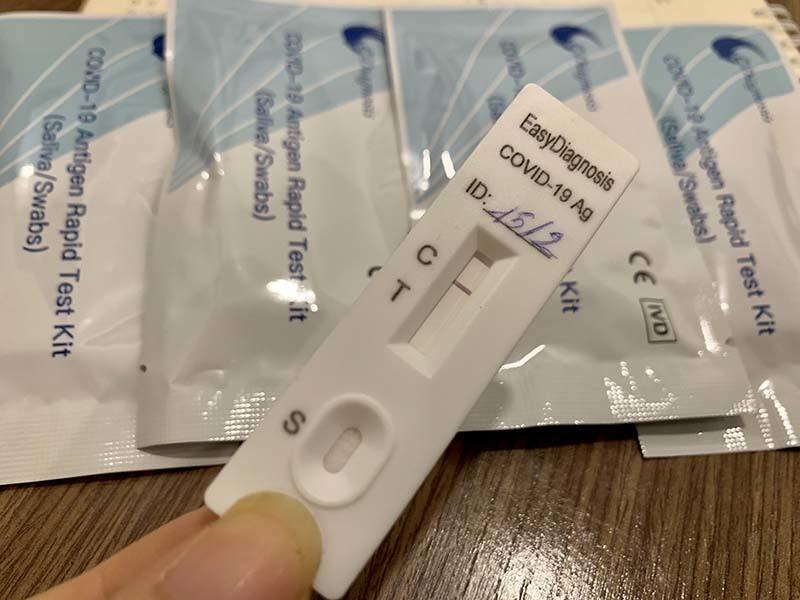 Le Thanh Thao in Hoang Mai district sighed with relief after buying one box of rapid test kits and a carton of protective masks.
She said her two kids have returned to school after a period of online learning, while she and her husband have to go to the office every day.
She has also bought rapid test kits to test family members every three days.
"We have to communicate with co-workers and classmates at office and school. So risk of contracting Covid-19 is very high," she explained.
"People are rushing to buy these two things, but supply and prices are stable," she said.
Bui Van Luan in Thanh Xuan district ordered one box of rapid test kits and two cartons of masks.
"Our five family members have to use protective masks every day," he explained.
Meanwhile, Duong Thi Kim Ngan in Hai Ba Trung district bought one carton of 50 test kits.
"The number of positive cases has been increasing rapidly these days, so we need to test ourselves regularly," she said.
If Ngan bought the rapid test kits retail, she would have paid VND60,000-70,000 per kit. She and co-workers at the office together have bought test kits in large quantities to enjoy the preferential price of VND50,000 per kit.
As for protective masks, four-layer products are priced at VND200,000-300,000 per carton for 300 products and VND500,000-550,000 per carton for 600 products.
Meanwhile, test kit products are diverse with different origins, including Germany, France and the US. The prices vary, depending on origin and manufacturer. On average, each test kit is priced at VND53,000-100,000 per kit.
Mai Thi Ngoc Van in Nam Tu Liem district said protective masks have been selling well for the last half month and people now buy products in large quantities rather than small boxes. On February 19 and 20, she sold 200 cartons of masks.
Despite the high demand, prices are stable. Van sells protective masks at VND290,000 per carton of 300 products for kids and VND250,000 for adults.
Pham Anh Thu, a seller at a drugstore, noted that demand has been higher than in pre-Tet days because of the recent increase in the number of Covid-19 cases.
Ngoc Trang
The Ministry of Health, on February 19, issued Circular No.02/2022/TT-BTY regulating the price for Covid-19 testing services, effective from February 21.