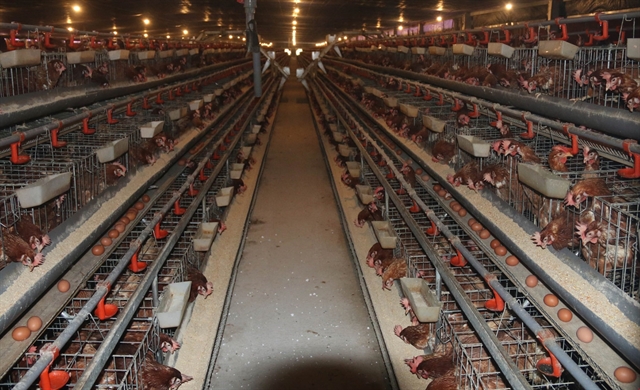 A poultry farm in Tiền Giang Province. VNA/VNS Photo Minh Trí
LONG AN — Authorities in the Cửu Long (Mekong) Delta province of Long An have stepped up efforts to prevent livestock and poultry diseases to ensure there are no meat shortages during Tết (Lunar New Year).
Đinh Thị Phương Khanh, deputy director of the province Department of Agriculture and Rural Development, said her agency was working closely with others to strengthen disease prevention and inspection of the transport and distribution of meat until Tết.
Last year 70 households that were raising pigs were affected by African swine fever, which caused 1,851 animals to be culled, while lumpy skin disease caused 714 buffaloes to be destroyed.
The province now has 85,000 pigs and 120,000 buffalos and cows and 9.2 million poultry birds.
The Animal Husbandry and Animal Health Division in Tiền Giang Province has taken drastic measures to control the spread of African swine fever before Tết.
Livestock and poultry farmers have been taught disease prevention.
Tết is on February 1.
The outbreak of lumpy skin disease in buffaloes and cows has been brought under control through vaccination. —VNS