Joy Kil changes the rules of the game, both on and off the stage. — VNS Photo Sean Nolan
Sean Nolan
Joy Kil – teacher by day, comedian by night – is a wisecracking stand-up artist who taps into the 'expat' experience in Việt Nam, and takes no prisoners along the way.
When performing, Jessica Joy Kilian, or 'Joy Kil' as she is known on stage, maintains a lively relationship with her audience as she toys with them, building her punchlines up to a crescendo before releasing them to manic laughter around the room.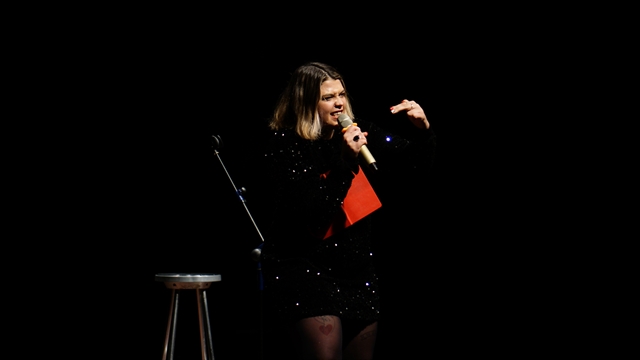 Joy Kil live on stage at the COMEDY ƠI Festival 2020 – Việt Nam's first comedy festival. — Photo courtesy of the COMEDY ƠI Festival 2020
She hails originally from The Crags, South Africa, and a place that she coyly compares to a certain part of her father's anatomy: two places she comes from, but never wants to see again.
It was in South Africa that Joy Kil's journey into stand-up began. She began performing there in 2016, shortly before moving to Việt Nam.
"I did my first show ever in 2016 in South Africa and did a few shows here and there. From 2018 onwards, I became obsessed with stand-up and have been trying to perform as much as possible ever since then."
Joy Kil studied drama and performance for five years from the age of 16, where she says the seeds of stand-up comedy were planted.
"I have always been drawn to performance styles that were quite intense and experience-based.
"I was fortunate enough to start watching a lot of live comedy in university during the South African National Arts Festival. The sheer lawlessness of the art form is what really drew me in."
Since leaving South Africa for Việt Nam in late 2016, Joy Kil has performed all around the country, and even in South Korea, including a six-month residency at the now-defunct ClickSpace in Hà Nội called: "Get Out Of The Kitchen" – Joy Kil's favourite show… to date.
Joy Kil keeping her audience enthralled in Hà Nội. — Photo courtesy of Huy Pham Duc
After a long, COVID-enforced break from the stage, she made her much-anticipated return to the mic for a special performance at The Rabbit Hole on Phú Quốc Island, which I was lucky enough to enjoy live, over the recent Lunar New Year holiday.
Needless to say, Joy Kil was delighted to be back up on stage with a microphone in her hand.
Up on stage with AJ Miller and Niall Mackay in Phú Quốc. — Photo courtesy of Teegan Page
"It was so incredible to perform again! I was super nervous going in because I was the only comedian from Hà Nội. I hadn't performed in nine months either, and I was doing a set longer than what I'm used to. But, I loved it and had an amazing time!"
If there was any rustiness to her performance after such a long break, it wasn't obvious – far from it.
Instead, Joy Kil had used the downtime to work on scintillating new material. Her process for creating new material is tried-and-tested – writing a little and often every day in a journal that is never far from her side – even on the beach.
The result? Tears of laughter and applause from every corner of the venue, from both locals and foreigners alike.
Having performed all over the country, it is fair to say that Joy Kil has her finger on the pulse of the Vietnamese comedy scene – after all, in 2020 she was voted the sixth-best comedian in the country at the National Vietnam Comedy Competition 2020, hosted at the Standing Bar in Trúc Bạch, Hà Nội.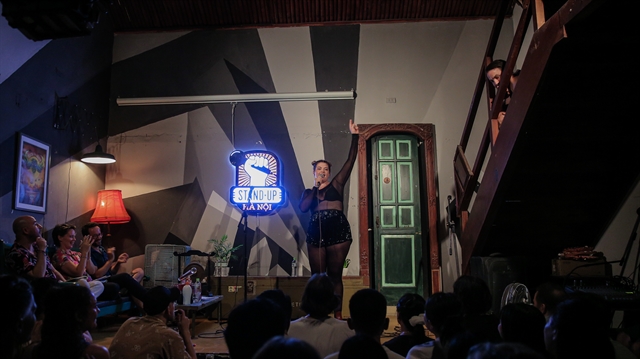 Joy Kil raising a hand to the crowd. — Photo courtesy of Huy Pham Duc
"[The comedy scene in Việt Nam is] for sure much bigger now than it was when I first got here – I hope it only continues to grow. Watching Vietnamese performers 'kil' comedy in English is truly inspiring. I only wish all the best for the Vietnamese comedy scene!"
That being said, it hasn't all been plain-sailing for Joy Kil up on stage – not that she would have it any other way!
"I have bombed many, many times – it's all a part of the stand-up process! Having embarrassing moments is what makes you a better comedian and I personally try and learn from each horrible feeling that arises from not succeeding on stage."
Performing arts around the world is in the process of recovering from two years of cancelled or delayed shows, and comedy is no different.
"Obviously, the pandemic has taken an incredibly hard toll on the performance community. We've barely had any shows in Hà Nội over the past year.
"I'm moving back to South Africa later this year and comedy has opened back up there. I'm really looking forward to performing as much and as hard as possible when I get home!"
Unfortunately, Joy Kil isn't sure if she will get the chance to perform again in Việt Nam, due to the ongoing pandemic. If you are lucky enough to get the chance to catch Joy Kil live, make sure you don't miss out on a night of sharp, engaging stand-up and side-splitting laughter. — VNS