According to Prof. Vo Tong Xuan, honorary rector of Nam Can Tho University, to spur the Mekong Delta's development, the Government should implement the regional planning in a concrete way in line with natural conditions.
Prof. Vo Tong Xuan, honorary rector of Nam Can Tho University, argued that the designation of GDP from top down using ton of rice as the unit has forced many farmers in the Mekong Delta to only cultivate rice paddy rather than planting other crops or raising livestock. The farmers have therefore not been able to escape the iron grip of rice paddy cultivation.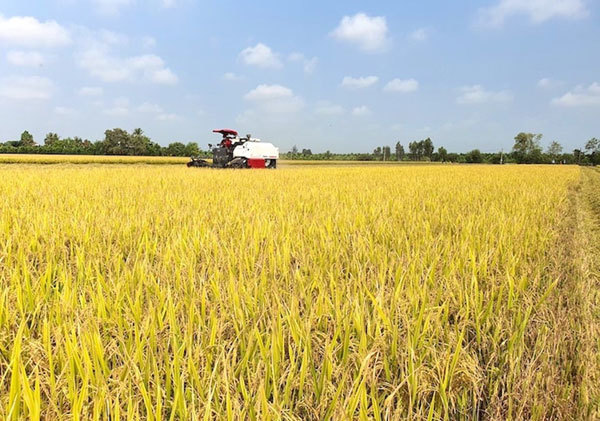 A paddy field in the Mekong Delta. – SGT Photo: Trung Chanh
The above argument was cited by Prof. Vo Tong Xuan during a workshop entitled "The Mekong Delta: Being in Harmony with Natural Conditions to Overcome Pandemic" held recently.
Caught in the "rice paddy stranglehold"
According to Prof. Xuan, the stranglehold dubbed "rice paddy" is the designation of GDP (gross domestic product) from higher authorities—who employ rice, instead of the local currency, as the unit—has prompted quite a few local officials to force farmers to grow only rice, instead of other crops, or farm animals.
Mr. Xuan said many local officials agree that such an assignment is a "stranglehold" on the delta's farmers.
"I went to coastal localities, such as Bac Lieu, where rice paddy in the dry season was dying because of water shortage," Mr. Xuan told the audience. "But the farmers nearby who raised shrimp were so happy. Although they lived in adjacent places, some were happy while others were miserable. Some families were allowed to raise shrimp in a district that had to grow rice."
Sharing the same viewpoint, Dr. Vu Thanh Tu Anh, dean of the Fulbright School of Public Policy and Management (FSPPM) in Vietnam, contended that emphasis on food security has prompted authorities and farmers to maintain a [big] area of rice for a long time despite difficulties brought about by climate change. As a result, public investment was used to build dykes preventing saltwater intrusion instead of traffic infrastructure. Meanwhile, natural resources—including fresh water and alluvial soil—were overexploited because three crops were planted during a year on large farm acreage. Worse, the abuse of fertilizers, chemicals and underground water has led to land sinks.
In addition, said Dr. Anh, the narrow concepts of "resources" and "food security" have stripped the delta of many development opportunities. "That food security is synonymous with rice security and rice acreage to be retained has made it difficult for this region to shift to doing other economic activities," said the dean during a different workshop hosted by the FSPPM.
Also, according to Dr. Anh, to the rice plant, fresh water is the resource; however, to shrimp and fish, it is brackish water that forms the resource. The priority put on rice cultivation has discouraged the development of other economic activities although raising shrimp or fish is much more profitable.
However, experts have agreed that the coming into existence of Resolution 120/NQ-CP on the sustainable development of the Mekong Delta and adaptivity to climate change—plus the preparation of related authorities in switching to the phase of development in line with natural conditions—is inducing changes to the local livelihoods.
Prof. Xuan said many local authorities have encouraged farmers to switch to new crops and cultivation techniques following the birth of Resolution 120 in 2017. Consequently, farmers in coastal areas may currently introduce one or two crops of shrimp aside from their rice crops.
Tran Quang Hoai, general director of the Vietnam Disaster Management Authority under the Ministry of Agriculture and Rural Development, said Resolution 120 has triggered plenty of changes to fresh water use in the delta. For instance, he said, Cai Lon-Cai Be sluice gate now can actively regulate fresh and brackish water on an area of over 300,000 hectares in Soc Trang, Ca Mau and Bac Lieu provinces to help farmers with access to more fresh and clean water for their aquatic cultivation and household use. Meanwhile, the Bac Ben Tre huge irrigation project has tackled the problem of saltwater intrusion into local rivers.
Regional partnership should be better
According to Prof. Xuan, to spur the development of the Mekong Delta, the central Government should implement the regional planning in a more concrete way in line with natural conditions.
"There are regions where rainwater is abundant in the rainy season but water becomes so scanty in the dry season," he said. "So, instead of planting three rice crops which need a lot of water, other crops—say, mango trees—should be planted in the dry season. Farmers and local officials should sit together to discuss with big businesses about how to implement Resolution 120 in a more effective way."
Prof. Tran Thuc, vice chairman of the Advisory Council for the National Steering Committee for Implementing Commitments on Climate Change, maintained that integral and comprehensive planning must be done to authorize provinces and cities in the Mekong Delta to exercise their right to integrate partnerships in their localities and interprovincial regional partnerships.
To this effect, according to Dr. Anh, it is necessary to change the mechanisms used to assess localities and local leaders in terms of GDP growth rate, revenue collection and spending, import-export and other criteria so as to minimize the mindset that focuses only on a single locality instead of the entire region.
Additionally, the Government should ponder over a new mechanism that can produce better regional partnership, or even build a regional authority that can create an economic institution big enough to carry out modern and comprehensive economic infrastructure, said Dr. Anh.
"A really effective regulatory mechanism has to be able to make decisions on fiscal, planning and investment issues which must rely on regional interest and must not be governed by local interest or partiality," he said.
Dr. Anh added that a sustainable development model for the Mekong Delta should rest on four pillars, which are economy, society, the environment and management.
When it comes to infrastructure, Prof. Xuan proposed the central and local governments should focus on works that promote regional connectivity and those which link the delta with HCMC.
"Only when traffic is smooth will the economy grow," said Prof. Xuan. "That's the only way for a poor country to develop."
Sharing this viewpoint, Nguyen Dinh Tho, director of the Institute of Strategy and Policy on Natural Resources and Environment under the Ministry of Natural Resources and Environment, said traffic infrastructure is presently the weakest link in regional cooperation in the delta.
To solve this problem, the Government has allocated VND198 trillion for investment in traffic infrastructure projects, including the Can Tho-Kien Giang Expressway and the Trung Luong-Can Tho-My Thuan Expressway during 2016-2020.
For the 2020-2025 period, the Government has agreed to invest VND266 trillion in the medium term and assigned VND198 trillion to the Ministry of Transport that will carry out traffic connectivity projects.
On the part of the Ministry of Natural Resources and Environment, Mr. Tho said his agency is conducting studies on special infrastructure for the delta so that industrial parks and urban areas quarters there are able to be adaptive to climate change and appropriate ecosystems.
"The Prime Minster has signed into effect these responsibilities," he said. "If they can be fulfilled, I think the public investment efficiency will be higher and we can attract other resources, including those from abroad."
Source: Saigon Times
Farmers in the Ca Mau peninsula are delighted as they enjoy a bumper rice crop on shrimp farming land.
The Mekong Delta province of Hau Giang plans to grow other crops on around 4,000ha of fields which only grow one rice crop a year or are unproductive by 2030.