Twenty Thai tour operators will come to Vietnam in early April to survey tour programs and bring Thai visitors to the country after two years of suspension induced by the Covid pandemic.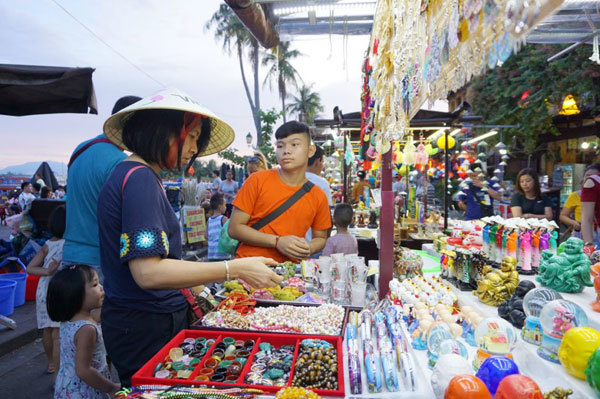 A foreigner is seen in Hoi An in Quang Nam Province. – SGT Photo: Dao Loan
Nguyen Son Thuy, director of Indochina Unique Tourist Company, said the representatives of the 20 travel companies would arrive in Danang City on April 3. The company will also welcome nearly 30 Thai tourists on the same flight carrying these representatives.
During a four-day visit to Vietnam, these guests will experience tourism services and products in Danang, Thua Thien-Hue and Hoi An.
Before Vietnam fully reopened its borders on March 15, Indochina Unique Tourist Company, which specializes in the Thai market, predicted that Thai tourists would travel to the country after the reopening, and the firm would organize periodic tours in the short run.
However, Thailand is still imposing the one-day paid quarantine policy on its residents after their return from other countries, so many Thai visitors have hesitated to take tours, making life hard for the firm to sell tours as expected.
"The firm will deploy more tourism promotions to attract Thai visitors after May 1 as, on that day, the Thai Government will lift the quarantine requirement," Thuy said.
Many air carriers have restarted services between Thailand and Vietnam, helping the tourism industry recover. On March 27, Thai Vietjet Air transported 150 passengers from Bangkok to Danang City, restarting the air route with three weekly flights.
Few days ago, AirAsia announced that it would resume some of its international flights from Vietnam's three major cities, Hanoi, HCM City and Danang, to Thailand's Bangkok from April.
Source: SGT
The situation in Russia may affect the number of tourists to Vietnam and Thailand, favorite destinations for Russians in Southeast Asia.
March 15 marks the time of fully opening to Vietnam's tourism industry. Below are a number of important milestones in the process of opening Vietnam's tourism.