A rich man in Da Nang City spent VND7 billion on a bouquet made of 100 SJC gold sheets to give to his wife on International Women's Day on March 8.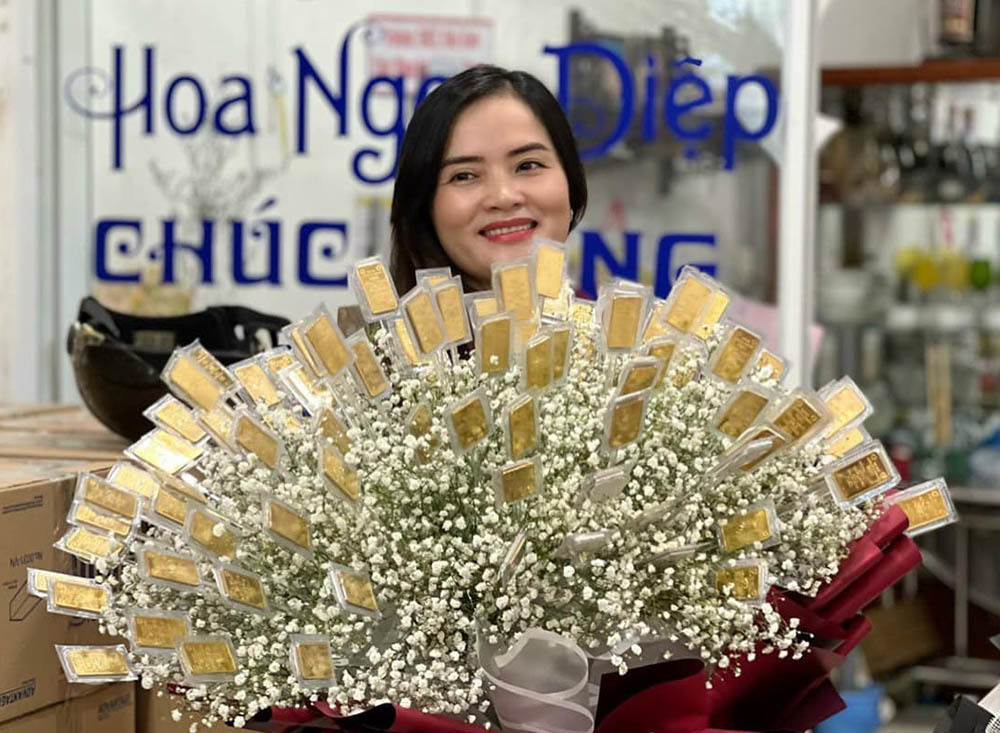 A video has been shared among netizens, showing a bouquet of 100 taels of gold.
"A man aged 50 came to our flower shop and ordered the special bouquet. It has a simple decorative style, created with white baby flowers and 100 gold sheets, and has red wrapping paper," said Vo Minh Dien, a worker at the flower shop.
Dien said this was the first time his shop had received such a big order. The total value of the bouquet wasVND7 billion.
"It took two hours to create the bouquet as I had to use plastic tubes and glue to stick every piece of gold," he said.
Luong Thi Giau, the owner of the shop in CanTho City, said the 100 taels of gold were brought by the client.
As living standards are increasing, Vietnamese now are willing to spend big money on original products for gifts. Orders for bouquets worth tens of millions of dong have become more common.
Nguyen Thi Anh Hien, owner of Dear Rainy, a flower shop in district 3, HCMC, said spending for this year's Women's Day was higher than last year.
"In the previous year, businesses ordered bouquets worth VND150,000-200,000 each, but they ordered bouquets worth VND500,000-800,000 this year. I also receivedorders worth VND800,000-1 million," she said.
However, she noted that the number of clients this year was lower than last year. It was still higher than that of Valentine's Day, and the business was seen as satisfactory.
"The flower prices on March 8 did not fluctuate as heavily as on Valentine's Day. The prices of imported flowers were stable, while the prices of domestically grown flowers rose by 30 percent, a reasonable increase on special occasions," she said.
Many flower shops introduced special products this year, such as flowers with the word '8/3' on the petals, or a bouquet folded with a 2USD banknote. The special flowers attracted many buyers.
Van, a representative of Flower Box in district 1, HCMC, said her shop had 400-500 roses with '8/3' on their petals. The shop also had dyed flowers and other imported products.
"Big orders, worth up to tens of millions of dong, are more popular. However, middle-class clients tends to be more economical," Van said.
Because of the pandemic, people have ordered more flowers and gifts online.
T. Chi
"Thoi loi" (giant mudskipper) is one of the strangest fish on the planet because it can both dive deep under water and hang on trees. This is a specialty fish in some mangrove areas in Vietnam.