Tran Kim Hoang Anh, born in 1999 in Nghe An, meticulously changed the stance of a dead bird with red feathers to make it look as vivid and natural as possible.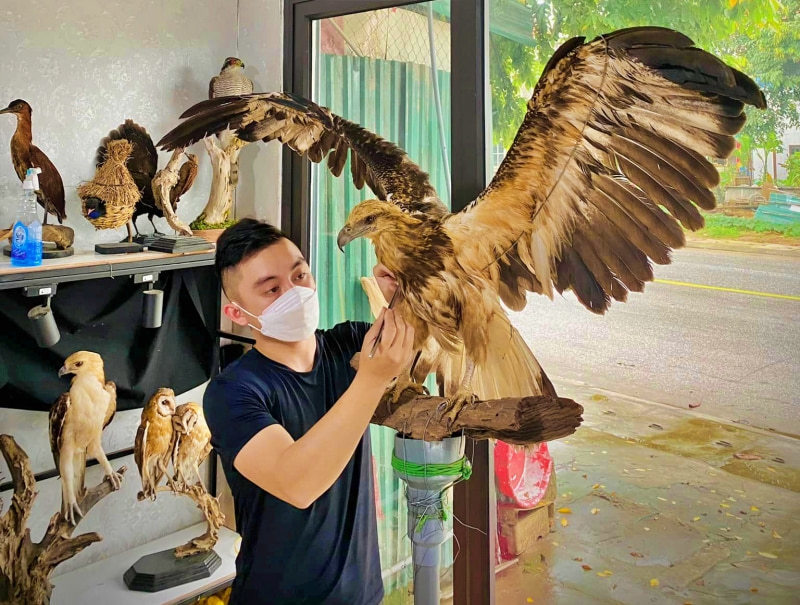 From a distance, few would believe that the bird is just a preserved sunbird specimen.
Anh is well known among animal specimen creators as he is the owner of a collection of vivid specimens of birds with small size.
Anh began creating bird specimens six years ago. At that time, Anh often trapped birds and bought birds of prey which had been tanned (the skin was treated with chemicals) to set traps. Anh decided to learn about the art of tanning.
Anh learned the techniques of making animal specimens on the internet and bought dead birds from ornamental bird shops and practiced on the birds.
After a lot of effort, Anh mastered the basic techniques and joined many associations and searched information on foreign websites. After several years, Anh could turn the carcass of a small bird into a vivid specimen that look as if the bird is still alive.
Hoang Anh owns specimens of many precious birds, including peacocks, swans and eagles. The dead birds were bought from farms and natural reserves.
He has an original collection of specimens of birds with very small sizes, including sunbirds, white-eye and flowerpeckers.
Anh said his clients are wealthy. "Most of them want to decorate their living space with animal specimens, especially birds," he said. "The other clients are those who feel sad when their pets die and they want to keep the pets with them."
For Anh, making animal specimens is not just a passion but an art that retains the beauty of animals after they die.
"You need to make them as vivid as possible as if the animals are still alive," he said.
Ha Nguyen
Hang Trong painting, a genre of Vietnamese woodcut paintings originating in the Old Quarter in Hanoi serves as "food for the mind". The art form had been nearly lost, but one man is trying to preserve the traditional folk painting.
Mr. Ho Van Gung, in Giap Long Village, Thuong Tin District, Hanoi, has dedicated his whole life to keeping the traditional glass blowing craft alive.