Vietnam has marked an obvious advance in providing public services. Instead of going directly to state agencies for marriage, birth, land use right and temporary residence registration, people can now sit at home and follow procedures online.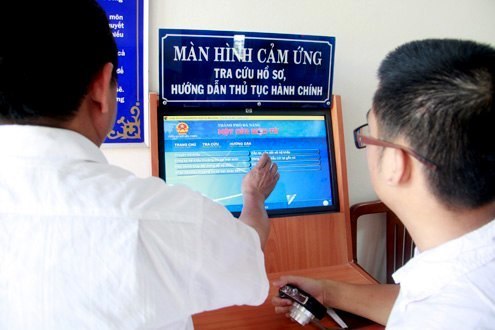 This big change was possible with the development of information technology and a policy on electronic and digital government. Online public services are the state's effort to serve people and organize services in a better and more effective way.
However, in reality, many people, especially in remote areas, are indifferent to using online public services. The online services offered by the State have not been enthusiastically received by people.
Quality, not quantity
The question is what the state needs to do. First of all, it's necessary to consider if the online public services offered to people are usable. Some kinds of services cannot be used. Provincial authorities need to reconsider all the online public services at Level 3 and Level 4 on the provincial electronic information portal and should be sure that once the services are launched, they must be usable.
It's also necessary to consider the number of online public services. Local authorities must not run after 'achievements' by trying to launch many services.
The Prime Minister's Decisions No 411 dated March 24, 2020 and No 406 dated March 22, 2021 approving the list of integrated online public services to be provided at the national public service portal in 2020 and 2021 are typical examples of choosing practical services that state management agencies have to provide to people.
These include registration of birth, registration of permanent residence and issuance of health insurance cards for children under 6 years old; issuance of judicial record cards; and issuance of driving license and citizen identification cards.
One of the criteria to develop online public service is the frequency of use.
Simplicity
If usage is easy and simple, like accessing the internet to read newspapers or sending an email, people will no longer hesitate to use them.
People will use the services because there's no need to go to state agencies directly, which allows them to reduce costs.
Online public services must be associated with the use of databases, including the database on population, civil status, land, digital land maps, and databases on healthcare, education and transport.
As long as these types of databases are not available, people will still have difficulties when completing documents for public services according to regulations – for example, having to send online notarized electronic copies and scans.
The responsibility of state agencies at both central and local levels requires regularly updating databases.
This is difficult as some databases still cannot be built though they were first mentioned more than 10 years ago.
The State should also encourage and create favorable conditions for people. At first, it's necessary to make online public services known to people. Many people in Ha Giang, Gia Lai and Tra Vinh who were asked about online public services said they did not know that there were such services.
This could be done at headquarters of local authorities, in communes, residential quarters or through propaganda activities of youth and women's associations.
Electronic villages
South Korea has had experience supporting people in using online public service through its electronic village program implemented 15 years ago.
Under the program, about 100 electronic villages were put into operation each year. There was a room, 100sqm in each village, with were desks and computers with internet connections. Training courses were organized to help people access the internet, read newspapers online, and write and send emails.
HCM City has done a good job encouraging people to use online public services by offering service fee reductions for service users.
Under the HCM City People's Council Resolution, beginning September 3, 2021, people have enjoyed a 50 percent service fee reduction when using six online public services at Levels 3 and 4. This is a good way to persuade people to use services online.
Dinh Duy Hoa
Online public services have been prepared and are ready for people to use, but necessary procedures pose difficulties for many citizens.
The Ministry of Public Security (MPS) plans that from the end of this February, citizens nationwide when registering for their chip-based ID card can also sign up for an e-identification account.
Hanoi's authorities have decided to remove 28 administrative procedures in the field of investment.