Christmas is just around the corner, and unless you're a baker, you will not be paying much attention to the price of honey. For many, buying honey is simply a matter of getting in a vaguely familiar brand to add to some tea.
PARK LIFE: Bu Gia Map National Park in Binh Phuoc Province, home to Vietnam's best cashew nuts. Luong will put his beehives nearby. Photo megatravel.vn
"The truth is, we don't use that much honey in our household—maybe three jars per year. Honey is one of the few products I generally do not buy at the supermarket but tend to purchase at the local farmers' markets from local producers," Kim Fellner, a Washington DC resident, told Việt Nam News.
"This past year, I've bought wildflower honey from Pennsylvania because I like the taste and it has a reasonable price. I also like to support local/domestic beekeepers because they have had some problems in the past few years with bees dying off."
Fellner said that she wanted to support farmers to remain economically viable, but could not recall having ever bought Vietnamese honey.
"While I like honey," Fellner said, "I do not consider it a necessary staple. If the price of honey were to increase beyond what I considered reasonable, I would probably just use less of it, or do without it."
Her opinion and support for local farmers probably represents the attitude of the average American consumer. Even if someone uses honey for a sweetener every day, they would only consume a handful of jars per year, so Americans are unlikely to fret too much about a price hike.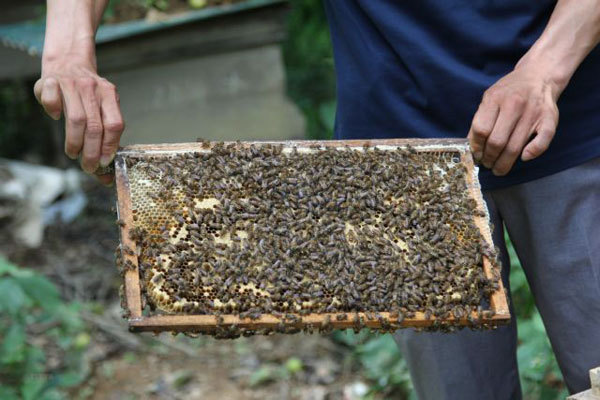 BUSY BEES: Hives placed for pollination at Xuan Thuy National Park in Giao Thuy District, Nam Dinh Province. VNA/VNS Photo
When winter storms and droughts wreaked havoc on US farms, beekeepers felt immediate hurt. They wanted to protect their livelihood by filing for anti-dumping protection. The latter, in turn, blew an even stronger storm against beekeepers around the world.
But the US Honey Producers Association has felt the impacts of severe weather. According to the US Department of Agriculture, in 2020 local honey producers made only 100 tonnes of honey, just one-third of domestic demand. The remaining 200 tonnes were imported.
According to the US Department of Agriculture, the states that make most honey in the country are North and South Dakota, California and Texas. The National Honey Report for October stated that in North and South Dakota, the top two honey-producing states, water and soil moisture continued to be well below normal and most crops were behind in the harvest date.
"Low moisture and drought conditions still prevail. Much of the range and pastureland are still in poor condition. In October, most bees had been prepared for overwintering or had already been moved to their winter homes around the country," the report said.
In California, the third-largest honey producer in the country, the report said that forage environment remained limited for California bees, "which will require continued feeding of sugar syrup and protein supplements".
A beekeeper quoted in the report said: "The rains were welcomed and settled the dust, but we are still a long way from getting out of the drought … We are hopeful that additional rains will follow this winter and offer prospects for decent bee forage in 2022. Honey production in California and the USA was extremely low this year due to drought."
Elsewhere in honey-producing states like Texas, Molly Keck, AgriLife Extension entomologist and Beekeeping 101 instructor in Bexar County, told Texas Today that honey production in the state dropped slightly in 2021.
She said that winter storm Uri in February and drought conditions last spring negatively impacted honey production. She said that the winter storm caused delayed wildflower bloom and caused honeybee losses in South Texas because they were not used to the cold.
"The lack of rain through winter into late-April exacerbated the lack of forage availability for bees as hives became more active," she said.
Anti-dumping tax
There also was an anti-dumping campaign launched in May to investigate honey production in Vietnam and three other countries from October 1, 2020 to March 31, 2021. The campaign was launched due to complaints from the American Honey Producers Association, which listed 12 Vietnamese exporters in the petition and initiated a dumping margin at 207.08 per cent.
Data from US Customs and Border Protection authority showed that Vietnam exported more than 50 tonnes of honey in 2020, accounting for more than 25 per cent of total US honey imports.
The US takes up 90 per cent of all of Vietnam's honey exports.
This is the first time Vietnamese honey producers faced trade remedy lawsuits.
On December 2, the US Department of Commerce announced a preliminary anti-dumping tax rate for Vietnamese honey at 412.49 per cent. The announcement even doubled the proposed rate by the American Honey Producers Association.
"This decision shall make us the beekeepers more miserable," said Nguyen Van Luong, 50, a beekeeper originally from the northern province of Nam Dinh who takes his colonies across Vietnam as flowers bloom in national parks and orchards.
"The US has been our main market, it's really hard if we can't afford the tax to export our honey there. A new season will come so soon."
One week after hearing the devastating decision, Luong has left his temporary base in the Central Highlands province of Dak Nong, where he has been keeping his bee colonies for annual winter rest before the new honey-producing year.
His destination in mind is to reach Bu Gia Map National Park in the southern province of Binh Phuoc, which is usually three hours away by coach. But Binh Phuoc has been fighting COVID, with a record number of patients in December, so he had to rent a motorbike to travel there.
Luong left at 5am and completed a 600km ride within a day, where he drove to all the corners of the soon-to-bloom cashew orchards for the bees to make honey.
After marking all places where he could place his hives, he came back late that day, exhausted but hopeful, as in two weeks, he will rent a 40ft container to take his 400 colonies on the same route to Binh Phuoc starting his new honey-making season, which shall last for 8 months from January until October 2022.
If weather permits and the flowers bloom in full, a honey season for a beekeeper in Vietnam can last three times longer than for one in the US.
"On average, a colony of honeybees can produce 50 kilograms of honey a year," Luong said. "But they need a few weeks to rest between each flower station."
In two weeks, Luong shall head to Bu Gia Map Province, where the cashew nuts are from some of the world's best plantations, located near the National Park of the same name.
The bees help flowers to form seeds and the beekeepers do not have to pay pollination fees.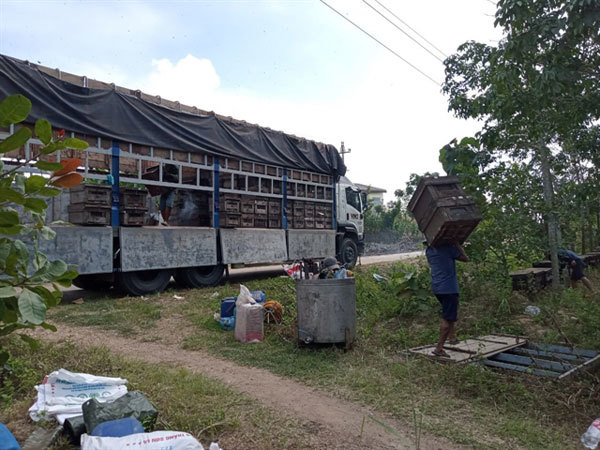 ALL ABOARD: In two weeks Luong shall hire a 40ft container to load bee colonies for a 200km journey to the blooms of cashew trees in Bu Gia Map National Park in Binh Phuoc Province. VNS Photo Thanh Binh
In the US, the most common months for bees to make honey are between June and August. Honey production comes from almond orchards and other flowers, including asters, goldenrods, and chrysanthemums and wild forest flowers.
The USDA latest Honey Report said that in October 2021, the country imported more than 200,000 kilos of natural honey (certified organic honey) from Vietnam, as well as nearly 40,000 kilos of comb honey and honey packaged for retail, a relatively small amount of its total honey import of the same categories from more than 80 countries and territories.
Under other categories, the US imported more than 14 million kilos of natural honey not for retail, with a darker amber colour, from Vietnam, the second-largest amount behind New Zealand.
According to the USDA, the country's honey imports increased by 73 per cent during the last 10 years, reaching a near-record of 200,000 tonnes. As domestic honey production has been consistent at around 70,000 tonnes a year, American consumers' taste for honey and honey-sweetened products has grown.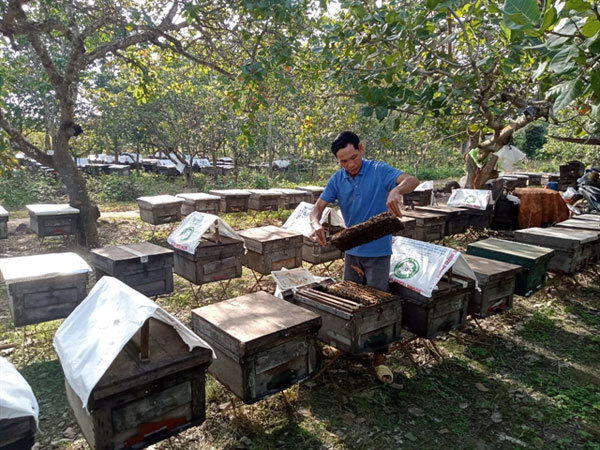 WINTER REST: Nguyen Van Luong checks his hives, as the bees are currently resting in the mild temperature of Dak Nong forests. VNS Photo Thanh Binh
In 2020, a total of 70 per cent of honey sold in the US came from imports, up from 54 per cent in 2010.
"Since 2010, leading suppliers of imported honey by market share have varied, with Vietnam rising to the top position in 2020, followed by Argentina, India, Brazil, and Ukraine. Combined, these top five suppliers represent 88 per cent of all honey imports in 2020," the USDA reported.
A pound (0.45 kilo) of honey imported from Vietnam costs between US$0.81 and $1.68 for a 10,000-pound volume or more, whereas a pound of US home-produced honey costs between $2.10 and $2.27 a pound for the same volume. Other factors that come into the cost of US honey include cost for pollination, less yield per colony per year and other fees.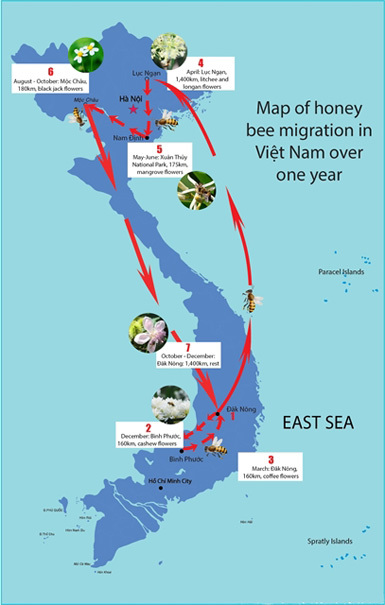 EN ROUTE: The approximate distance a beekeeper moves his hives around the country, more than 3,500km during the course of one year. Graphic by Doan Tung/VNS
Apiculture and honey production
Vietnamese beekeepers do not have to pay for pollination and, more importantly, the weather in Vietnam is warmer, and the hives can move around the country to catch new blooms after each rest.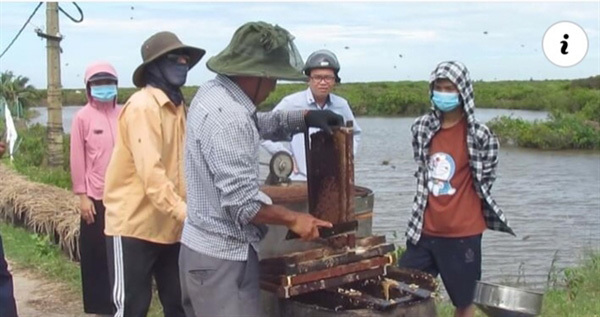 SWEET JOB: Harvesting honey in Moc Chau, a highland 200km northwest of Hanoi. VNS Photo Thanh Binh
Though considered relatively a small community, beekeeping employs more than 40,000 people who rely on selling their honey yields to honey companies who market it under their own labels to be sold in domestic markets or export it in bulk as generic mixed-flower honey.
Though the flowers seasons in Vietnam are very distinctive, the honey yields were not categorised under flower names, only light or darker amber. White honey can be bought locally only, the production's too small for export and you won't find any white honey in the US that comes from Vietnam.
Luong looks pensive as his future honey production for exports looks in doubt.
"I've carefully chosen to take my hives to certified flower regions, as the bees are very sensitive to any change in the flower's pollen or pesticide, if used," he said.
"Here national and global GAP certified orchards or farms help make sure that our honey production stays free of any unwanted chemicals, which is vital for any honey exported to tightly quality-controlled markets."
Luong had 70 colonies when he first started out 20 years ago, and just a few years back he had 900. This year, he has reduced his colonies down to 400 only.
"The bees are well-rested, and the hives have been all checked and are ready for a new honey season," he said.
"If the US market closes to us, then we'll have to turn to the local market. Before local customers did not get to taste the finest quality honey we made because it was all exported."
Source: Vietnam News
Vietnam's honey production industry is facing a new challenge as honey exported to the US may be subject to a tax rate of up to 412.49%.