While affordable apartments are no longer seen in Hanoi and HCM City, apartments priced at hundreds of billions of dong are becoming popular.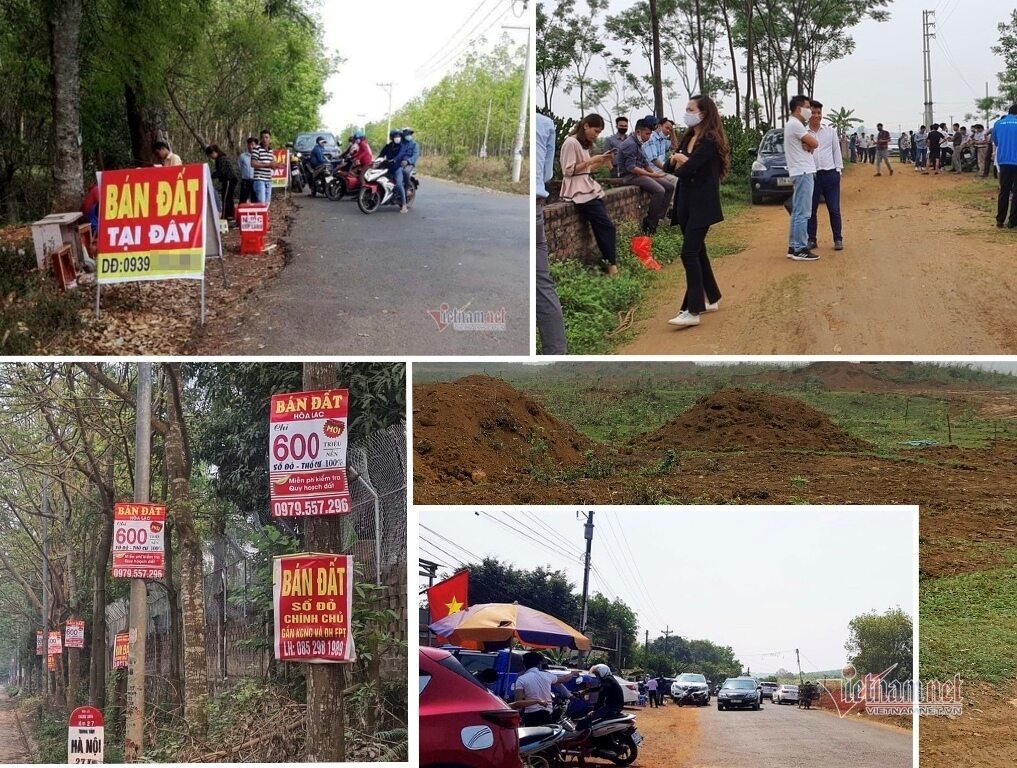 People rush to 'hunt' for land
The real estate market saw real estate projects selling at record high prices in 2021.
The Ministry of Construction (MOC) in the second quarter of 2021 reported that Spirit Of Saigon in district 1, HCM City was offered at VND400 million per sqm, Sunshine Venicia ThuThiem VND150 million, and The River Thu Thiem in Thu Duc City VND110 million.
In Hanoi, apartments at No 22-24 Hang Bai street in Hoan Kiem district, 120-250 sq m, were offered at VND85-175 billion.
According to analysts, One Central Saigon in district 1, HCM City, was the most expensive in the market with the selling price of $23,000 per sq m on average. Some apartments there were offered at VND800 million per sq m.
The prices were also sky high for villas and land. Hanoi was stirred up by the news that a villa at The Lotus Center project (Phase 3) in Ciputra Urban Area of Tay Ho district was offered at over VND100 billion.
The investor of the project is Thanh Tri Real Estate Investment JSC, while the developer is Vimefulland belonging to Vimedimex Group. Of the 81 villas at the project, six are extremely luxurious. The villas with the area of 400 sq m had the selling price of VND280 million per sq m at least. As such, VND100 billion is needed to buy a 'super villa' there.
At Vinhomes Green Bay in Hanoi, the price hit VND400 million per sq m, an increase of 4-5 times compared with 4-5 years ago. Duplex villas with an area of 140 sq m there are offered at VND60-70 billion.
The villas in Hanoi's neighboring areas, including Vinh Phuc, Hung Yen and Bac Ninh, have also increased sharply. The villas at Ecopark in Hung Yen province were sold at VND15-20 billion each some years ago, but is now selling at VND50-70 billion, or VND180-200 million per sq m.
Land as usual is the 'hottest spot' of the real estate market. The land prices soared in suburban areas of Hanoi, including Dan Phuong, Hoai Duc, Thach That, Quoc Oai and ThanhT ri. Land in Dan Phuong, for example, increased from below VND40 million per sq m to VND60-70 million.
During land fevers, the land in Dong Anh district in Hanoi saw prices skyrocketing from below VND20 million per sq m to VND50-60 million per sq m. A broker told VietNamNet that the price soared by VND5-8 million per sq m overnight.
What's behind Thu Thiem land auction?
The Thu Thiem land auction created seismic effect in the real estate market as it witnessed new land price records. Four land plots with the total area of 30,000 sqm were sold at VND37.346 trillion, or 7.09 times higher than the starting price.
The 3-23 land plot was bought by Ngoi Sao Viet for VND24.5 trillion, or VND2.4 billion each sq m, 8 times higher than the starting price. This is the highest ever land price in HCM City.
With such high land prices, experts warn that apartment prices will be sky high in the future, between VND500 million and VND650 million per sq m. Meanwhile, at present, high-end apartment prices in Thu Thiem are just VND150-200 million.
HOREA (HCM City Real Estate Association) Chair Le Hoang Chau commented that the auction winning prices are too high and higher than the real value, which is not good for market development.
"The overly high prices will benefit the investors who have projects and have paid for land use rights, while putting investors who have not paid that money at a disadvantage," he said.
The high prices in Thu Thiem will impact the market, leading to land price increases in other areas, especially district 1 in HCM City. This will be beneficial to super-luxury projects, creating a feeling that the current apartment price of VND500 million per sqm is not too high.
He said some investors have stopped selling products and accepted to pay a fine for breaking contracts after the Thu Thiem land auction, as they believe that the market prices will escalate in the future following land price increases in Thu Thiem.
He also mentioned the worries that some businesses may ask for re-assessment of assets, especially assets mortgaged for loans, so as to 'embellish' their financial reports.
Minister of Finance Ho Duc Phoc said at the 15th National Assembly's Q&A session on Jan 4 that the land auction in Thu Thiem was a typical example of market disturbance.

He said the prices are 'unreasonable' and 'unreal'. One sq m of land on Nguyen Hue Street, the central area and 'heart' of HCM City, is valued at VND1.5 billion only.

"It's still necessary to wait and see if the winners at the auction pay money and fulfill their commitments," Phoc said.

National Assembly Chair Vuong Dinh Hue said that VND2.4 billion for one sq m is 'unheard of' in the market. He said the National Assembly and Government have assigned agencies to study the issue to find if there are abnormalities.

Meanwhile, Chau said that land in Thu Thiem is expensive because Thu Thiem is located in an advantageous position, called 'golden land'. It is expected to become a new center of HCM City and designed to become an international finance center. However, overly high prices could be barriers for attracting foreign investors.
Thuan Phong
The National Assembly this morning began discussing the amending of eight laws.
Price escalation is occurring everywhere, from rural to urban areas. People are buying land at surprisingly high prices.