Land prices have been escalating not only in large cities but rural areas as well.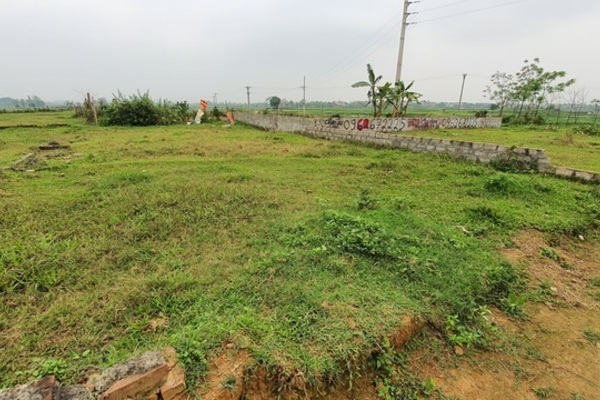 Dung from Nam Dinh said she graduated from a university and began working 10 years ago. She and her husband have total monthly income of VND30 million. After getting married, they began saving money to buy a house in Hanoi.
They now have VND1 billion but not enough to buy an apartment. Land and house prices have been escalating. Small apartments with two bedrooms in the suburbs of Hanoi are selling at least at VND1.5-1.7 billion.
They cannot expect support from their parents and dare not borrow money from banks for fear that they won't be able to pay debts.
Dung decided to use the money to buy a land plot in her hometown. When the land prices increase, she will sell the land plot to get money to buy an apartment in Hanoi. She believes this is a reasonable investment, because land prices increase more rapidly than apartment prices.
To her surprise, land prices in the hometown are also soaring. A neighbor said the local land market is bustling these days. The land in a small alley has soared from VND5-7 million per sqm to VND15-18 million, while land plots facing asphalt roads are selling at VND20-25 million.
Dung knows that land prices are escalating everywhere, but she could not imagine that the price increases would be so high. A 90 sqm land plot which was offered one year ago at VND950 million sold for VND1.7 billion.
As such, with VND1 billion, she cannot buy a land plot in an advantageous position which can bring high profits, but only buy a small land plot in a small alley.
Thinh, 32, from BacGiang province, graduated from a university and took a job which brought income of VND10 million, which was just enough to cover his basic needs and support his parents.
Five years later, his salary increased to VND15 million and VND20 million and he is now thinking of buying a house and getting married. However, with VND600 million his dream of having an apartment is still far away.
When returning to his hometown last Tet, he was astonished when realizing that land prices soared by 3-5 times over the last two years. The land market has become bustling with investors flocking to the area to 'hunt' for land.
Real estate experts said land price escalation is the result of urbanization and infrastructure development.
Minh Thu
A number of investment projects worth billions of dollars have been registered, which shows continued growth of the economy and the industrial real estate sector.
To prevent speculation and price inflation, the State needs to apply comprehensive measures to increase the transparency and supply in the market.