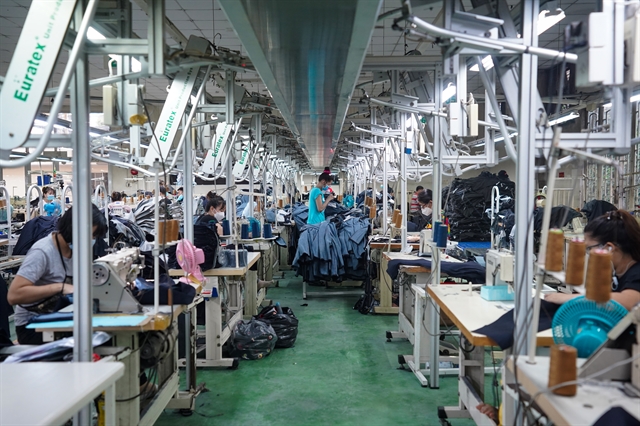 Some textile factories in HCM City have seen 100 per cent of workers returning to work after Tết. VNA/VNS Photo by Hoàng Tuyết
HCM CITY — Demand for workers has been high and rising in HCM City and neighbouring provinces since the Tết (the Lunar New Year) holidays ended.
The HCM City Centre for Forecasting Manpower Needs and Labour Market Information said the city is likely to need 71,500 – 86,900 workers in the first quarter and 255,000 – 310,000 for the whole year.
Industry and services have the highest demand.
Lê Minh Tấn, director of the city Department of Labour, Invalids and Social Affairs, told the media that his department would help set up employment exchanges, provide vocational training for key industries and services and ensure labour mobility in Southeast Asia.
He said districts' authorities also focused on long-term strategies to retain employees, and plan to build one million affordable apartments for sale or long-term lease for workers by 2025.
Bình Dương needs 40,000 – 50,000 workers this quarter, according to the province Job Service Centre, in the leather and footwear, textile and garment, electronics, wood, food, trade, and services sectors.
According to the Đồng Nai Province Employment Exchange, 400 large companies need around 42,000 workers.
It has worked with exchanges in 10 provinces in the Cửu Long (Mekong) Delta, Tây Nguyên (Central Highlands) and central regions to find workers after Tết.
The province's Department of Labour, Invalids and Social Affairs has worked with enterprises for hiring workers.
Back to work
Most workers at export processing zones and industrial parks in the south have returned to work after Tết.
Around 82 per cent have returned, according to the HCM City Export Processing Zone and Industrial Park Authority (HEPZA).
Trần Việt Hà, vice chairman of HEPZA, said most businesses had good salary and bonus policies to retain workers after Tết.
At the Saigon Hi-tech Park, 80 – 95 per cent of workers at 80 factories are back.
At some plants belonging to the Việt Nam National Textile and Garment Group the rate is 100 per cent.
Nguyễn Thị Thủy, vice chairwoman of the Việt Nam Textile and Garment Union, said factories in the south resumed work on February 4 to finish their orders.
Nguyễn Phương Đông, general director of the Saigon Industry Corporation, said 100 per cent of employees have returned, attributing it to the company paying a 13th month's salary and taking care of staff welfare.
According to Hồ Xuân Lâm, vice president of the HCM City Labour Federation, due to the pandemic, many workers decided to remain in the city during the holidays.
Some companies provided two or three days off before Tết so that workers could have more time with their families and return to work in time. VNS