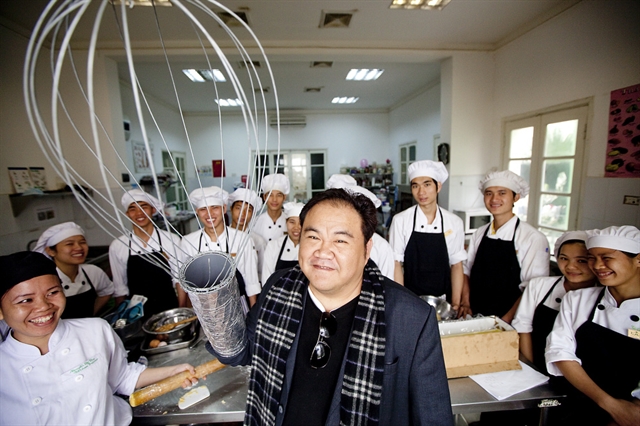 KOTO founder Jimmy Pham with some trainees. Photo courtesy of KOTO
HÀ NỘI KOTO will open a new restaurant in Hà Nội this weekend, months after the social enterprise's first restaurant was shut down due to the COVID-19 pandemic.
KOTO Villa will open its doors this Sunday in Tây Hồ District, offering a range of both local and international cuisine with a heavy focus on brunch, cooked by KOTO's best trainee chefs under the guidance of head chef, Phong Le Duc, who has worked with KOTO for a decade.
The social enterprise has operated in the capital since 1999 and provides at-risk and disadvantaged youths top tier hospitality training. Many of the graduates have gone on to become executive and sous chefs, hotel and resort general managers, business owners as well as university graduates.
After 20 years of operating beside Hà Nội's Temple of Literature, KOTO's first restaurant closed in March of this year as the tourist clientele disappeared due to COVID-19.
"It's been a long journey but the support from the local and international community has made it all possible. We're excited to bring our mission to Tây Hồ," said KOTO founder Jimmy Pham.
Second-year KOTO student, Ha Nguyen, will be waiting tables when KOTO Villa opens.
"I'm really nervous but most of all, I just feel ready and very excited," she said.
"I come from a very poor village in the mountains. My family were all farmers and we never made very much money. I never thought I would have the opportunity to work in any restaurant, especially not a beautiful restaurant like this. It doesn't feel real yet!"
KOTO Villa is located at the intersection of 31 Xuân Diệu and Alley 35 Đặng Thai Mai. VNS