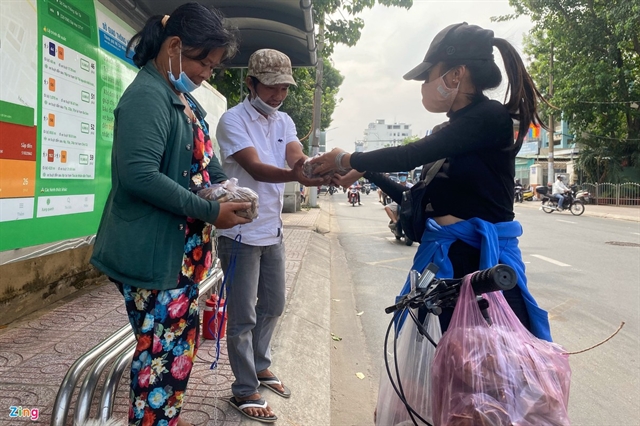 Trúc Ly giving food to people in need at a bus stop in HCM City. — Photo zingnews.vn
HCM CITY — Trúc Ly, 30, has been putting her spare time to good use in HCM City, riding around on her bike to help hundreds of poor and homeless people affected by COVID-19.
Ly is a kindergarten teacher who had to stop teaching because of the latest outbreak of COVID-19.
Since late June, she has been using her own money to buy supplies for poor and homeless people in HCM City. Whenever she saw a poor person on the side of the road, she would give them food.
"That's the way I have done charity work for the last six months. I leave home without knowing who I will help. For many times I plan to help specific people but meet others on the road and can not ignore them," she told Zing News.
Ly doesn't just give them food; often she makes friends with those she is helping and talks with them to better understand their circumstances.
"They tell me stories that sometimes they can not reveal to their wives, families or friends. I understand what they need to help after the talks."
During the social distancing period in HCM City, Ly did not return to her hometown in the south-central province of Phú Yên but worked as a volunteer for a social protection organisation to help people in need of homeless shelters.
"My biggest fear then was to be infected with the virus. Because if my living area is locked down, I will not be able to do my voluntary work."
Many of Ly's friends told her to stop the work due to the risk of infection but Ly still headed to the street to help.
"The only thought on my mind is if I do not help them, they will be at a disadvantage. Despite the danger, I continued."
Ly recalled the days when she wore a protective suit while riding her bike for dozens of kilometres in scorching hot weather to give out presents. She often rode from District 1 to District 12 like this.
Although it was hard, she was given drinks and encouragement by officers on duty at COVID checkpoints.
"For many days I worked all day long without remembering to drink water. I ate only one meal a day but did not feel hungry."
One day Ly met Trung, a homeless boy with an amputated arm, living at the foot of Bông Bridge in District 1.
"I spoke with him and learned that he used to study law at university in Bình Dương. His parents had passed away, and then his world almost collapsed when his maternal grandparents died of COVID-19 while he still owed a lot of money," Ly said.
After Ly uploaded a video telling the boy's story to social media, Trung received a lot of donations from old friends and netizens to help him pay off his debts.
"Trung then sent a message to thank me: 'For the rest of my life, I will never forget you'."
Ly said, "Trung now has a stable job and has reconnected with friends from his hometown. His life has turned to a new page."
"My happiness is not only to give the homeless one full meal but to change their lives," Ly said. — VNS