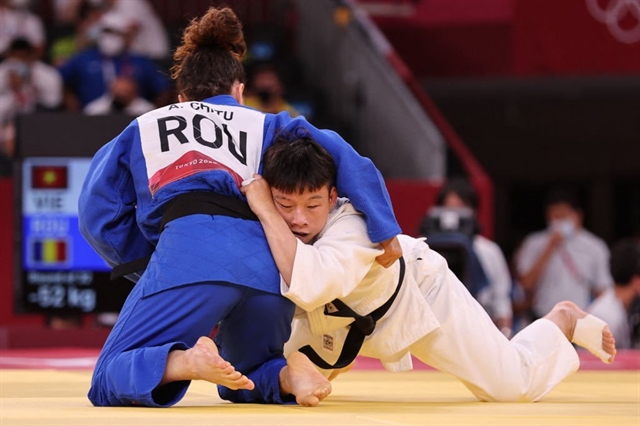 Việt Nam's Nguyên Thị Thanh Thủy (right) competes with Romania's Andreea Chitu during their judo women's 52kg category in the Tokyo 2020 Olympic Games last July. AFP/VNA Photo
Thanh Hà
Judoka Nguyễn Thị Thanh Thủy made use of every minute to sharpen her skills and get to peak fitness in a recent training course in Mongolia.
The event was part of the final preparation for her and her teammates before taking part in the 31st Southeast Asian Games, where Thủy will look to regain her title in the women's 52kg judo category.
"My teammates and I are preparing our best for the Games. We are improving our physique and practising our strongest throws so that we are confident to face powerful rivals in Hà Nội this May," she said.
Thủy was born in 1993 and grew up in the southern province of Trà Vinh, but she signed a contract to compete for Ninh Bình Province in the north in 2013. She is one of the most successful athletes in the province to date.
"My parents registered me at a judo club, hoping that sport would help improve my health. We never thought that it would be my first step to turn professional," Thủy told Việt Nam News.
"I receive strong support from my family. My parents follow me to almost all of the tournaments while my older brother, a judo referee, also helps me a lot," she said.
Nguyễn Thị Thanh Thủy (second, left) poses with her 2015 SEA Games gold medal. — Photo nld.com.vn
Over 18 years of practising judo, Thủy has been a Vietnamese representative in many international competitions and has had remarkable results. But her first gold medal in the 2015 Southeast Asian (SEA) Games, and competing at the Tokyo Olympic Games are her most memorable.
Despite being the ASEAN reigning champion, Thủy was not expected to get the best result at her first SEA Games after all of her senior teammates failed. But she took her coaches from surprise to shock as she went straight to the final and took gold with few difficulties.
It marked a turning point in Thủy's career, and she has been a mainstay in international competitions ever since.
She grabbed a bronze in the Hungary Cup in 2016, placed fifth in the Asian championship in 2017 and won a title in the Asian Open tournament in 2018. A year later, she advanced to the last 16 of the World Championship.
"The 2015 SEA Games gold represented a strong effort and determination on my part. I myself could not believe in the victory, but it was real," Thủy said.
"I could not defend my title in the 2019 tournament. I was really sad as I could not hit my peak. However, coaches and teammates encouraged and lifted me to the next target, the Tokyo Olympics.
"I had to work really hard for years for a slot in the Tokyo Games. I took part in many tournaments to collect enough points. I also stayed in Japan for a year to sharpen my skills and compete in qualification rounds.
"Our dedication and sacrifice brought amazing results. There is no way to describe my feeling when receiving confirmation that I was going. The world's largest competition was a great experience."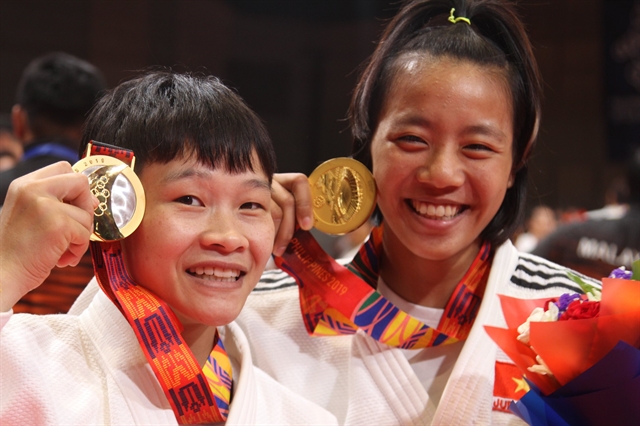 Nguyễn Thị Thanh Thủy (left) could not defend her individual title in the 2019 SEA Games but won a women's team gold. — Photo of Thanh Thủy
Thủy lost in the first round, but just a chance to compete in the event was an honour itself. Meanwhile, she found her weaknesses and learned a lesson: Olympians are the strongest competitors. One second of losing focus, and you are out.
"I will take the experience with me, especially at the upcoming SEA Games," said Thủy, whose SEA Games 2019 loss was a big shock but also a memory for her to strive harder.
Thủy has just finished the tournament in Mongolia, where she practised with world-leading athletes. She won silver in the open tournament in her category.
"We are in an intensive period of preparation for the Games. We are focusing on sharpening our 'weapons' to help us attack well and defend better," Thủy said.
"I am excited and comfortable ahead of the Games. I believe I will have high-quality matches and not let my supporters down."
Nguyễn Thị Thanh Thủy took second place at an open tournament in Mongolia in March. — Photo courtesy of Thanh Thủy
Head coach Nguyễn Duy Khanh has firmly put his trust in Thủy.
"She is a talented athlete. Since she has been under my tutelage, she has shown herself as a smart fighter with a good physique and technique," said Khanh.
"Thủy is one of the most experienced judokas in my team, which is targeting three golds at the Games. Competing on home turf will strongly support Thủy to take her title back in May." VNS