A leader of Japan's power producer EREX said the corporation is seeking to invest in biomass power in Vietnam, which holds great potential for biomass power development.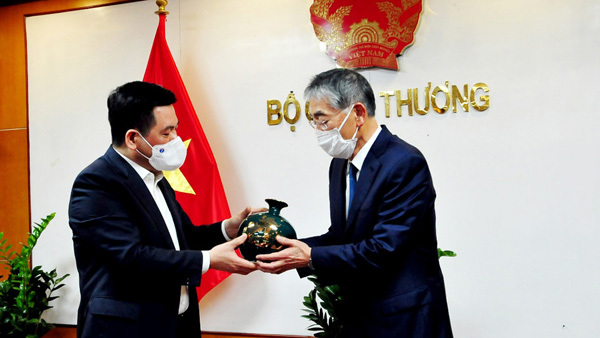 Honda Hitoshi (R), chairman and general director of EREX, at a meeting with Vietnamese Minister of Industry and Trade Nguyen Hong Dien. – Photo: Ministry of Industry and Trade
Attending a recent meeting with the Vietnamese Minister of Industry and Trade Nguyen Hong Dien, Honda Hitoshi, chairman and general director of EREX, said Vietnam is the first country outside Japan that the company is considering investing in biomass power.
According to Hitoshi, EREX targets to produce 1,500 MW of biomass power in 2035, helping reduce 27.570kt of CO2 per year.
He expected that EREX's projects in Vietnam would be implemented successfully, and Vietnam would become one of the leading providers of input for biomass power production in the region and the world.
Japan is developing the world's biggest biomass power plant, but it is facing a shortage of materials for biomass power production. Therefore, EREX is working to import these materials from Vietnam.
Since 2018, the company has worked with some Vietnamese localities to plant sorghum in Vietnam and produce biomass power materials for export to Japan in the 2021-2026 period.
Phu Yen, Binh Thuan and Ba Ria-Vung Tau are the provinces that have suitable natural conditions for growing sorghum and EREX plans to cultivate on a total area of 12,000 hectares in these localities.
In the first phase, which began in July 2021, the company grew 30 hectares of sorghum in Phu Yen and researched growing other plants to serve the production of biomass power materials based on Japanese technology.
Source: SGT
Biomass has the potential to be a critical portion of Vietnam's renewable change.
The feed-in tariff (FiT) for biomass power projects will range from VND1,634 to VND1,968 per kWh, exclusive of value-added tax, setting the stage for more investment in biomass electricity.