A mass of applications to develop wind power farms have been sent to Lang Son People's Committee and Lang Son Department of Industry and Trade.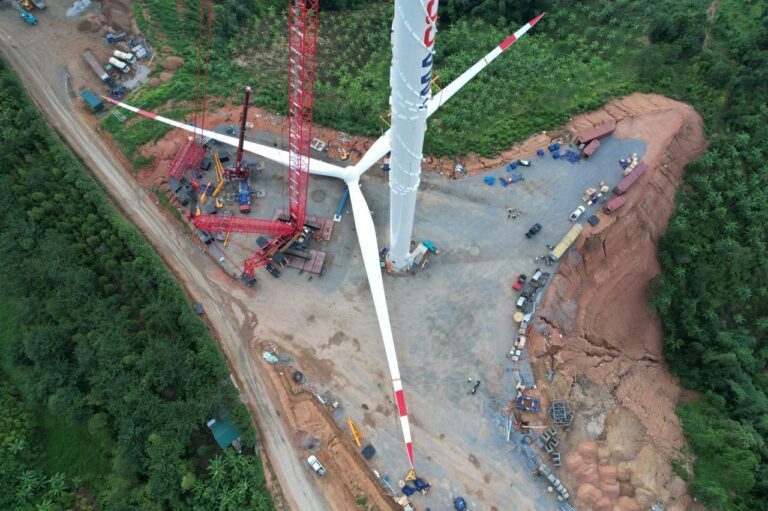 On December 20, 2021, Baywa r.e. Projects expressed its willingness to develop three wind power plants – Van Quan, Cao Loc and Loc Binh.
Prior to that, in August 2021, the investor had surveyed three projects, and asked the Ministry of Industry and Trade (MOIT) to add the projects to the national electricity development plan.
While waiting for agencies to approve the national electricity development plan, the investor wants to implement other projects, including an investment project proposal in accordance with the 2020 Investment Law.
The investor hopes that it can start building the projects in 2023 and put them into operation by 2025.
Trung Nam Group, a well known wind power developer, has also asked for permission to survey two locations in Lang Son for wind power plants.
The investor cited research as saying that with the high and open terrain and stable winds throughout the year, Lang Son has favorable conditions to develop wind power.
Eurolast, which has carried out preliminary survey on the wind potential in Lang Son, found that Bac Ai commune in Trang Dinh district, Hoa Tham commune in Binh Gia district, Thuy Hung in Bao Lan and Thach Dan in Cao Loc have great potential for wind power development.
The company has asked for permission to survey two projects in Lang Son – Trang Dinh and Cao Loc 3.
Meanwhile, Ha Do Group wants to develop Bac Lang (Dinh Lap), Loc Binh 1 and Binh Gia projects and An Xuan wants to build a power plant with high capacity of 528MW.
In late 2020, GE Vietnam asked Lang Son provincial authorities for permission to carry out a survey to implement two wind power projects with total investment capital of VND20 trillion and capacity of 418MW.
The first project is Chi Lang wind power plant with the capacity of 165MW and expected turbine capacity of 5.5MW/turbine. The area for survey is 41 hectares and the investment capital of the project is VND6.4 trillion, or $280 million.
The second project GE wants to survey is Ai Quoc in the districts of Dinh Lap and Loc Binh, 253MW, with investment capital of VND13 trillion, or $430 million.
As such, tens of trillions of dong are ready to be poured into wind power plants in Lang Son.
Vietnam, at COP26, committed to obtain 'net zero' by 2050. In order to reach that goal, the Government of Vietnam is reconsidering the draft of the eighth national plan on electricity development, increasing the proportion of clean energy in the country's total electricity generation sources and reducing the use of fossil fuel.
Luong Bang
The World Bank has recommended 20 actions that address three priority themes for Vietnam's successful offshore wind industry.
The Ministry of Industry and Trade will not add any more wind and solar power into this year's plan, due to a lack of input facilities to transfer them to the national grid.