Specialised industrial zones are getting the go-ahead in Vietnam, ushering in new activities from investors looking to get involved in increasingly modern ecological models and high-tech projects.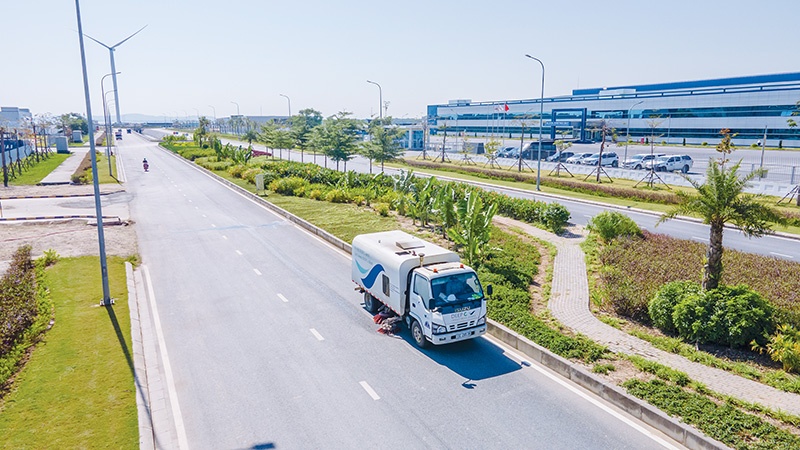 Many industrial zones in Vietnam aim to transform themselves into more eco-friendly versions.
Kinh Bac City Development JSC (KBC) last week received in-principle approval for a new 200-hectare industrial zone (IZ) in the northern province of Hung Yen. KBC's CEO Nguyen Thi Thu Huong and ACI Capital Co., Ltd. chairman Robert Harold Hughes signed an MoU valued at $1 billion.
ACI Capital surveys and supports the development of projects in high technology, logistics centres, waste-to-power plants in industrial clusters and IZs of KBC.
Last month, the prime minister approved addition of Tan Hoang Minh Group's 200ha Yen Binh Specialised IT Park in the northern province of Thai Nguyen into the master plan, with the investment of more than $435 million covering research and development, training, commerce and services, and logistics hubs. The project is expected to be the nucleus in connecting and supporting high-tech projects at the Yen Binh complex, the first of which is the Samsung high-tech facility.
Tran Hong Son, vice general director of Tan Hoang Minh Group, said, "Factories and service facilities in Yen Binh Park will be built commensurate with the high-tech park, ensuring the maximum benefits for production, work, and relaxation."
"The park will be built with modern and synchronous infrastructure to welcome multinationals and strategic investors with financial capacity and advanced technologies from Japan, South Korea, the United States, Singapore, and Europe to act upon the relocation trend from China to Southeast Asian countries," Son added.
According to the Ministry of Planning and Investment's Economic Zones Management Department, there are 395 IZs established across 61 of 63 cities and provinces with a total area of 123,000ha; 26 border economic zones (EZs) established in 21 localities with a total area of 766,000ha; and 18 coastal economic zones with a total area of 871,500ha.
"IZs and EZs have become vital in attracting domestic and foreign investment projects, and they are now the destinations of many leading corporations in the world, with many products exported to the global market, contributing to asserting Vietnam's position on the economic map of the region and wider world," said Tran Quoc Trung, deputy director-general of the Economic Zones Management Department at the recent forum on investment promotion into Vietnam's IZs and EZs in Hanoi.
As of October, there were almost 11,000 foreign-invested projects in Vietnam with a total registered capital of $230.2 billion. Numerous huge projects with foreign investors are in IZs, such as by Samsung with the total investment of $17.6 billion, Formosa with $12 billion, and LG with $3.25 billion.
In 2020, businesses in IZs and EZs contributed $138 billion to the country's total export value, equivalent to 55 per cent, and $5.95 billion to the state budget, in addition to creating four million jobs.
Trung explained that Vietnam is in the middle of a comprehensive and strong renovation to become a developed and modern country, overcoming the middle-income trap and avoiding lagging behind other regional countries. That sets a requirement for the development of IZs and EZs to adjust to ensure more efficiency and sustainability.
"The development of IZs and EZs is one of the important contents in Vietnam's investment attraction strategy," Trung said. "In the coming time, Vietnam will develop IZs and export processing zones in a sustainable way, adhering to promoting local strengths and creating conditions for regional links to lead the economy, in addition to developing ecological and specialised IZs like the projects of such investors as Tan Hoang Minh, Vietnam-Singapore Industrial Park, Viglacera, An Phat, and Shinec."
"Projects in these IZs should also boast technical innovation as well as be environmentally friendly," said Pham Hong Diep, general director of Shinec JSC – which is developing Nam Cau Kien Eco-Industrial Park.
"The image and concept of an eco-industrial park have been spreading to partners at investment promotion forums and state authorities," Diep added.
Source: VIR