Real estate developers are spending more time preparing documents for investment and many projects are under legal examination or inspection, contributing to a housing shortage.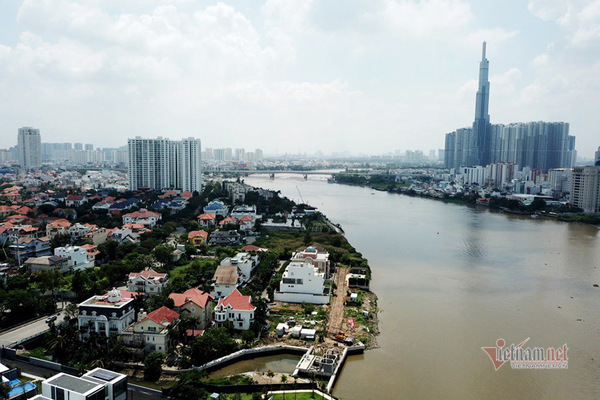 The HCM City real estate market saw slow development in 2021 because of Covid-19. The city had to impose a lockdown, so the number of housing products remained unchanged.
The legal system remains inadequate, so businesses have to spend a lot of time preparing documents for investments. There are some projects under examination and auditing, while other are under investigation. Relevant agencies are slow in giving views about inspected projects and slow in legal procedures handling, especially projects using land managed by the State or businesses related to state capital.
According to the HCM City People's Committee, the legal framework remains incomplete, making it difficult to find solutions to handle violations in real estate trade.
One apartment is sold to many people. Investors collect deposits from buyers, even though legal procedures have not been completed. This is one of the most common violations.
In the fourth quarter of 2021, because of the pandemic, the HCM City real estate market did not see any major fluctuations. The market was inclined to high-end real estate.
In Q4, only seven projects in the entire HCM City were confirmed as meeting requirements to mobilize capital for future apartments with a total of 7,640. There was no social housing project or project on housing for workers.
The total supply in 2021 decreased by 35.48 percent compared with the year before. The product structure cannot ensure the sustainable development of the market and ensure social security. In principle, affordable products need to account for a large proportion, but in fact the market share of the segment has fallen from one percent to zero percent.
Mid-end apartments have dropped further from 59.6 percent to 26 percent, while high-end apartments soared from 42 percent to 74 percent. This is a manifestation of the supply-demand mismatch and an indicator of an unsustainable market.
In 2021, only 20 projects with 14,443 units could meet the requirements to mobilize capital b for future apartments, but only one project was completed.
There was no social housing project and project on building apartments for workers licensed in 2021.
In related news, the HCM City Construction Department has released a report on the building of rental housing for factory workers and laborers. There are 60,470 boarding houses developed to lease to workers. Of these, 37,000 rooms are an area of less than 10 sq m.
Anh Phuong – Ho Van
A number of problems and violations in social housing use and management in Hanoi, HCM City, Da Nang, Khanh Hoa, Binh Dinh, Phu Yen and Dak Lak have been found recently.
The deadline for the first round of Thu Thiem land use fee payment has expired, yet none of the four winners of the land auction on December 10, 2021 perform its duty.