Vietnam's achievements in improving living conditions of people and ensuring human rights have been acknowledged and lauded by the international community.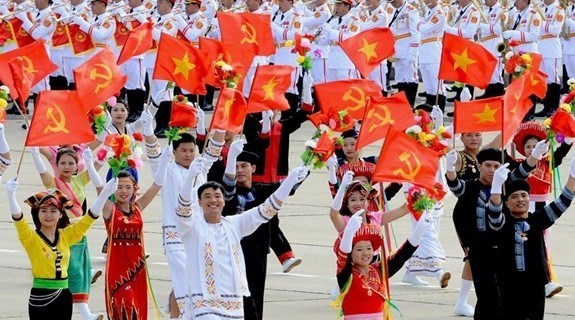 Protecting human security is safeguarding national security, and vice versa.
Upholding the Party's consistent viewpoints on human development targets, the Resolution adopted at the 13th National Party Congress highlights "human security", demonstrating a new mindset on guaranteeing national security, during which efforts are made to ensure human rights while bringing a safe living environment to all people.
The congress determined that protecting human security is safeguarding national security, and vice versa, and regarded human security as part of national security. Human security and national security are intertwined.
According to the congress's resolution, people is the centre and the subject of the cause of reform, and national construction and defence. All policies and guidelines must stem from requirements, aspirations, and legitimate rights and interests of the people, for their happiness and wealth.
Minister of Public Security General To Lam explained at an online conference on the Resolution that human security is a state in which people can live stably and safely without threats of abuse.
Protecting human security is ensuring and fully implementing human rights and fundamental rights of citizens as stipulated in the 2013 Constitution, and ensuring that all people can lead a wealthy, free and happy life in an orderly, disciplined, secure, safe and healthy environment.
These views have refuted some arguments that want to separate human security from national security, and put human security above national security, thereby taking advantages of human rights and democracy to carry out acts aimed at infringing upon national security and accusing the Party and State of violating human rights and citizens' rights.
In fact, ensuring human security is to ensure national sovereignty and security first, which is the most sacred sovereignty, including human security.
This is the responsibility of the entire Party, people and army, and would promote the voluntary spirit, self-discipline and active participation of each citizen.
The Party's new mindset on human security is expected to bring about positive impacts and ensure that people live happily in a safe and healthy environment.
Source: VNA
Vietnam's policy is to build "a Socialist democracy in tandem with upholding people's rights to democracy in all aspects of their social life."