Sean Nolan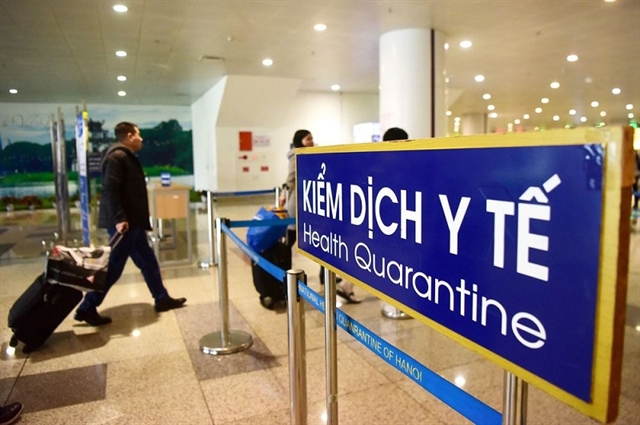 A man passing a quarantine sign in Nội Bài airport, Hà Nội. VNA/AFP Photos
Since Việt Nam buttoned up its borders in March 2020, the question on the lips of every expat has been a simple one.
"How much longer?"
That is the question that Harry and Callum Davis, both 31, have been asking for nearly two years now. They left their home in Huế for a two-week holiday in South Africa at the start of March 2020 – the decision to halt incoming flights happened while they were away.
As of January 2022, they are still waiting to return.
"We are in limbo. We found ourselves on a plane home, with four years' worth of stuff – motorbikes, pets, laptops, clothes, relationships and work – all left behind. As you can imagine it was very difficult to accept."
Despite being back in the UK for so long, they haven't let that distract them from continuing their quest to become fluent in Vietnamese – even if they have had to move their lessons online.
"I think my Vietnamese is better than ever at the moment! I've nearly completed Duo Lingo, but it's just not the same as diving into the culture, living and breathing the language – especially over a cold glass of bia hơi.
"We've tried going to a Vietnamese restaurant in Birmingham for a bowl of VNĐ350,000 (US$15) phở bò – I can confirm it tastes nothing like the real thing!"
There have been many false dawns for the Davis twins, and the rest of the expat community, while they wait for normal flights to resume.
The first was back in the summer of 2020, when it was announced that foreign experts could gain entry to the country, providing they quarantined at a central facility, had a company in Việt Nam willing to sponsor them and, of course, provided negative COVID tests.
One of the first to re-enter Việt Nam through this process was Jack Mason, 28. He said: "I had lived in Việt Nam for numerous years before – I was only home out of circumstances.
"Going through the process was worth it, if a little difficult to navigate. I was phoning Emirates daily about the flight – it was pretty stressful, particularly as nobody had done it before. It wasn't until I landed that I relaxed a little."
Jack considers himself one of the lucky ones; the expert scheme to enter Việt Nam is still fairly restrictive and has undergone many changes.
However, there were hopes that a further unlocking might be just around the corner in the Spring of 2021. Although the vaccine campaign in Việt Nam had not begun in earnest, total cases at that point were under 3,000, one of the lowest rates in the world by both total cases and cases by population.
Of course, that all changed in late April 2021, when the devastating fourth wave took off and Viêt Nam joined the rest of the world in a mire of COVID confusion and uncertainty. Hopes of the border opening seemed further away than ever before.
Although vaccinations have been rolled out at a breakneck speed since, the emergence of Omicron has only added to the uncertainty.
The initial announcement that regular commercial flights would resume in January 2021 seemed to herald the end of the saga, though it has since emerged that, for now, these flights are only available to Vietnamese nationals and the same foreign experts that could gain entry previously.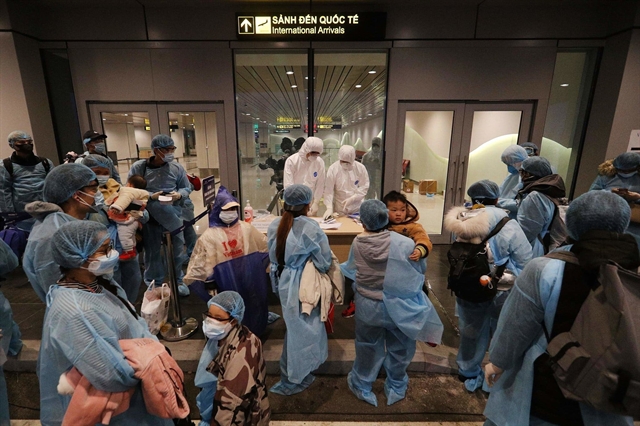 Vietnamese citizens after arriving in Việt Nam aboard a repatriation flight.
And so, two years on, the question remains – just when will it be possible to come and go from Việt Nam like before?
Among the expat community, the question isn't really discussed anymore. For most, the topic has grown stale and painful, a constant state of déjà vu as hopes are raised and dashed.
The number of expats in Việt Nam has dramatically decreased too. Many left in the uncertain early days of the pandemic in 2020, many more again during the visa and work permit challenges of the summer of 2021. Around those events, others have trickled out for a variety of reasons.
Of those that have left, very few have been replaced.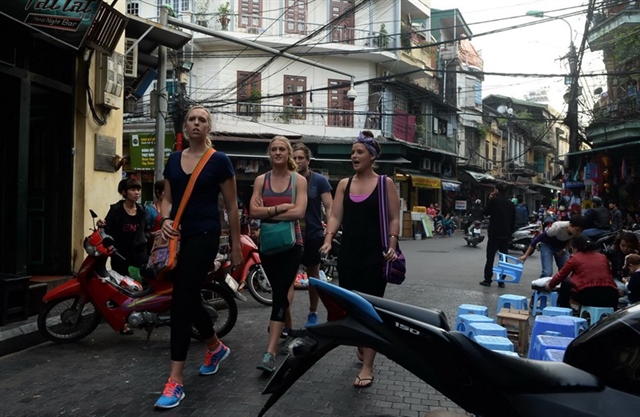 Before COVID-19, tourists were a familiar sight in cities across Việt Nam.
According to the General Statistics Office (GSO), 18 million visitors came to Việt Nam from overseas in 2019, a record number. In 2020, this number dropped by 79 per cent to 3.8 million. Of those arrivals in 2020, 96 per cent of them arrived in Q1, before the border restrictions came into place.
Last year, this number fell even further, with just 157,300 foreign arrivals to Việt Nam.
Though GSO statistics do not reveal how long these arrivals stay (and so fall under the catchphrase "expat" rather than "tourist"), given the only recent introduction of the tourist pilot schemes, and the arduous process of being approved as an "expert", it would be safe to assume that many of these arrivals are here to stay, at least in the short term.
However, given how few of them there are, it is undeniable that the expat community in Việt Nam has shrunk dramatically.
And so, with the approach of the Lunar New Year, the question remains – just when will the border open to the extent that it was in 2019?
For now, still, there is no clear answer. While the resumption of regular international flights, with caveats, is not the end, many expats in Việt Nam will hope that it is the beginning of the end. VNS