Colourful hot air balloons will be introduced to the public this weekend to promote the capital's tourism. VNA/VNS Photo
HÀ NỘI — Twenty-two hot air balloons have flown in the sky over the Red River in Long Biên District, marking the launch of the "Colourful Hà Nội" hot air balloon festival.
From early this morning, thousands of tourists flocked to Long Biên longan garden along the Red River to take pictures with the colourful hot air balloons.
Many people brought chairs, umbrellas and food to camp.
Visitors fly on hot air balloons at the opening ceremony. VNA/VNS Photo Minh Quyết
Festival-goers can enjoy the city view from above and explore the inside of the hot air balloons.
In Hoàn Kiếm District, the organiser will introduce low-flying hot air balloons in the area of the Octagonal House and on Đinh Tiên Hoàng Street, including 10 level-one hot air balloons (10m high) and one level-seven hot air balloon (22m high) from 8pm today.
Admission to the festival is free today. A ticket is VNĐ60,000 per person from tomorrow, while children under 1.10m go free of charge.
Tickets to visit the inside of the hot air balloon cost VNĐ25,000, while flight tickets are VNĐ150,000 per child and VNĐ300,000 per adult.
A technician flies a hot air balloon by heating the air inside with a burner. VNA/VNS Photo Minh Quyết
A hot air balloon is being prepared for the festival. VNA/VNS Photo Minh Quyết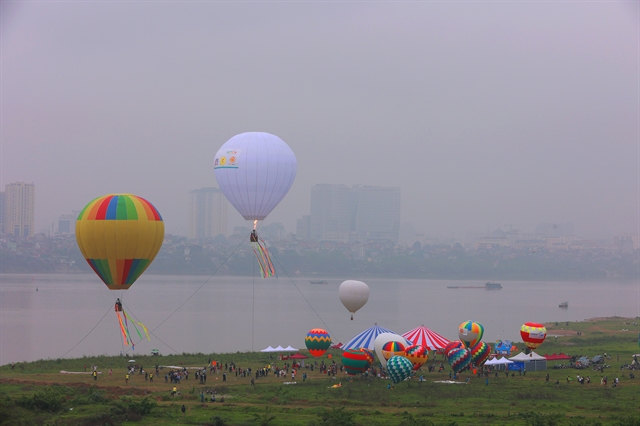 The hot air balloons began to soar in the sky of Hà Nội. VNA/VNS Photo Trương Vị
The festival takes place from 8am to 9pm on March 25-27.
The event is part of "Hà Nội Tourism 2022", a programme to celebrate the reopening of tourism and welcome international tourists back to the capital.
After this festival, hot air balloons are expected to be a regular tourist product at the Long Biên longan garden.
Hot air balloons are only allowed to fly in wind level 3 or less with no rain. The show will be postponed in the case of bad weather, and travellers who buy tickets will be refunded or rescheduled for another day. VNS